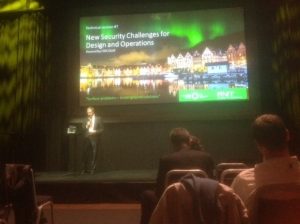 On June 13, 2017, the ITA COSUF Workshop on New Security Challenges for Design and Operation took place. This workshop was organized as part of the World Tunneling Congress 2017. The audience consisted of about 25 ITA COSUF members and many other delegates from WC 2017.
ITA COSUF Chairman Roland Leucker underlined in his opening word that the security aspects in the design and operation of underground facilities have become increasingly important in recent years. The need for underground space use in society makes them potential for new security threats. Therefore, there is a need of new knowledge by designers and operators how these threats should be assessed and mitigated.
Various internationally leading experts enlightened the audience with insight on how different threats for the underground facilities can be identified and on the impact of human factors in case of disaster and terror. Michael Faber from the Aalborg University explained that there is a growing public concern for the occurrences of terrorist attacks. Tunnels are part of society's critical infrastructure. Nowadays, there is a tendency that successful terrorist attacks may be categorized as "low tech" (e.g. improvised explosive devises), or "lone wolf/small cell" (planned and conducted), or uncoordinated and random targets and times of attacks. In this presentation, it became clear that worldwide expenditures for managing terrorist attack risks are sky high and generally out of proportion with their effect. Therefore, risk-based decision making is needed which consistently and transparently balances risk reductions with committed expenditures. A systems approach for risk modelling was presented.
RELATED: World Tunnel Congress 2017 Gathers in Norway
Another example was Christian Thienert from STUVA, who presented a research project on protection of traffic, tunnel and public transport control centers against cyber-attacks. The exemplary scenarios for attack can be an aimed blocking of tunnel, demolition of technical equipment or trying to let safety systems malfunction. The audience learned that counter measures can be of a technical (periodical updates, deactivation of critical interfaces, secured remote access), organizational (hard & software management, system of rules for external supplier, evaluation of status messages) or personnel nature (awareness training for employees, regular advanced training, redundant system of administrators).
Terje Andreassen from the Norwegian Coastal Administration impressed the audience with the security issues of a mega project the Stad Ship Tunnel in Norway that has been decided upon earlier this year. The ship tunnel will reduce the risk of accidents at sea, reduce waiting time, lead to more efficient transport of people and freight which has a positive effect on the environment and economy. Andreassen also addressed how to prevent actions of terror connected to the Stad Ship tunnel.
Benjamin Truchot of Ineris presented information on the impact of hazardous goods in tunnels. The passage of hazardous goods through road tunnels was assessed to improve security management planning. Last but not least Götz Vollmann of Ruhr University of Bochum went into explosions and fires in tunnels to identify structural threats and possible mitigation measures.
Before the workshop the Activity Group Meetings took place.