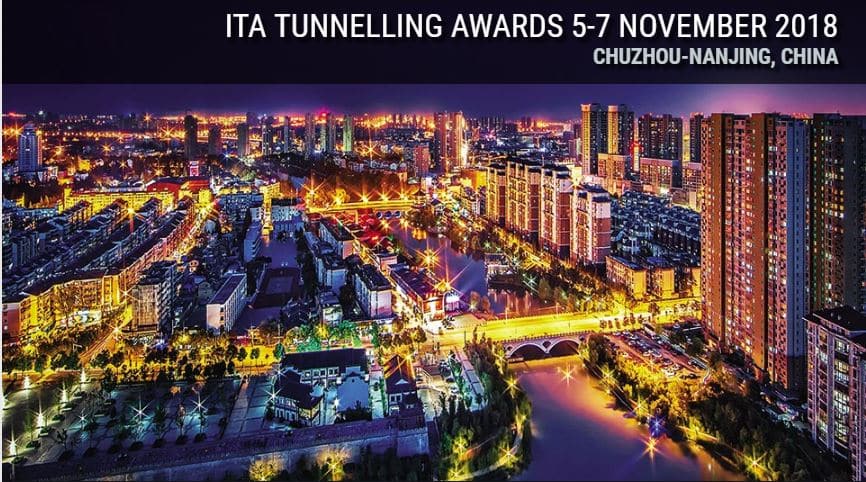 Underground construction meets the demand for urban infrastructure, the need to relieve congestion in our cities and save space, and the challenges of a changing climate. The sector grossed $100 billion in 2016 and global demand for underground projects is growing by 7% annually.
Since 2015, the international competition "ITA Tunnelling Awards" seeks and rewards the most ground-breaking innovation and outstanding projects in tunneling and underground space utilization. The 2018 edition will take place on Nov. 7 in Chuzhou-Nanjing following the 20th Chinese Tunnel and Underground Works Conference (CTUC) Nov 5-6, followed by technical visits on Nov.8 in Nanjing, Chuzhou and Shanghai.
ITA Tunnelling Awards 2018: A Very International Edition
The fourth edition of ITA Tunnelling Awards have collected 68 valid entries coming from all around the world. The candidacies were spread through 8 categories as following:
• Major Project of the Year – over €500m : 7 candidacies received
• Project of the Year – between €50m and €500m : 15 candidacies received
• Project of the Year inclus. Renovation – up to €50m : 9 candidacies received
• Technical Project Innovation of the Year : 10 candidacies received
• Technical Product/Equipment Innovation of the Year : 10 candidacies received
• Sustainability Initiative of the Year (merged with Innovative Use of Underground Space)
• Safety Initiative of the Year : 5 candidacies received
• Innovative Use of Underground Space : 4 candidacies received
• Young Tunneller of the Year : 12 candidacies received
The projects /innovation come from all around the word:
Albania (1), Algeria (1), Argentina (1) Australia (1), China (37, including 3 from Hong Kong), Germany (1), India (2), Iran (4), Italy (3), Malaysia (1), Netherlands (2), New Zealand (2), Norway (3), Russia (1), Singapore (1), South Korea (1), Switzerland (1), Thailand (1), Turkey (2), United Kingdom (2)
The panel of candidacies swings between public transportation projects and sustainable development. Public transportation is one of the main issue encountered by public authorities when developing urban planning programs. The demand of public railway is growing as fast as the need of sustainable solutions and among the batch of 68 candidacies, at least half of them represent these two major trends.
The entries also reinforce the global leadership of Asia and especially China recording an output of approximately $43 billion for tunneling and underground construction. Indeed, China represents the nearly half of the global output for tunneling industry.
To know more about the ITA Tunnelling Awards, click here.
RELATED: 2017 ITA Tunneling Awards: Winners Announced in Paris