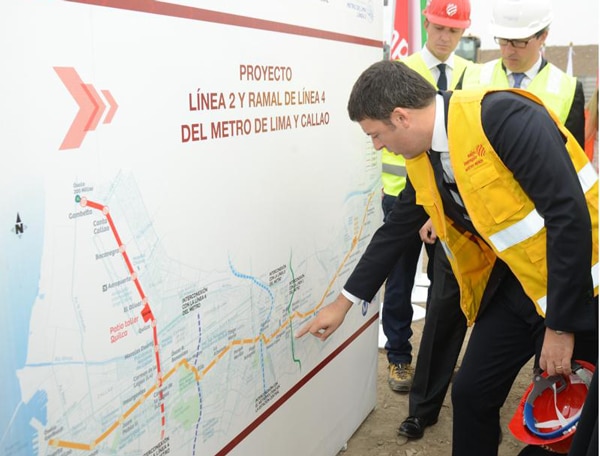 Italy's Prime Minister, Matteo Renzi visited the worksite of Lima's new metro system, where Salini Impregilo is building two metro lines, with a consortium that is 90% of European origin. Renzi's visit intended to strengthen the strategic collaboration between Italian Latin American countries.
The Lima metro project will revolutionize the life of thousands of people in Peru's capital, where there is currently only one elevated metro line. Designed with cutting-edge technical solutions, the two metro lines are built underground and are totally automated, not requiring a driver. They will contribute to the reduction of the city's air pollution levels.
This ambitious project began in April 2014 with the signing of a contract for designing, building, supplying the rolling stock for Lines 2 and 4. The contract was signed between the Ministry of Transport and Communications of Peru and the concessionaire Metro de Lima Línea 2 S.A. The total amount, for 35 km of underground lines, including the concession, is approximately $5.7 billion (US).
Since 1966, Salini Impregilo has built four significant projects in Peru (exceeding $20 million). In total, Salini Impregilo has built more than 375 km of metro lines in cities such as Paris, New York, San Francisco and St. Petersburg. Additionally, the company has active metro contracts in Riyadh, Doha, and Copenhagen.