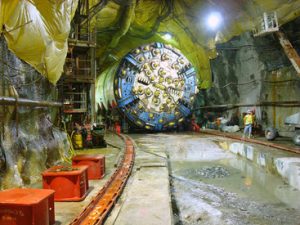 Established by ASCE in 1960, the Outstanding Civil Engineering Achievement (OCEA) award honors projects that illustrate superior civil engineering skills and represent a significant contribution to civil engineering progress and society. In December, ASCE announced the finalists, one of which will earn top honors at an award gala on March 17 in Arlington, Virginia. This year, a tunnel project – the Lake Mead Intake No. 3 project – is among the finalists, which include:
The Dragon Bridge, Da Nang, Vietnam;
I-25/Paseo del Norte Interchange Reconstruction, Albuquerque, NM;
Lake Mead Intake No. 3 Shafts and Tunnel Project, Boulder City, NV;
Seismic Upgrade of Bay Division Pipeline Nos. 3 and 4 at Hayward Fault, Fremont, CA;
Stan Musial Veterans Memorial Bridge, St. Louis, MO, to St. Clair County, IL;
Tanana River Bridge, Salcha, AK.
At the award gala, ASCE will also honor the Outstanding Project and Leaders (OPAL) winners, as well as recipients of the Charles Pankow Award for Innovation, the Henry L. Michel Award for Industry Advancement of Research, and the ASCE Excellence in Journalism Award.
RELATED: SNWA Begins Filling Intake No. 3
The Lake Mead Intake No. 3 Shafts and Tunnel Project, in Boulder City, Nevada, is the world's deepest subaqueous tunnel. The project, in conjunction with the low lake level pumping station now under construction, protects the existing water-system capacity of the Southern Nevada Water Authority (SNWA) against potential outages of the existing the Intakes No. 1 and No. 2. It also allows SNWA to draw better-quality water from the deeper elevation and more-desirable intake location in the lake. Lake Mead supplies 90% of the Las Vegas Valley's water.
RELATED: World Record for Las Vegas: Mechanized Tunneling Under High Pressure
The Vegas Tunnel Constructors team used the innovative approach of installing a prefabricated intake structure under the lake bed using immersed tube techniques to mitigate the risks inherent to construction under more than 300 ft of water. A 23.5-ft diameter tunnel boring machine excavated three miles under Lake Mead through complex rock conditions subject to more than 13 bar of water pressure to dock with the intake structure precisely on target.
More information on the finalists can be found here.