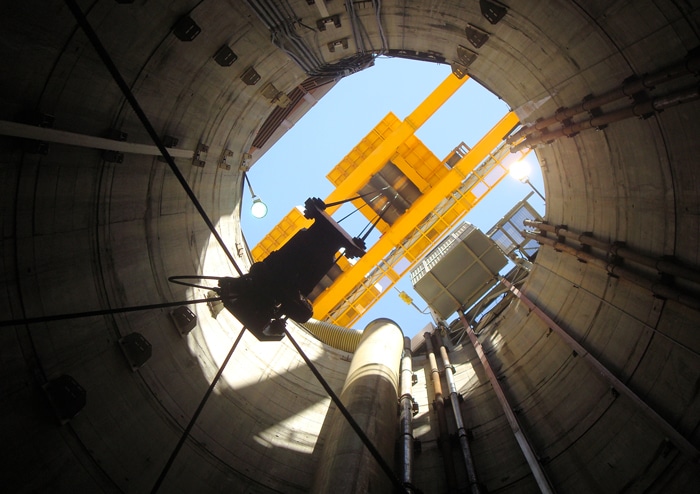 The severe drought that has always been afflicting the Colorado River Basin is coming to an end. Salini Impregilo, through its Vegas Tunnel Constructors joint venture with U.S. subsidiary S.A. Healy, has started filling the new Lake Mead tunnel with water, the latest milestone toward completing this record-breaking project awarded by the Southern Nevada Water Authority in 2008.
Southern Nevada – and especially Las Vegas – has risen to the challenge of the drought thanks to an innovative hydraulic system at Lake Mead, one of the largest artificial bodies of water in the world. The system will guarantee the supply of water to the city and surrounding areas for decades to come.
Formed by the Hoover Dam, the lake provides about 90 percent of the fresh water used by the Southern Nevada community of nearly 2 million people, which includes Las Vegas.
The challenge faced by Vegas Tunnel Constructors was to install a new deep-water intake (known as Intake No. 3) at the bottom of Lake Mead and then, nearly 200 m below ground, bore a 4.5-km tunnel from the shore to this intake.
Due to its strategic location at the bottom of the lake, the intake – known as the "Third Straw" –will become the primary water supply for the Southern Nevada area and ensure continued access to water even with declining lake levels.
The filling of the tunnel will last approximately two weeks. By the end of September, Vegas Tunnel Constructors will remove the bulkhead that will connect the existing pump stations. Once the tunnel is completely filled, the bulkhead installed at the bottom of Lake Mead will be removed allowing the tunnel to be put into service.
The project, which set a record in the engineering world by operating the tunnel-boring machine at hydrostatic pressure of 15 bar, required several technical innovations to be developed on site.
A technically challenging and demanding project, it would not have been completed on budget and on time without the dedication and commitment of Salini Impregilo, S.A. Healy and the Southern Nevada Water Authority working together in true partnership.