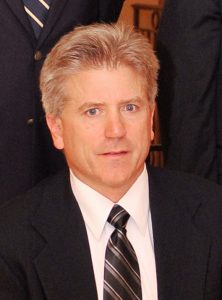 Trenchless Technology magazine announced that Midwest Mole CEO Dan Liotti is its 2015 Trenchless Technology Person of the Year. Liotti is the 23rd winner of the award and will officially be recognized by his peers at the 2015 NASTT No-Dig Show Kick-Off Breakfast March 16 at the Colorado Convention Center in Denver.
"I want to congratulate Dan on his selection as our 2015 Trenchless Technology Person of the Year," said Trenchless Technology publisher Bernard P. Krzys. "I have known Dan and his family for many years and have watched him grow into a leader in our industry. His father, Len, welcomed innovative construction practices and Dan has carried on that philosophy, especially as an entrepreneur. I look forward to officially recognizing Dan and his contributions to the trenchless industry at this year's No-Dig Show."
Liotti has led Midwest Mole to become a leader in the industry through strong leadership, good decision-making and the ability to motivate employees to be the best. This year marks his 30-year anniversary with Midwest Mole. He began his full-time career after graduating from Purdue University in 1985 with a degree in civil engineering and is a registered professional engineer. As a second-generation employee, Liotti gained the knowledge and insight on running a successful trenchless business under the tutelage of his father, Len Liotti.
Liotti has pulled together an assortment of trenchless technologies to power Midwest Mole's growing contracting base throughout the Midwest and beyond. Manned entry tunneling, auger boring, directional drilling, and relining of failing culverts, sewers and storm drains are included in his experience.
Activities and recognitions include involvement with the boards of directors of NASTT and CUIRE, as well as a longtime member of the Midwest Society for Trenchless Technology (MSTT). Midwest Mole was the contractor for the 2007 Trenchless Technology Project of the Year award winner for a tunnel project at the Indianapolis International Airport.
Liotti is also involved in many organizations including the following: American Concrete Institution (ACI), Cellular Grout Committee; AGC of America; American Subcontractors Association (ASA); Indiana Constructors Association (ICA); Ohio Contractors Association (OCA); Underground Contractors Association of Illinois (UCA); MSTT; and NASTT.
The Trenchless Technology Person of the Year has been awarded annually since 1993 to individuals representing significant recent achievement and lifetime achievement, and who have exhibited outstanding leadership in the advancement of trenchless technology. It is determined by a selection committee comprising industry professionals.The Person of the Year will be featured in the March issue of Trenchless Technology, and will be formally presented at the No-Dig Show.