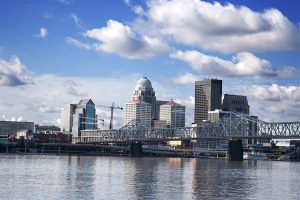 As part of its consent decree program to reduce sewer overflows, the Louisville (Ky.) Metropolitan Sewer District is planning a 20- to 24-ft diameter, 2.5-mile long sewer tunnel extending along the Ohio River west of downtown. The tunnel is an extension of a previously planned half-mile tunnel and will eliminate the need for the construction of three new retention basins, according the Courier-Journal website.
RELATED: Rockin' Through Cleveland
The tunnel is part of the Project WIN (Waterway Improvements Now), a 19-year, $850 million program to be completed by 2024. It would capture flow from 22 existing overflow points that drain into the Ohio River and its tributaries. The estimated project cost is $142 million.
The benefits of the revised tunnel plan include less surface disruption, according to MSD Executive Director Tony Parrott. Planners expect the tunnel, which will be about 200 ft deep, to be complete by 2020. The revised tunnel plan still needs approval from other regulatory agencies, including the Kentucky Transportation Cabinet and the U.S. Army Corps of Engineers.
RELATED: Clean Rivers in the Nation's Capital
The tunnel is similar in concept to other major CSO tunnels being built across the United States, including Cleveland, Indianapolis and Washington, D.C.
According to the Courier-Journal, MSD officials encountered opposition to the surface basin approach due to the potential disruption. Improvements in tunneling technology led officials to reconsidered the basin approach, which was conceived a decade ago.
RELATED: Robbins TBM Continues Trek for DigIndy