Chris Allen (1946-2017), Assistant Director for DC Water's Clean Rivers Project, passed away on Nov. 24. Allen had 47 years of experience in construction management, general contracting, consulting field supervision and program management of large buildings, mass transit, heavy construction projects and aviation programs. Prior to his experience in the construction industry, Allen served in the U.S. Marines from 1968-69.
"It was with great sadness that I heard the news that Chris Allen passed," said DC Water General Manager George Hawkins. "For many years, Chris has been the Assistant Director of the Clean Rivers Program in charge of all construction activities including the large tunnels.  We were fortunate to benefit from the decades of experience Chris brought in the tunneling world.
"For me, I marveled at his humble demeanor, his can-do attitude, and the phrase I recall him using often, 'We will get it done.' And ultimately, Chris was wonderful at his work. In parallel to the excellence of his work and commitment to public service, Chris was a warm and kind man.  I find some solace in the legacy he has left in the nation's capital, which will be tangible and meaningful for generations to come."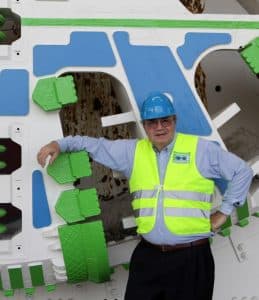 Career highlights included serving as Senior Construction Manager for the $2.2 billion No. 7 Line extension in New York City. That project included 14,400 lf of tunnel and a 1,100 lf rock cavern to house a new station, and finished on time and on budget, earning TBM's Tunnel Achievement Award in 2012.
He also played a role in WMATA Metro station and tunnel projects, serving as Superintendent and Project Engineer during construction for five WMATA stations, and miles of tunnel driven in rock and mixed conditions.
In addition to underground projects, Allen had experience on large projects including aviation projects in Miami, Washington, D.C., and San Antonio; the Pentagon reconstruction project; Cornell expansion project and new Census headquarters.
He joined DC in 2011 and was instrumental in the development and successful implementation of the Design-Build process for Clean Rivers Project, as well as the overseeing the construction of the Blue Plains Tunnel, Anacostia River Tunnel and First Street Tunnel.
Colleagues say that Allen's was able to bring lessons learned from his previous heavy civil projects to DC Water. Additionally, he developed excellent contractor relationships and championed a culture of safety.
Donations to the ALS Association in Allen's name are welcomed:
The ALS Association
PO Box 37022
Boone, IA 50037-0022
Online donations are accepted at http://www.alsa.org/donate/.