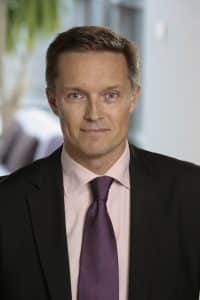 Normet announced that Robin Lindahl has been appointed as President and CEO of Normet Group. He will be based in Huenenberg, Switzerland, and will start his new role no later than May 1, 2016.
Lindahl, 51, takes over the position from Tom Melbye, who has decided to step down from his operative role and will in future act as a Senior Advisor to the CEO and Chairman of Normet Group. Melbye will work on special assigned strategical and business development tasks.
"The past eight years under Tom's leadership have been exceptionally successful for Normet," said Aaro Cantell, Chairman of Normet Group. "We have grown fast and transformed from a pure Finnish equipment company to a global underground process know-how company. Tom's positive entrepreneurial spirit as well as customers' business knowledge and contact networks made it all happen. On behalf of the board of directors, management and everybody at Normet Group, we want to thank Tom Melbye for his excellent work and achievements to build Normet to be one of the leading worldwide brands and players in underground mining and tunneling.
RELATED: Normet to Acquire MEYCO Dry Concrete Spraying Business

"I am, however, at the same time also very pleased that we have found Robin to take over as the new President and CEO and I believe he has the needed skills to take Normet to the next level. He has a good track record of successfully managing and developing world leading technology intensive businesses both at Outotec and at Nokia where he has always been able to build strong performing teams around him."
Lindahl joins Normet from Outotec Oyj where he currently holds the position as Executive Vice President and President of Metals, Energy & Water business area. He has been member of the Executive Board and employed by the company since 2011. Before that he has held many global leadership roles in business operations, sales & marketing as well as finance in the telecommunications industry, working for Nokia Group in Finland, Switzerland and Germany and he started his career carrier in Investment banking working in Finland and Luxembourg. During his career, Lindahl has held many board positions in several companies as well as industry forums.
He has a master of science degree in economics and is a Finnish citizen. He is married and has two grown up children.
"I am excited to join Normet and lead the company to the next growth phase. Normet is well positioned for the future growth in tunneling as well as underground mining. I am impressed with the company's development and strong potential," Lindahl said.