Normet, the innovative technology company offering continuous improvement to underground construction and mining processes, has agreed to acquire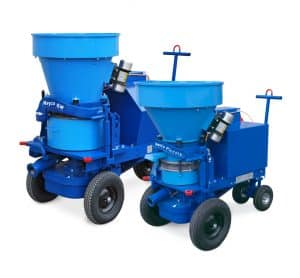 from Atlas Copco the assets of the MEYCO dry spraying business consisting of the models Piccola and GM. Normet has also the right to use the MEYCO brand name for models Piccola and GM for two years from the transfer date.
The dry spraying business has been the foundation of MEYCO for over 50 years. Atlas Copco acquired the MEYCO Equipment business from BASF Construction Chemicals Europe AG in 2013.
RELATED: Normet Launches Stage IV/Tier 4 Final Power Train Technology in M- and L-Series
"This acquisition is a good strategic fit for Normet as it broadens the offering for our existing customers in mining and tunneling," said Tom Melbye President of Normet Group and Managing Director of Normet International Ltd. "It also complements our offering of new technologies in Construction Chemicals, especially with respect to the application of the Tamseal 800 waterproofing sprayable membrane."
The acquired business will form Normet's MEYCO Dry Spraying product line which will be headed by Tom Kurth, former Managing Director of MEYCO Equipment and Business Development Manager in Atlas Copco MEYCO AG. The manufacturing of the dry spraying products will continue in Switzerland to maintain their high quality. Sales and service of MEYCO dry spraying products will be handled through long-term established distributors as well enhanced through Normet's own worldwide network. The distribution and logistics of spare parts will be managed through Normet's Global Logistics Center in The Netherlands.
The parties have agreed not to disclose the purchase price.