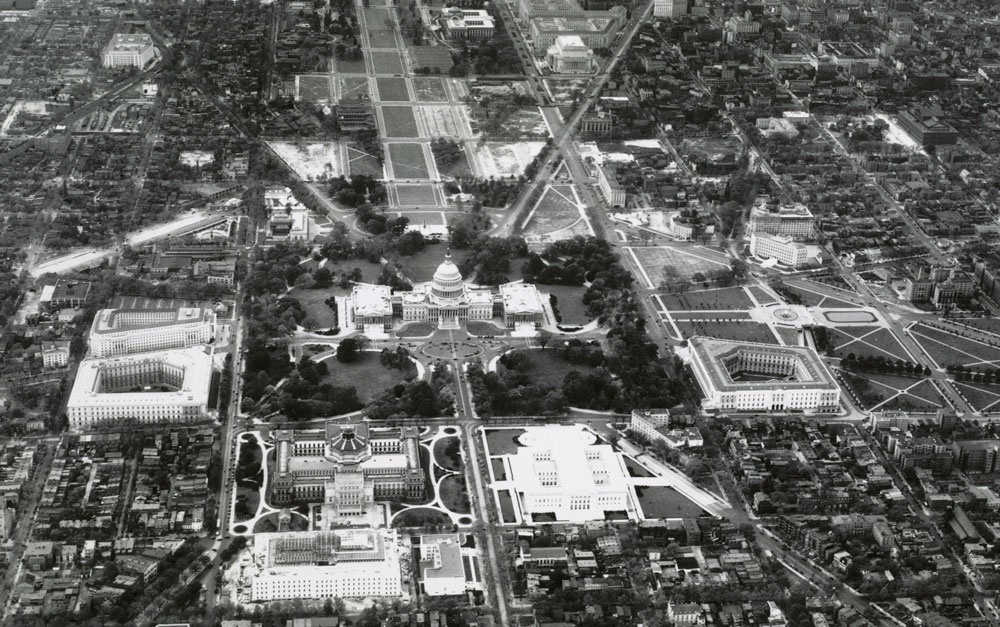 The biennial North American Tunneling (NAT) Conference is returning to its normal schedule in 2018 after taking a backseat to the U.S.-hosted World Tunnel Congress 2016 in San Francisco. Fittingly, it is traveling to the nation's capital to convene the continent's largest tunneling event of the year.
While it may have missed its official turn in 2016, the Internal Tunneling Association was able to piggyback on the strength of the U.S. tunneling events to host its largest ever World Tunnel Congress with more than 2,500 participants in San Francisco. It was the first time the U.S. had hosted a World Tunnel Congress in 20 years – the last time being, coincidentally, in Washington, D.C.
This year, North American Tunneling, hosted by the Underground Construction Association (UCA), will be held June 24-27 at the Marriott Wardman Park located in the leafy and upbeat Woodley Park neighborhood near the zoo, Rock Creek Park and plenty of dining options. Of course, it is just a quick Metro ride to the heart of the city with its wealth of attractions.
Organizers expect in excess of 1,000 attendees and 140 exhibitors. The hallmark of the program are the technical sessions, which span two and half days and are split across four distinct tracks. The presentations are given by leading contractors, engineers, owners and suppliers from the across United States as well as internationally.
In addition, NAT offers a host of other activities including networking opportunities, short courses and technical tours. Networking kicks off on Monday with the popular Welcome Reception in the Exhibit Hall
The Washington, D.C. area is a destination in itself, with its famous museums, monuments and government buildings, in addition to historic places of interest including Mount Vernon, the home of George Washington. The fashionable Georgetown neighborhood is great for shopping, dining and nightlife.
For full details, visit www.natconference.com.
ABC Ventilation Systems
ABC Ventilation Systems was founded in 1968 and has grown to become the industry leader in underground ventilation products. The company's product line consists of fans, ducting, VFDs, air heaters, cassettes, and deduster systems. ABC's newest edition to the product line, Hardline Performance Ducting, is a semi-rigid polymer ducting designed to replace steel and fiberglass ducting. With low airflow resistance and low leakage couplings, there is a decrease in energy consumption and number of fans needed for ventilation designs. Hardline is applicable for positive and negative pressure and meets international fire resistance standards.
AECOM
AECOM designs, builds, finances and operates infrastructure assets for governments, businesses and organizations. As a fully integrated firm, AECOM connects knowledge and experience across its global network of experts to help clients solve their most complex challenges. AECOM's project experience encompasses more than 2,000 miles of tunnels delivered by 400 professionals. The firm is well versed in all tunneling and trenchless methods in every type of ground condition, drawing from its strong capabilities in bored and conventional tunnels, immersed tube tunnels, cut-and-cover tunnels, microtunneling, fire and life safety, ventilation, geology and geotechnical engineering.
Agru
With over 8,000,000 sq m of tunnel linings installed worldwide, Agru can easily offer a proven solution to your tunnel project. AgruFlex VLDPE waterproofing liners protect against water infiltration, aggressive soils and root penetration and are suitable for use with both bored and conventional construction, as well as cut-and-cover tunnel construction. Agru's Sure-Grip Concrete Protective Liners provide long-term protection of tunnel structures from corrosion in aggressive applications such as wastewater transport. Agru also provides a full range of complementary products including affixation discs, geotextiles, drainage composites, grout injection ports, and waterstop profiles.
Akkerman
The Akkerman Bentonite Injection System (ABIS) delivers automated bentonite injection at optimal tunnel intervals to reduce jacking forces and facilitate efficient and extended length pipe jacking and microtunneling operations. The ABIS package delivers totalized flow control at each valve location using touch screen functionality from the main system monitor. The Control Skid houses the flow meter and Monitor Touch Screen and connects up to 10 Remote Station Control Boxes, each with three linked Automated Injection Ball Valve Assemblies for point flow distribution onto the pipe annulus. The system can also control and monitor IJS functions. The standard ABIS configuration equips contractors with components for a 2,000-lf tunnel, and the flexibility to suit a variety of project conditions.
AMIX Systems Ltd.
AMIX Systems Ltd. is a design, engineering and fabrication team that solves problems for today's most challenging grout mixing and backfill projects. AMIX takes complex project needs and builds automated, self-cleaning products and systems that simplify the grout mixing process. The Perfect Storm series of plants produce outputs from 2 cubic meter/hr over and above 100 cubic meter/hr. AMIX also provides solutions for retrofitting existing plants. AMIX's team has a deep expertise in systems design and control automation. It's not about selling systems, AMIX is on a mission to help companies reduce their overall equipment costs and make significant advances in productivity.
ASI Group
Established in 1987, ASI Group Ltd. is a full-service engineering and marine technology company comprised of two groups: ASI Marine and ASI Water. ASI Marine provides industries worldwide with leading-edge underwater services focused on assessment, maintenance, rehabilitation and construction of underwater infrastructure and tunnels. ASI Marine, partnered with Associate Underwater Services (AUS), provides turnkey hyperbaric intervention tunneling support services to the tunneling industry. To date, ASI has performed over 500 hyperbaric interventions in soft ground tunnels. Hyperbaric support services include: plan and manage all aspects of a hyperbaric intervention including, risk assessment, safety and adherence to local regulatory requirements as well as providing equipment, workers and training.
Avanti International
Avanti International is the most experienced producer of high-quality injection grouts in the United States. For 40 years, AvantiGrout has been used in geotechnical applications to stabilize soil and control groundwater before, during and after construction. Injection grouts can be used: 1) Before tunnel break-ins/outs to stabilize surrounding soils, control groundwater inflow, and improve project productivity; 2) During tunnel construction to stabilize weak soils, control groundwater ahead of and behind TBMs for efficient mining and safer work environments; 3) After project completion to create an impermeable water barrier.
Babendererde Engineers
BabEng specializes in mechanized tunneling and underground storage construction. The worldwide services range from project development and design to construction management and practical work process optimization. Another successful service being offered is hands-on troubleshooting on-site for TBMs in difficult situations. For water and gas storage, BabEng joins forces with project developers and construction companies. TPC Tunnelsoft, the software branch, supports the tunneling industry with specialized software for technical data management and visualization on tunnel projects. Its unique flexibility, combined with powerful automatic reporting and notification tools, makes it one of the leading solutions in the market with references all over the world.
BASF
Through its Master Builders Solutions brand, BASF is a leading supplier of underground construction solutions that help tunneling customers to become more successful, even in highly challenging ground conditions. BASF has the largest range of products and services available to meet needs and solve problems in TBM and conventional tunneling, whether in soft ground or hard rock conditions. We offer a full range of MasterRoc tunneling products such as soil conditioning foams and polymers, anti-clay agents, tail sealants, anti-abrasion agents, dust suppressants, bearing seal and EP2 greases, plus products for sprayed concrete and injection for ground modification and water control.
BAUER MAT
BAUER MAT Slurry Handling Systems is a mid-size mechanical and plant engineering company with more than 20 years of experience in the tunneling/microtunneling industry. MAT designs and manufactures equipment for mixing, handling and separation applications for bentonite and cement slurries; mixers and mixing plants for colloidal mixing of slurries; and screening, cyclone and decanting plants for solids-liquids separation. Recently BAUER MAT introduced the BE-550 for use on bentonite slurries. The BE-550 comprises two adjoining identical standalone plants and is capable of processing 550 cubic meters of slurry per hour and when combined with MAT's BD-90 big bowl centrifuge provides a closed circuit system with minimum footprint requirement.
Bekaert Maccaferri Underground Solutions
Bekaert Maccaferri Underground Solutions is a global partner for smart fiber reinforcement for tunneling and mining projects. The company's wide range of fibers support project needs. Depending on the application, Bekaert Maccaferri has the right fiber at the right price. Bekaert Maccaferri now offers a range of Dramix steel fibers produced in the United States to meet the "buy America" requirements in rebuilding the infrastructure. The company's Umix fibers are macro-synthetic fibers and can be used for temporary support in mining. To complete the portfolio, Bekaert Maccaferri also offers microsynthetic fibers called Duomix M6 Fire that increase the fire resistance of concrete.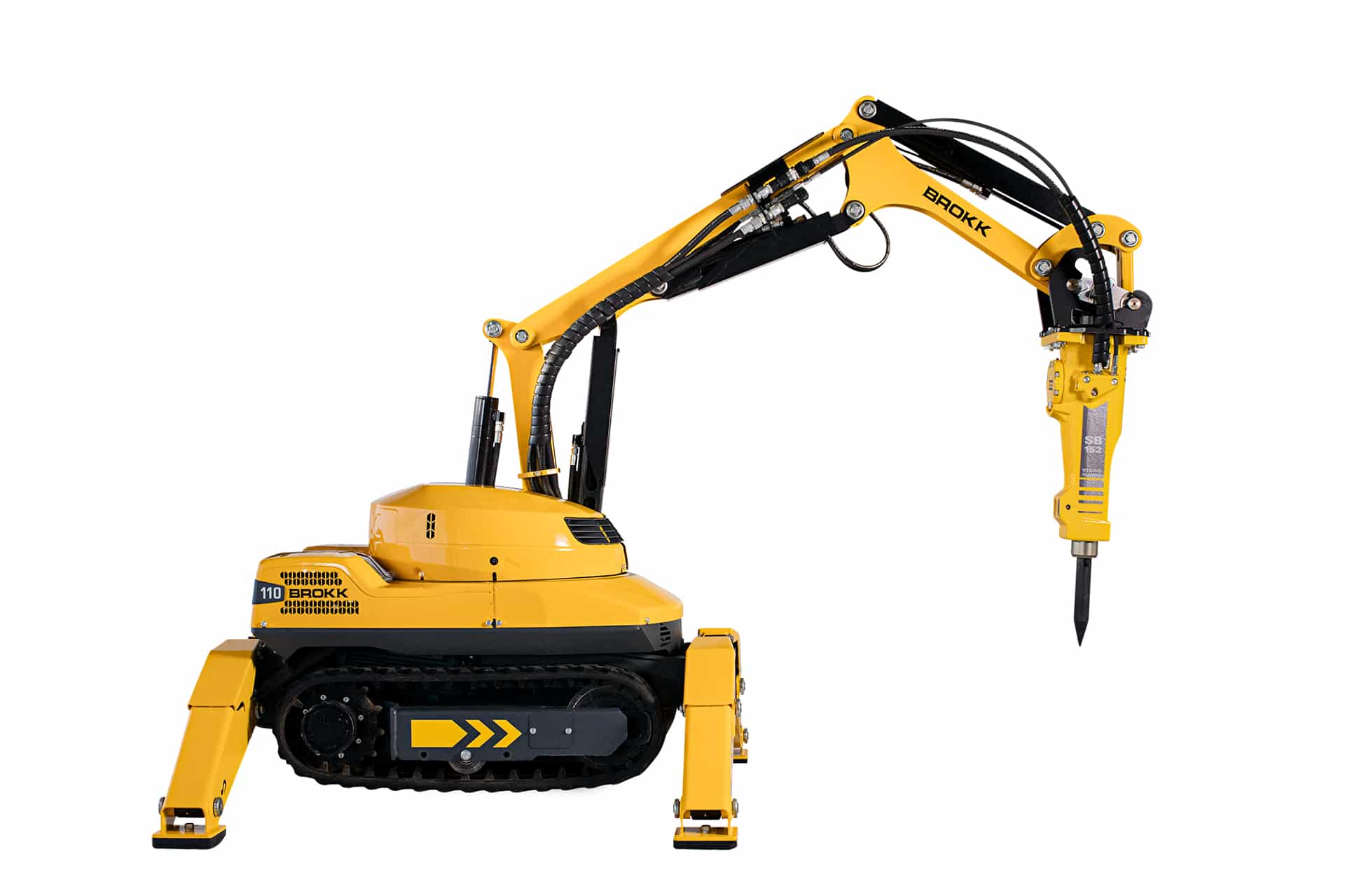 Brokk
Brokk, a leading manufacturer of remote-controlled demolition machines, highlights the Brokk 500 at the 2018 North American Tunneling Conference. The electric machine offers 40 percent more demolition power than its predecessor, the Brokk 400. The machine delivers 1,086 ft-lbs (1,472 joules) with each blow of the 1,510-lb (685-kg) SB 702 breaker from Epiroc, formerly Atlas Copco. On top of that, it adds more length to Brokk's signature three-part arm system, now reaching 24.3 ft (7.4 m) vertically and 23 ft (7 m) horizontally, making it ideal for work where extra reach is important.
Brookville Equipment Corp.
Brookville designs and manufactures diesel and battery locomotives, personnel carriers and combination vehicles for underground miners and tunnelers. Customizable Brookville units come in ranges of four to 50 tons with variable gauges of 24 to 48 in. Recent product enhancements include remote control, LED gauge panels and integrated rearview cameras for operational safety and efficiency. Brookville units have serviced some of the industry's most notable projects, including the East Side Access Project in New York City and the Stillwater Mine in Montana. In early 2015, Brookville delivered three 27-ton tunneling locomotives to the Crenshaw/LAX Transit Corridor Tunnel Project in Los Angeles.
COWI
COWI Tunnel is internationally recognized as specializing in the planning, design, inspection and construction management of tunnels, shafts and underground structures. COWI's project types include tunnel boring machine, immersed tube tunnel, pipe-jacking and microtunneling, and soft-ground tunnels by earth-pressure balance, open-cut and cut-and-cover. With over 450 tunnel professionals, COWI provides local and international clients with practical, cost-saving and innovative design solutions around the world. For over 85 years, COWI has been at the forefront of providing engineering, economics and environmental science solutions. COWI's reputation as world-class specialists enables it to contribute to many of the world's most prestigious and challenging infrastructure projects. With over 6,400 employees around the globe, COWI is present in all major markets worldwide.
CTS Cordes
For almost 60 years, CTS Cordes from Germany has been a reliable industry partner in providing sealing solutions for pipeline and manhole construction projects and has made inroads into large diameter tunnel construction since 2002. Today the CTS Cordes product range includes tunnel segment liner gaskets, seals for TBMs, seals for TBM launching shafts, seals for jacking pipes and pipe jacking stations, and inflatable emergency seals. The latest development has been an innovative profile geometry for the DB Albvorlandtunnel, a high-speed rail link related to the Stuttgart 21 mega project in Germany, that provides a considerably improved water-proofing performance without offset-related weaknesses.
David R. Klug & Associates, Inc.
David R. Klug & Associates, Inc. provides manufacturers' representative services to the underground heavy civil and mine construction industries. The company specializes in the sale of products and services for soft ground, conventional and NATM/SEM tunnels. Expertise is offered in the supply of componentry used in precast segmental tunnel linings inclusive of EPDM gaskets, plastic and steel connectors, grout lifting assemblies and precision steel segment molds plus final lining forming systems for C-I-P final lining applications. Through its distribution company, Klug Construction Systems LLC offers GFRP rock bolts and soft-eyes, steel and synthetic fiber reinforcement, prefabricated mesh and rebar reinforcing panels plus specialty grout systems for tunnel backfill grout requirements.
Derrick
The DE-6400 VFD (Variable Frequency Drive) centrifuge offers a robust mechanical design coupled with advanced control technology, enabling it to provide consistent and effective solids control in a wide range of drilling fluid types and drilling or tunneling conditions. The stainless steel bowl and conveyor with hardened and replaceable wear parts reduce the total ownership cost and maintenance downtime. With a maximum of 3,310 G's at 3,600 rpm bowl speed, the DE-6400 separates fine solids from drilling fluids at flow rates up to 450 gpm, improving drilling fluid rheology and thus drilling or tunneling performance.
Epiroc
Epiroc is a new company formed out of the mining, rock excavation and hydraulic attachment tools business areas of Atlas Copco. The brand is a leading productivity partner for the mining, infrastructure and natural resources industries. With cutting-edge technology, Epiroc meets tunneling and underground infrastructure needs for face drills, ventilation, loaders and trucks. The company also supplies a complete range of related consumables and offers a comprehensive service network. Epiroc experts can partner with customers to create tailored solutions focused on maximizing productivity in a safe, cost-effective and sustainable way.
Everest Equipment Co.
Since 1975, Everest Equipment Co. has been a leading designer and manufacturer of custom construction forms in North America. Everest's mission statement is to be "the best-in-class partner for custom formwork solutions." Everest designs and fabricates shaft formwork, blast-proof shaft formwork, many types of tunnel formwork serving the areas of mass transit development, fresh water supply, sanitary water treatment and vehicular tunnels, California switches, underground gantries and related equipment. Everest has recently acquired an expanded design expertise. Everest encompasses in-house sales support, in-house engineering, in-house fabrication and on-site servicing of custom formwork designed to meet the harsh requirements of underground forming. Adding to its core strengths is the support Everest enjoys from ownership by the Alamo Group.
Gall Zeidler Consultants
Gall Zeidler Consultants (GZ) is a worldwide leader in geotechnics, tunnel design, tunnel engineering, tunnel rehabilitation and tunnel construction management, with special expertise in transportation and infrastructure projects. The company specializes in mastering difficult ground conditions by using cutting-edge methods including, but not limited to, dewatering, grouting and ground freezing. GZ offers exceptional expertise in urban tunneling with shallow overburden and the related protection of neighboring structures and surface operations by innovatively combining conventional (SEM/NATM) and mechanical tunneling methods (TBM) with ground improvement and state-of-the-art waterproofing techniques. GZ employs over 50 staff worldwide, and can look at a history of over 300 miles of successfully completed international tunneling projects.
GCP Applied Technologies
GCP Applied Technologies Inc., a leading global provider of construction products technologies, will introduce the TYTRO Tunnel Lining System to North America in the second half of 2018. The TYTRO Tunnel Lining System is a complete state-of-the-art tunnel lining solution that includes all the components required for the design and construction of full lining systems in tunnels constructed using conventional excavation methods. TYTRO admixtures include a number of industry-leading admixture innovations. Mixes containing TYTRO admixtures are easier and faster to apply and less expensive than traditional mixes, and accelerate cycle times, minimize excavation downtime and minimize waste on application.
GEOKON Inc.
GEOKON designs and manufactures a full range of high-quality geotechnical instrumentation suitable for monitoring the safety and stability of civil engineering structures including tunnels, underground caverns, mine openings, foundations, piles, etc. Tunnel-specific instruments include NATM-style concrete pressure cells, convergence meters, multiple-point extensometers, instrumented rockbolts and tape extensometers. GEOKON is ISO 9001:2008 registered and is committed to providing outstanding products and services that meet or exceed quality expectations. Since 1979, GEOKON has provided robust and reliable vibrating wire instrumentation and data management solutions for the world's most demanding tunneling environments.
Hatch
Hatch is an employee-owned and award-winning organization that has been providing customized solutions on tunnel projects around the world for over 60 years. With a worldwide corporate strength of 9,000 staff, including over 150 dedicated tunneling specialists, Hatch has been involved on thousands of projects, successfully designing, managing and consulting a combined total of over 1,400 km of tunnel. From microtunneling, to excavation utilizing the world's largest rock TBM, Hatch continues to deliver tunnel projects safely, on time and on budget in all types of ground conditions. Hatch in-house experts have developed innovative solutions and tools for the most challenging projects and are able to complete your project successfully from start to finish.
Herrenknecht Tunnelling Systems USA Inc.
Herrenknecht is the technology and market leader in the area of mechanized tunneling systems. As the only company worldwide, Herrenknecht delivers cutting-edge tunnel boring machines for all ground conditions and in all diameters. Under the umbrella of the Herrenknecht Group, a team of innovative specialists has formed to provide integrated solutions upon request. With Herrenknecht Tunnelling Systems in Sumner, Washington, founded in 1997, Herrenknecht is able to provide a comprehensive range of services close to U.S. project sites and customers, quickly and in a targeted way.
HOBAS PIPE USA
Hobas centrifugally cast, fiberglass-reinforced, polymer mortar pipe is ideal for a variety of installation methods including nearly every trenchless application: sliplining, jacking, microtunneling, two-pass tunnel and casing carrier plus open-cut and above-ground for both pressure and gravity applications. Key applications are storm and sanitary sewers, other corrosive environments and potable water. Sections join with push-together, leak-free, gasket-sealed couplings. Non-pressure and pressure classes are manufactured in diameters from 18 to 126 in.
HNTB
Urban growth is exerting increased demand for more efficient transportation. HNTB has more than 45 years of experience in design, construction and restoration of tunnels and underground structures. Projects range from small-diameter excavations to the world's largest machine-bored tunnels. With staff nearing 4,000 people, 60 U.S. offices, and over 100 years in service to public and private clients, HNTB is committed to state-of-the-art innovative approaches to complex underground structures and tunnels, from feasibility studies through final design and construction. As the employer and consultant of choice, HNTB's commitment to the underground industry is as deep as its standards of technical excellence.
Innovative Wireless Technologies Inc. (IWT)
Innovative Wireless Technologies Inc. (IWT) is the leading supplier of wireless communication and tracking systems for underground applications. IWT's SENTINEL system is easy to install and maintain and provides crystal clear voice communications for maximum productivity and low cost of ownership. Continuous tracking is also supported – all in one system. IWT offers line-powered, battery backed-up, mesh networking infrastructure for long-term construction projects, or battery-powered infrastructure for shorter term inspections. In either case, IWT equipment is 100% recoverable and reusable once the project is completed.
JENNMAR Civil
JENNMAR Civil is dedicated to providing products and services to the civil construction and tunneling industries. Products include various types of rock support bolts, anchoring systems and resins to support tunneling, geotechnical, foundation and earth retention projects. JENNMAR Civil's specialists are experienced, knowledgeable and accessible. Jennmar's primary product roster includes PYTHON expandable rock bolts, FRICTION-LOK stabilizer systems, steel sets, steel tunnel and shaft ribs, lattice girders, rail ties and resin.
Lovsuns Tunneling Canada
Lovsuns Tunneling Canada, an LNSS company, carries the legacy of Lovat tunnel boring machine technologies that have mined over 1,500 km of tunnels all over the world. Lovsuns is specialized in engineering, manufacturing and servicing a full range of TBMs for both traffic and utility tunnels, including EPB, single and double shield rock TBMs, conventional open mode and dual mode TBMs between 2 and 13 m. By leveraging Lovat intellectual properties, the experienced Lovsuns team is fully capable and committed to providing the most efficient product support to Lovat/CAT TBM customers worldwide. Lovsuns also maintains an extensive complement of spare parts and components in Toronto.
Malcolm Drilling
Malcolm Drilling has for over five decades been an innovator and leader in the deep foundation industry. Malcolm's list of core services as it relates to tunneling and geotechnical construction includes access shafts, support of excavation systems, slurry and secant pile walls, grouting techniques, various soil mixing methods and dewatering. These combined services have routinely been applied on numerous complex tunneling projects throughout North America from SR99 in Seattle to the POMT in Miami. The company's engineering experience facilitates design-build efficiency and allows for timely collaboration with owners and contractors. Malcolm provides these services nationwide through regional offices.
MAPEI UTT
The Underground Technology Team is MAPEI's answer to the growing demand from the construction market for a range of products dedicated to underground construction work. As a result technical know-how developed in many countries for more than 20 years, MAPEI has created a dedicated product range of "Underground Technology Construction Products. These products are supported in the field by MAPEI's Underground Technology Team (UTT). Even in highly unpredictable situations, the UTT representatives are able to provide the most appropriate technical and economic solutions. Members of the UTT Technical Service staff are available to meet with you in your office or directly on the job-site.
McDowell Equipment Ltd.
McDowell Equipment Ltd. supplies new and late-model tunneling equipment for rental or sale. The company's rental fleet consists of underground loaders from ½ to 10 yd; underground haul trucks from 7 to 40 tons; low-profile motor graders; jumbo drills with one, two or three booms; underground remixers; locomotives; and muck cars. McDowell manufactures shotecrete machines, scissor lifts, ANFO loaders, and personnel carriers. The company can also offer fully re-manufactured or reconditioned equipment at significant savings from new with fast delivery times.
McMillen Jacobs Associates
McMillen Jacobs Associates is an employee-owned engineering and construction firm with a rich history in tunnel design and innovative construction engineering. The firm serves the water resources, heavy civil and underground markets, offering comprehensive design, design-build, self-performing construction and construction management capabilities, as well as dispute resolution services. Leading-edge designs consider construction methods ranging from open-beam tunnel boring machines, shielded rock machines, earth pressure balance and slurry machines, and sequential excavation method techniques. McMillen Jacobs' underground expertise spans the design of tunnels, deep shafts, temporary works, portal and slope stability, deep foundations, building protection measures, and ground improvements.
Measurand
Measurand designs and manufactures ShapeArray, an instrument used to monitor deformation of soil and structures like dams, tunnels, walls and buildings. ShapeArray is a completely automated shape-measuring instrument, which has set a new standard for ease of installation and 360 x 360-degree range of orientation. ShapeArray can be installed near vertical to measure lateral deformation, near horizontal to track vertical deformation, or in an arc to measure convergence. ShapeArray data are available in real-time, enabling engineers and designers to reduce risk and save money by making smarter, faster decisions.
Michels
Michels uses a variety of tunneling techniques to complete challenging tunnels in all locations and soil conditions for pipelines, water mains, and storm and sanitary sewers. Michels' extensive experience includes working with earth pressure balance tunnel boring machines (TBM), hard rock TBMs, conventional drill-blast tunneling, sequential excavation methods (SEM), and remote controlled tunneling systems. Michels has experience working on land, under water, in the largest cities and in the most remote regions. Michels comprehensive pre-planning process is critical to its ability to build safe, reliable tunnels under even the most extreme conditions.
Mining Equipment Ltd.
"Rolling for more than 35 years," Mining Equipment continues to supply the tunneling and mining industries with top-quality rolling stock, Jetair fans and steel ventilation ducting as well as a large inventory of rebuilt equipment such as scooptrams, trucks, drill jumbos and other underground gear. Mine Hoists International, a sister company of Mining Equipment, is based in North Bay, Ontario. It boasts the world's largest inventory of used mine hoist and large capacity stage winches for mining and shaft sinking projects. Its new 20,000 sq ft shop in North Bay can handle the largest of hoist and winch rebuilds.
Moretrench
Moretrench specializes in complex underground construction geotechnical challenges, particularly those related to tunnels, shafts, cross passages, and other underground structures. The company's services include ground freezing, dewatering and groundwater control, earth retention and excavation support, soil stabilization and grouting, remediation of mixed-face conditions, rock consolidation, and groundwater treatment. These services are available nationwide through offices in New Jersey, New York, Florida, Massachusetts, Pennsylvania and Maryland.
Mott MacDonald
Mott MacDonald provides tunnel design and engineering solutions for rail and transit, road, water/wastewater conveyance, CSO storage, and cable and communications. With a reputation for technical excellence, Mott MacDonald identifies practical approaches to tunneling, equipment selection and contracting approaches. Expertise includes soft ground and rock tunneling, cut and cover, underground caverns, immersed tube tunnels, jacked tunnels, and microtunneling. Complementary skills in technical areas include tunnel rehabilitation, ground stabilization and treatment, tunnel systems, ventilation, and life safety and security. With 16,000 employees worldwide, Mott MacDonald is one of the world's largest employee-owned companies.
Nicholson
Nicholson has been both a leader and an innovator in the geotechnical construction industry for more than 60 years. With regional offices across the country and headquarters located in Pittsburgh, Nicholson is a nationally renowned specialty contractor, offering proven expertise in the design and installation of deep foundation elements, earth retention systems and ground treatment solutions. Nicholson prides itself on its ability to consistently provide clients with innovative, high-quality design-build options for projects of varying size and complexity. Nicholson is the North American subsidiary of Soletanche Bachy, one of the world's leading geotechnical contractors, and is part of a global network of unparalleled geotechnical resources and expertise.
Nightstick
The Nightstick XPR-5560G Rechargeable Intrinsically Safe Permissible Dual-Light Cap Lamp features a spotlight, floodlight and duel-light. The floodlight and spotlight offer two selectable brightness settings of 90 lumens (HIGH) AND 45 lumens (LOW). You can have them on simultaneously for maximum user safety, and the 5-lumen "Survival Mode" provides 170 hours of run-time in an emergency situation. It's MSHA certified, as well as IP-67 rated dustproof/waterproof. An integrated rechargeable lithium-ion battery powers the cap lamp.

Normet
Normet is a fast-growing and innovative technology company with a passion to offer continuous improvement to underground construction and mining processes for increased safety, productivity and profitability. Normet has a broad underground offering: Equipment for concrete spraying and transport, explosives charging, scaling, lifting, installation works, and logistics; Construction chemicals for sprayed concrete, admixtures for all types concrete, injection systems for rock improvement, reinforcement systems for high deformation conditions, spray applied waterproofing systems and needed chemicals for TBM technology covering hard rock, EPB, open face and slurry type machines; and the new generation energy absorbing rock bolting system; the D-Bolt system specially designed for efficient and reliable rock reinforcement, in both squeezing and burst-prone strata conditions.
Parsons
Parsons is a technology-driven engineering services firm with more than 70 years of experience in the engineering, construction, technical and professional services industries. Parsons has successfully delivered some of the largest and most complex tunneling and underground construction projects in the world. From planning and design through construction management and operations, Parsons provides a complete range of services for water, wastewater and transportation tunnels. Whether your project involves soft ground, rock, or mixed-faced conditions, Parsons' dedicated staff of more than 100 tunnel professionals have the experience and skills to manage the risks and deliver safe, economical and innovative solutions.
Schnabel Foundation Co.
Since 1959, Schnabel Foundation Co. has been providing design-build solutions for excavation support and deep foundations to contractors and owners throughout the United States. Schnabel's services include secant piles for access shafts, jet grouting, micropiles, tiebacks, tiedowns, excavation support systems and cut-off walls. Contact one of Schnabel's nine regional offices with your tunneling problem and put the firm's experienced engineers, specialized equipment and quality craftsmen to work for you.
Shannon & Wilson
Shannon & Wilson is a nationally recognized consulting firm providing quality services in geotechnical engineering and the applied earth sciences to governmental and private clients since 1954. Shannon & Wilson works nationally and internationally from 13 U.S. offices. The firm has completed 900-plus tunnel projects including: the world's largest diameter (84-ft OD) soft ground tunnel and largest diameter (57-ft OD) EPBM tunnel, and the country's deepest (170-ft) SEM mined transit station in soil. Recent projects include Seattle's Alaskan Way Viaduct and Sound Transit Northgate Link, Los Angeles Metro's Regional Connector and Westside 1, St. Louis' River Des Peres Sewer Project, and the CSXT's Howard Street tunnel clearance project in Baltimore.
Stantec
The Stantec community unites approximately 22,000 employees working in over 400 locations across six continents. Stantec has successfully delivered more than 1,200 underground projects in the past five years. The company's portfolio includes tunnels up to 33 ft in diameter and shafts up to 110 ft in diameter. Stantec's recent experience includes the City of Atlanta's Raw Water Delivery System with 5 miles of 10-ft diameter tunnels, City of Ottawa's CSST project with 3.7 miles of 9.8-ft diameter tunnels, and LA Metro Crenshaw/LAX Transit Corridor with three underground stations connected by four reaches of twin-bored, 21-ft diameter tunnels totaling 2 miles.
TBM: Tunnel Business Magazine
TBM: Tunnel Business Magazine is the leading publication covering all facets of the North American tunneling market. Launched in 1998 as a bi-monthly print publication, TBM reaches more than 5,000 print subscribers and 7,000 monthly visitors on www.tunnelingonline.com, which is updated daily. Free digital subscriptions are available to readers outside North America. In 2018, TBM celebrates its 20th anniversary of serving the North American tunneling and underground construction market!
Technical Tunnelling Components
Technical Tunnelling Components (TTC) has over 40 years of experience manufacturing and supplying segment accessories such as connection bolts, grout/lifting sockets, segment packers and grommets along with the award-winning Dowelock connection system. TTC truly is the one-stop shop for all precast segmental fixing and grouting systems. The in-house design and manufacturing capabilities that Tunnelling Accessories and Bosworth Plastics have can also offer products for challenging situations as well as standard segment accessories. TTC supplies components worldwide with an impressive product portfolio along with excellent service.
TERRATEC
TERRATEC is a world-renowned Australian-based designer and manufacturer of tunnel boring machines, raise boring machines and other custom-made equipment for tunneling and mining applications. TERRATEC's success is based on the experience and excellence of its engineering team, which includes engineers with more than 40 years' experience in the design and manufacture of tunneling and mining machines for some of the world's largest underground projects. TERRATEC is fully managed by engineers and this gives quick and efficient solutions to meet customer expectations. TERRATEC products are well-known in the industry as robust, durable and safe, basic principles that must prevail in the design of any equipment made to work in the extreme conditions encountered underground.
The Robbins Company
With more than 65 years in the tunneling industry, The Robbins Company's greatest asset is its knowledgeable team and unparalleled experience in the field. Each piece of underground construction equipment, from tunnel boring machines to cutters and everything in between, is engineered for maximum durability and performance, ensuring the successful completion of even the most difficult projects. Robbins is a total supply company, offering everything from cutters and conveyors to field service personnel, who have worked on over 900 projects worldwide, and are known for their technical knowledge and troubleshooting skills. Over the decades we've learned that difficult ground requires tough solutions. Robbins is dedicated to being a true partner for the challenges you face.
TRE ALTAMIRA
TRE ALTAMIRA's InSAR technology measures surface deformation with millimetric precision using satellite radar imagery. New images are regularly acquired and processed using proprietary SqueeSAR technology to produce a point cloud of measurements over the tunnel alignment and surrounding area. Each measurement point displays the evolution of motion over time, providing powerful information even on subtle ground subsidence, uplift and horizontal movement. Measurements also allow for verification of the stability of individual structures through time and can complement in situ measurements. Existing historical archives provide a synopsis of ground stability during project planning, while regular updates are tailored to monitoring construction and infrastructure integrity.
TREVIICOS
ICOS Boston invented the slurry wall process and has operated in North America since 1964, when it constructed the foundation wall for the World Trade Center in New York. In 1997, Trevi acquired ICOS Boston to form TREVIICOS Corp. This move advanced the company to become a major presence in the North American market, and positioned TREVIICOS Corp. as a full-service ground engineering company able to provide innovative applications, a broad range of techniques, and the highest level of customer satisfaction. TREVIICOS specializes in dam rehabilitation, slurry walls, cutoff walls, secant pile walls, drilled shafts, rigid inclusions, jet grouting, and deep and shallow mixing.
VMT
As a driving technological force for more than 20 years, VMT has the experience, the capacities and the know-how to develop innovative system and product solutions that support construction companies all over the world to build tunnels and shafts of every size for ever more complex infrastructure projects: VMT's navigation systems for driving equipment, its production and logistics management system for segment production and further innovative system solutions for safety, monitoring and data management play key roles here. The VMT products can be combined into efficient, modern, networked solutions that ensure streamlined processes and seamless quality assurance for every tunnel project.
WSP
For more than 130 years, WSP (Formerly WSP | Parsons Brinckerhoff) has been a leader in providing program management, design and construction services of tunnels and underground facilities for transportation, water/wastewater, power, utilities, aviation and research facilities. The firm's underground engineering experience includes rock tunnels and caverns; soft-ground tunnels; immersed tunnels; cut and cover; mechanized excavation and SEM/NATM. Services include geotechnical, structural, civil, ventilation and fire-life-safety, and tunnel systems. The firm is active on underground projects in the United States, Canada, Europe, the Middle East, Australia, and South East Asia. With 42,000 employees in more than 500 offices worldwide, WSP offers full-service capabilities to advance tunnels and underground facilities from inception to operation.
ZED
ZED manufactures and develops TBM guidance/navigation systems. The company, based in the United Kingdom near London, has an enthusiastic team that provides a seasoned and prompt reaction to customer requirements and technological advances that are applicable to its products. More recently, ZED offers a redesigned system for long/curved pipe jacks and a configuration that places the total station on the TBM backup rather than the tunnel wall, intended for smaller diameter TBMs where space is at a premium, especially along the backup walkway. The company provides comprehensive R&D services for electro-optical instrumentation for a variety of uses, from applications in the railway industry to vertical shaft alignment.
With a host of educational and networking opportunities, the North American Tunneling Conference is suited for all tunneling professionals: contractors, owner, engineers and vendors. We look forward to seeing you in DC!