Building Link in the Chain
With traffic that regularly makes the top 10 lists, Seattle's subway system is a highly anticipated transportation option. The city's latest dig will further extend the Link light rail system from the University District to the Northgate area north of Seattle, easing traffic through busy neighborhoods near the University of Washington.
The 4.2-mile extension adds length to the recently completed University Link tunnels running 3.2 miles south to the area's busy Capitol Hill neighborhood. To complete the parallel tunnels, contractor JCM NorthLink LLC (a joint venture of Jay Dee, Coluccio and Michels) is gearing up to excavate tough glacial till and saturated sands near freeways and other sensitive structures – including underground research laboratories at the University.
Urban Planning
The light rail extension, approved by Seattle voters in 2008, includes 3.6 miles of twin running tunnels, two cut-and-cover stations at Roosevelt and Brooklyn and a 0.9-mile guideway that transitions from tunnel to an elevated structure and an elevated station at NE 103rd Street. Project owner Sound Transit awarded a Construction Management contract for the project to North Star, a joint venture of Jacobs and CH2M Hill. Sound Transit expects to open the line in 2020, and is currently on schedule as tunneling began in summer 2014.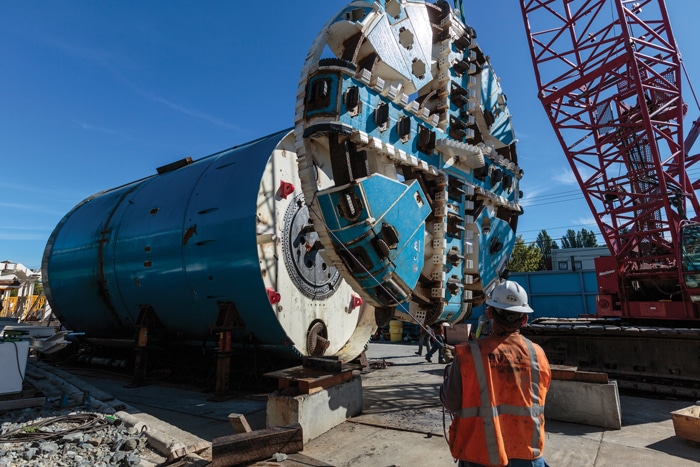 Challenges during tunneling are many – the start of excavation consists of lacustrine clay and unsaturated, dense sands above the water table, which make ground conditioning a difficult process. The location of the tunnels is another cause for concern: "We are tunneling for three-quarters of a mile below the University of Washington campus, with some work required at the surface above the tunnel, and there has been concern about surface impacts to the students as well as ground-borne noise and vibration," said Glen Frank, Project Manager for JCM NorthLink.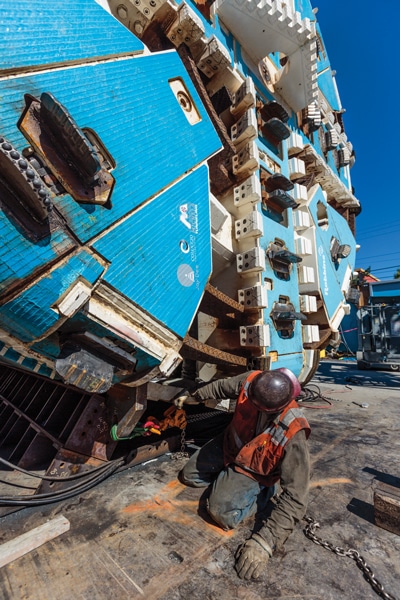 Ground freezing for a cross passage will take place at the surface on campus, where monitoring instruments will keep noise and vibration within limits. Upward of 20 buildings, according to Frank, house sensitive research laboratories and are also being monitored to make sure vibration levels are acceptable. "The trains will run fast and their vibration will be in similar magnitude to our excavation, so we are trying to stay within and below their ballpark estimates for noise and vibration," explained Frank.
The contractor is also building two cut-and-cover station sites in addition to tunneling. The first site, Roosevelt, requires 135,000 cu yd of material to be removed and measures 450 to 500 ft long, 80 ft wide and 100 ft deep. JCM is constructing it using slurry diaphragm walls for water cutoff down to an underlying clay layer, then tie-back slurry diaphragm walls after that. "Our critical path for the overall excavation is the Roosevelt station box, and we are trying to accelerate its excavation with night work so the TBMs will not have to wait for it to be completed," said Frank. The second U-District station site is similarly sized, requiring 110,000 cu yd of material to be removed, and is currently on schedule.
Reusable Machines
Contractor JCM refurbished the Hitachi Zosen machine used on the Sound Transit U-230 contract by Jay Dee, as the ground consists of a similar mixed face, glacial till. As of early September the machine had advanced about 1,500 ft in one of the parallel tunnels.
For the second tunnel, JCM chose a Robbins EPB previously designed and used in mixed ground at Singapore's Downtown Line. The machine is scheduled to be launched in mid-October after refurbishment and assembly at the jobsite. The contractor sees a positive trend with the increasing use of refurbished EPBs in the industry: "With a standard size of 20 to 23 ft for metro EPBs, there are many of them around, and refurbishing them makes a lot of sense," said Frank. "10 years ago, EPB tunneling in glacial geology below the water table was not that common, and it would have been considered a big risk to use a refurbished machine. There weren't that many around designed for the difficult geology. Now, many EPBs have been specified to deal with more challenging geology, and so there are quite a lot more out there to be refurbished. It increases our ability to get a TBM to launch sooner, and is also more cost-effective."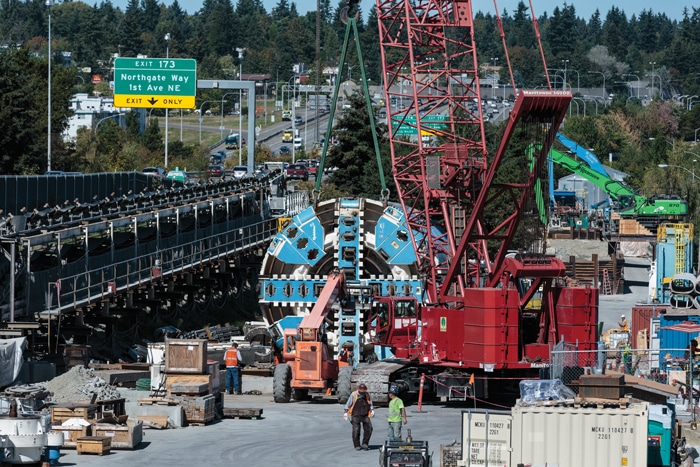 He also mentioned the fact that refurbished machines have been proven in the field – there were no flaws that prevented that machine from finishing the tunnel – and the scheduling benefits are passed on to the project owner.
Robbins designs its machines, including EPBs, with refurbishment and use on multiple tunnels in mind: components are built up to 33 percent heavier than other manufacturers, and all parts and subsystems are designed for 10,000 hours of workable life. While refurbishment of hard-rock machines has long been considered standard, refurbishment of EPBs is just catching on, and looks to be increasing. "We had notice to proceed in October 2013, and less than 10 months later, we were tunneling with our first machine. Both of them will be tunneling within 12 months, and we never could have done that with new TBMs. The estimated times for new machines was 16 months," said Frank.
The Critical Path
With a tight schedule, the contractor opted for several project features to cut down on time to launch and excavation. The first of those was Onsite First Time Assembly (OFTA) for the Robbins EPB. The Robbins-developed process allows for TBM components to be initially assembled at the jobsite, eliminating the disassembly step that would take place in a workshop and passing substantial shipping and time savings on to the contractor. Large machines assembled with OFTA have saved contractors months on their project schedules and millions of dollars.
"We wanted to do this to shave time off of the schedule. It has worked out okay –  some parts arrived late so we wound up doing more work at the site. That being said, it hasn't impacted the schedule greatly and OFTA is still saving us six weeks of time compared to a doing all the assembly in the shop," said Frank. The contractor installed the cutterhead on Sept. 10, 2014, and is now jacking the machine forward over the course of the week so it can be readied for launch.
Assembly itself was a difficult logistical process, as the long and narrow jobsite runs the width of a city street and sits next to Interstate 5, Washington State's largest and busiest highway. Segment storage and delivery at the south end of the site is tricky with one machine running and the other being assembled, while muck storage is located on the north end with a continuous conveyor running along one side wall. Robbins Field Service assisted crews at the site during the assembly. Frank indicated the team had been able to manage it, and the benefits of assembling the machine on location were just beginning to be realized: "The critical path is definitely through the Robbins TBM, and OFTA has been a benefit to us in terms of schedule. If we had to do it over, we would make the same decision knowing what we know now about the OFTA process," said Frank.
The second consideration impacting timing was the contractor's choice of a continuous conveyor over muck cars. "We started using conveyors behind soft ground machines at Brightwater in Seattle, and we used conveyors again at U230 (University Link). They are certainly the best way to move muck in tunnels above 12 ft in diameter," said Frank.
The contractor currently has one Robbins conveyor running along the surface to a muck storage bin. Once the second EPB starts up, the conveyor will need to be moved to facilitate muck from both machines being combined on one conveyor. "We've had great success with Robbins conveyors. Without the conveyor, we couldn't do this job. They cut down on costs and vibration and allow us to use rubber-tired vehicles, rather than trains, for transport in the tunnels," said Frank. He continued: "There is a big benefit to going with conveyors. We have always used Robbins conveyors, and we feel they are the best quality out there."
After breakthrough of the machines into the Roosevelt station site, the storage hopper and cross conveyor will be moved up, allowing muck to run on conveyors through the southbound tunnel only. The arrangement allows for the contractor to begin work on 23 cross passages in the northbound tunnel. The contractor will also pour a concrete invert behind the TBM excavation and install lighting as well as stainless steel standpipe before turning it over for final rail and electrical installation.
The contractor anticipates that tunneling will be completed in about 15 months, by late spring 2016.
This article was supplied by The Robbins Company.