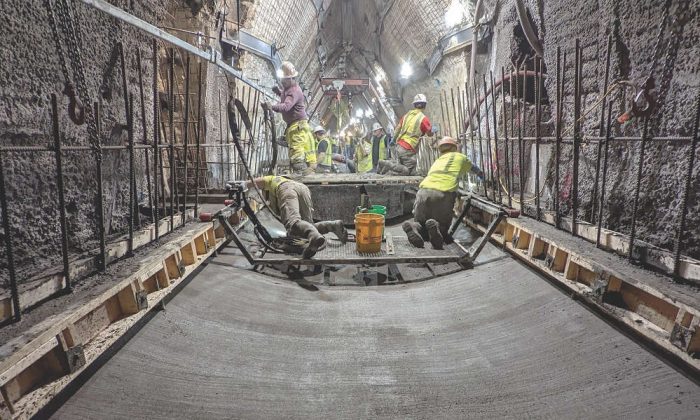 Minneapolis features a busy and lively downtown area that's home to nearly 57,000 residents along with 216,000 employees each week, per mplsdowntown.com. The city has consistently topped more than $1 billion in new construction permits over the past 11 years as it grows and builds new businesses, apartment complexes and more.
Despite the recent growth, some of the city's underground infrastructure is not so new. In fact, the storm drain system is about 100 years old. Minneapolis' development combined with increased rainfall brings more water into the system, which heightens the pressure on the tunnel. This has caused deterioration, including cracks and breaks.
In 2021, the City of Minneapolis Public Works Department approved a $60 million project to overhaul the stormwater tunnel system that moves water from downtown Minneapolis to the Mississippi River. The scope of the three-year Central City Parallel Storm Tunnel Project included enlarging portions of the existing stormwater tunnel, building a new parallel tunnel and constructing new tunnel access in downtown Minneapolis with the hopes of getting another 100 years out of the renovated system.
The Scope of Work
PCiRoads, a highway and heavy civil general contractor out of St. Michael, Minnesota, won the bid for the job. The business started in 2008 when a group of experienced construction workers banded together to form a company that uses seasoned crews and innovative technologies. PCiRoads tackles highways, bridges and specialty projects, taking pride in cultivating lasting customer relationships. The Minneapolis project was the largest job PCiRoads has faced, and Nap Scott, estimator and project manager, knew there would be unique logistics.
"This is a major job that's crucial for the future of Minneapolis' underground infrastructure," Scott said. "The amount of concrete involved and the complexity of working far below the streets of downtown made this a standout project."
PCiRoads' 30-person crew was tasked with installing about 4,200 feet of new tunnel with a total of around 15,000 cubic yards of new concrete. Due to the tunnels lying well beneath downtown Minneapolis, crew members and equipment would need to be lowered by crane down an 80-foot shaft to the worksite. The crew would need to tackle several logistical challenges because of the underground environment, such as dangers from falling rock and close-quarters workspaces. Additionally, new concrete would need to be pumped 1,000 feet into the tunnel, requiring PCiRoads to go through an extensive trial-and-error period to find the optimal concrete slump to pump that far.
The scope of the project also included enlarging and repairing the existing tunnel while installing new concrete. PCiRoads was equipped with Brokk remote-control demolition robots for the concrete removal but needed an efficient solution to shape new concrete on the tunnel's floor. Due to the tunnel's radius, the old-fashioned method of screeding with a 2×4 wasn't an option. Mike Clover, concrete superintendent, was in charge of equipment selection for the project. He searched for a more user-friendly, efficient method to shape the concrete tunnel's invert.
"This project needed equipment that adhered to the tunnel's shape, while increasing our productivity for the concrete finishing process," Clover said. "A stock product wasn't going to cut it. I started doing some research online and stumbled on a picture of a custom drum from a different project that looked similar to what I was looking for."
That custom drum was one Curb Roller Manufacturing engineered for a large stormwater job. From there, Clover reached out to Curb Roller Manufacturing and laid out his required specs — a drum with a 13-inch drop for the tunnel floor that could only extend out a few inches because of the tunnel walls.
Curb Roller Manufacturing is known for building innovative, ergonomic equipment for shaping concrete flatwork as well as curb and gutter. For unique projects, they offer custom drums that are powered by the company's hydraulic roller screed system or by a custom hydraulic power system. Each custom drum is designed for the specific project requirements and uses a spinning motion to shape the freshly poured concrete to create the desired dimensions.
In this particular project, Curb Roller Manufacturing faced a unique challenge due to the limited space and drop downs within the tunnel. The lack of space between the tunnel's floor and walls meant using the Hydra-Screed to operate the drum by walking and pulling along each side would not be feasible. Clover and his team would also need a way to finish the concrete after the drum shaped it. To overcome this, Curb Roller Manufacturing devised a custom offset drive system as well as an operator/finishing platform. The platform could be easily coupled to the custom drum carriage or could be operated independently.
The offset drive system utilized pulleys to enable operators to stay clear of the pour area, reducing site congestion and maximizing workspace efficiency. While one operator could control the drum's speed from behind it, the pulleys allowed the drive platform and drum to be maneuvered forward by operators positioned outside of the pour area.
Curb Roller Manufacturing sent drawings of the custom system to Clover to make sure all the specs were correct, then built the equipment. Once the plans were approved, Clover and company then visited Curb Roller Manufacturing's facility in Kansas for a complete mockup and small pour showing how everything worked together. By seeing how it worked in action, the demonstration helped avoid costly delays as the equipment would need to be disassembled and reassembled to transport into the tunnel.
"For the demo, Curb Roller Manufacturing set all the forms the same width that we need and basically replicated what we were going to do down in the tunnel," Clover said. "I was a little nervous because the demo was outdoors in the open, but it gave us confidence that the system would work correctly in an enclosed environment. I believe achieving such precision would have been challenging just doing the work by hand."
Making the Job Safer
Labor is a frequently discussed topic in the construction industry. Associated Builders and Contractors states that the construction workforce shortage topped half a million in 2023. To combat the shortage of workers, contractors like PCiRoads are on the lookout for equipment that requires fewer people and less manual labor to remain efficient with a smaller crew.
Curb Roller Manufacturing's equipment fits this need by allowing operators to work upright rather than being hunched over like they would be if they used manual methods for the same work. The machines also provide operators with a small learning curve, so crews remain productive even if they're shorthanded or inexperienced.
While the custom drum is designed for tackling the tunnel invert, there are some areas of the tunnel project where the concrete is mainly flat with a small grade and the custom tool isn't required. After tackling these labor-intensive zones with manual labor to start, PCiRoads again sought an innovative, efficient solution that's less strenuous than screeding the concrete with a 2×4. This led PCiRoads to invest in a Batt Screed from Curb Roller Manufacturing. The lightweight, battery-powered roller screed operates with no cords, hoses or fumes, providing unparalleled jobsite mobility. Its three-position handle allows for ergonomic operation.
"We have a great tunnel crew and these machines have been great for taking less of a toll on the guys," Clover said. "The Batt Screed has been phenomenal. I wish I had one right away for this project. In fact, I wish I had one 10 years ago."
Another 100 Years
The Central City Parallel Storm Tunnel Project addressed a critical issue of a growing and developing city. Minneapolis' 100-year-old storm drain system has been cracking under the growing pressure that comes with an increasingly popular area. The new storm drain system built by PCiRoads with the help of Curb Roller Manufacturing equipment aims to provide the city of Minneapolis with 100 more years of sturdy underground infrastructure.