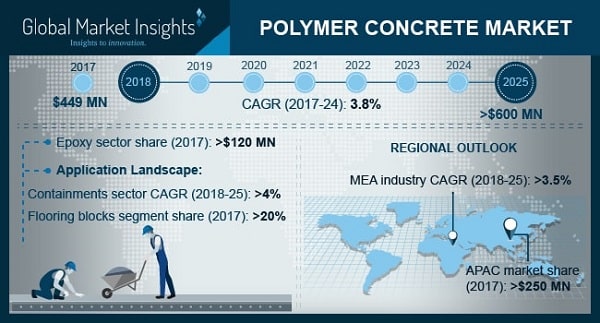 According to a new research report by Global Market Insights, Inc., the polymer concrete market size is forecast to exceed $600 million by 2025.
High polymer prices may prove to become a obstacle in the growth of the polymer concrete market. Few resins, fibers or acrylates that are added to the concrete to provide additional properties may face availability issues sometimes, which increases the cost of these polymers. Nevertheless, rising building and construction activities and the continuous product innovation is creating a great surge for the modified concrete market by 2025.
Strong growth in construction activities in the emerging economies owing to the improved per capita income of the customers and rising urbanization will positively drive the polymer concrete market in the projected timeframe. Propelling infrastructure construction in Asia Pacific and MEA is continuously on the rise due to the increased government spending. For instance, Navi Mumbai International Airport is a $2.4 billion project under construction since March 2015 in India. Moreover, the UAE is spending profoundly to build the $24 billion Khalifa Port. Similar ongoing and future infrastructure projects in various emerging nations will augment the polymer concrete market size in the coming years. Furthermore, product properties such as high strength, durability, heat resistance and better adhesion will help in driving the modified concrete market in the near future.
Polymer impregnated concrete (PIC) accounted close to 15% of the overall market size in 2017. PIC generally contains acrylates replacing the cement. These acrylates improve the strength and durability of hardened concrete, increases its impermeability and chemical resistance and improves its bond characteristics. Moreover, the main property of PIC to correct the moisture content in the hardened concrete and to fill the air voids in the concrete will positively boost the polymer concrete market size in the projected timeframe.
The Middle East and Africa polymer concrete market size is likely to grow at a CAGR of over 3.5% by 2025. Governments in the region are making substantial investments to improve their complete infrastructure. For instance, the construction spending by the government in the region registers around 67%. These are high end infrastructure projects worth over $1 billion which instead will surge the polymer concrete market size in the projected timeframe. Also, growing public-private partnership ventures are expected to spur the investments for the regional construction industry in the expected timespan.
Polymer concrete market share is competitive, with several key players accounting for the total industry size. The major players include ACO Group of Companies, Forte Composites Inc, BASF, Bouygues S.A., Kwik Bond Polymers, Wacker Chemie AG, Sika, Crown Polymers, Fosroc, Mapei, ErgonArmor and SAUEREISEN.