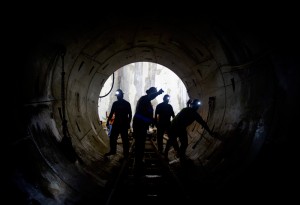 The tunnel construction industry exhibited steady growth over the five years to 2015, as a result of sustained federal government support through various grants and initiatives. In the aftermath of the recession in 2010, industry performance was tied to funds distributed under the American Recovery and Reinvestment Act, before the Moving Ahead for Progress in the 21st Century (MAP-21) took over in 2012. As a result, in the five years to 2015, industry revenue is expected to increase.
"Nevertheless, industry operators continue to face the challenges of low local and state government investments, leading to lower revenue growth in 2015," IBISWorld Economic Analyst Darryle Ulama says in the updated report. Meanwhile, the private sector has expanded its role in infrastructure delivery via the growth of public-private partnerships (PPPs) finance schemes.
Over the past five years, utility tunnel maintenance and construction has emerged as one of the strongest needs in many states. Aging pipes and innovative plans to procure resources have prompted demand for tunnel construction projects. In addition, demand has grown alongside an increase in private toll roads; therefore, private investors have become significant sources of investment for the tunnel construction industry in recent years. As a result of foregone maintenance on utility tunnels and an increase in public private partnerships, demand for tunnel construction services has remained strong and has prompted industry expansion. In the five years to 2015, the number of establishments is expected to rise.
The tunnel construction industry is forecast to continue growing during the next five years, supported by broad-based economic growth and a recovery in local government funding. "Additionally, demand from private-sector development will increase, as more states and municipalities approve PPP projects," Ulama says. Local governments' transportation outlays are expected to rebound, offsetting the drop off in federal stimulus investment. In the five years to 2020, revenue is projected to grow.
For more information on the report, visit: http://www.ibisworld.com/industry/tunnel-construction.html.