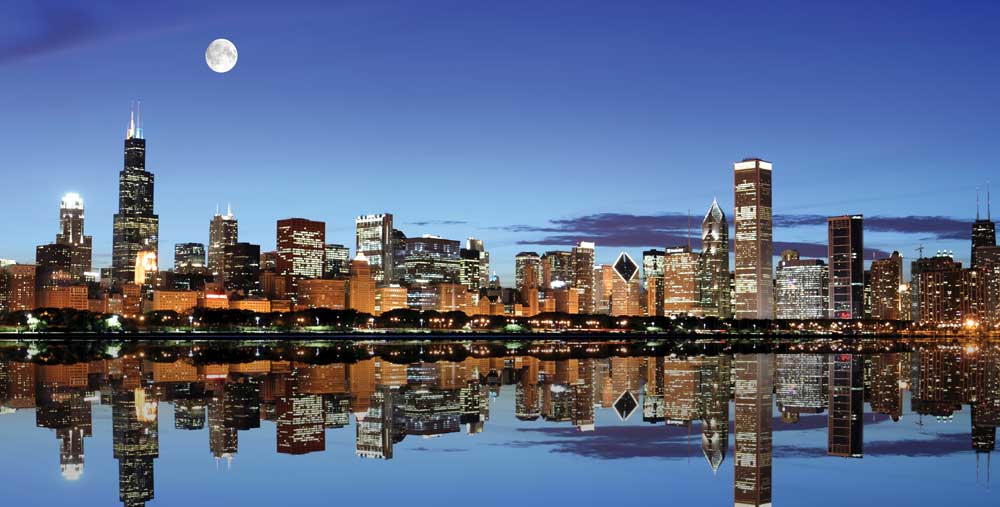 The Rapid Excavation and Tunneling Conference (RETC) – the largest tunneling event of the year in North America – is heading to Chicago, June 16-19. The venue is the Hyatt Regency Chicago in the heart of downtown with easy access to the many famous destinations including the Miracle Mile and Navy Pier.
RETC offers a host of activities including a technical program featuring the latest in trends and technology from around the world, and an exhibition hall that features the leading equipment and services companies in the North American tunneling market. In addition, technical tours and networking opportunities are available.
At the previous RETC, held in San Diego, more than 1,400 attendees participated in the conference, which also drew nearly 200 exhibitors.
Chicago itself is also a great destination with plenty of dining, sightseeing, outdoor and entertainment opportunities. Visit one of Chicago's many parks or museums, catch a game at historic Wrigley Field (the Cubs host the White Sox on June 18 and 19), or check out the view of the iconic skyline from atop the John Hancock Center.
RETC, held in alternating years with the North American Tunneling Conference (NAT), is sponsored and organized by the Underground Construction Association of SME (UCA). The tunneling community also visited Chicago in 2006 for the North American Tunneling Conference, which was held at the nearby Palmer House Hilton.
---
Schedule in Brief
Sunday, June 16
9 am-4 pm – Short Courses
Monday, June 17
8:30 am-11:30 am – Technical Sessions
11:30 am-1 pm – Welcoming Luncheon (ticketed)
1:30 pm-5 pm – Technical Sessions
5 pm-7 pm – Exhibit Hall Open/Exhibit Hall Reception
Tuesday, June 18
8:30 am-11:30 am – Technical Sessions
11 am-2pm – Exhibit Hall Open
11:30 am-1 pm – Luncheon in Exhibit Hall
1:30 pm-5 pm – Technical Sessions
4 pm-6 pm – Exhibit Hall Open/Exhibit Hall Reception
6:30 pm-7:30 pm – RETC Banquet Reception (ticketed)
7:30 pm-10 pm – RETC Banquet (ticketed)
Wednesday, June 19
8:30 am-11:30 am – Technical Sessions
9 am-noon – Exhibit Hall Open
---
2019 Exhibitors
[columns]
[column size="1/2″]ABC Industries, Inc – 513
ABC Ventilation Systems – 622
Advanced Concrete Technologies – 624
AECOM – 305
Aerix Industries – 833
Agru America, Inc – 612
AIL Mining – 406
Akkerman – 604
Alpine Equipment – 413
American Chemical Technologies, Inc – 632
Amix Systems Ltd – 515
Antraquip Corp – 1006
Arup – 214
ASI Marine – 720
Avanti International – 608
BabEng, LLC – 613
Ballard Marine Construction – 404
BarChip Inc – 932
BASF Corporation – 204
BAUER Foundation Corp – 634
Bekaert Maccaferri Underground Solutions – 307
Bessac – 209
BOS Solutions Inc – 737
Brokk Inc – 1012
Brookville Equipment Corp – 527
Bundrex – 709
CAB – 309
Carroll Technologies Group – 1215
Cascade Drilling L.P. – 723
CBE GROUP – 936
CDM Smith – 618
ChemGrout, Inc – 815
Comtrol International – 321
ConShield Technologies – 212
Cooper & Turner Ltd – 1100
COWI North America – 823
CREG TBM Germany GmbH – 1107
Crux Subsurface, Inc – 636
Daigh Company, Inc – 718
Datwyler Sealing Technologies – 814
David R. Klug & Associates, Inc – 705
Derrick Equipment Co – 1009
Dibit Measuring Technique USA, Inc – 1207
Dr. Sauer & Partners Corp – 721
Drill Tech Drilling & Shoring Inc – 935
DSI Tunneling LLC – 726
Dyno Nobel Inc – 1226
EC Applications – Tunnel Lining – 610
Englo, Inc, DBA Engart, Inc – 715
Epiroc – 1232
Equipment Corporation of America – 824
Everest Equipment Co – 625
Fiori Group S.p.A – 713
Gall Zeidler Consultants – 210
GCP Applied Technologies – 1236
Geocomp Corp/GeoTesting Express, Inc – 611
Geokon, Inc – 524
Gomez International, Inc – 320
Grindex Pumps – 1114
H + E Logistik – 712
Halfen – 734
Hatch – 719
Herrenknecht Tunnelling Systems USA, Inc – 706
HNTB Corp – 312
Hobas Pipe USA – 806
HYTORC, Division of Unex Corp – 211
iC interdisciplinary consultants canada ltd – 1228
Innovative Wireless Technologies – 735
JADCO Manufacturing Inc – 911
JENNMAR Civil – 311
Keller Foundations – 912
Kelley Engineered Equipment, LLC – 412
Kern Tunneltechnik SA – 812
Kiewit Co – 725
King Shotcrete Solutions – 915
Komatsu Mining – 1113
Line Power – 408
Lovsuns Tunneling Canada Ltd – 506
Malcolm Drilling Co Inc – 909[/column]
[column size="1/2″]Mapei Corp – 808
Matrix Design Group – 832
McDowell Equipment Ltd – 1005
McMillen Jacobs Associates – 615
Measurand Inc – 221
Messinger Bearings – 628
Michels Corp – 733
MIDASoft, Inc – 821
Mighty Shield Industries Sdn Bhd – 732
MineARC Systems – 626
Mining Equipment Ltd – 510
Mott MacDonald – 605
MSP Structures Inc – 907
MST Global – 1105
Naylor Pipe Co – 505
Nexans AmerCable – 906
Nicholson Construction Co – 205
Nightstick – 1019
Normet Americas, Inc – 820
Northern Light Technologies – 507
Northwest Laborers-Employers Training Trust – 722
Owens Corning – 1000
Palmieri S.p.A. – 900
Parsons – 627
PBE Group – 609
Permalok – A Northwest Pipe Co – 1230
Pini Swiss Engineers – 1035
Plaxis Americas LLC – 213
Poltinger Precision Systems GmbH – 511
Promat International NV – 727
Putzmeister – 905
QSP Packers, LLC – 1001
Renesco Inc – 208
Richard Goettle, Inc – 923
Richway Industries – 822
Robit Plc – 509
Rocscience, Inc – 1037
Rocvent Inc – 836
Roxard Industries Inc – 619
Ruen Drilling, Inc – 504
Sandvik Mining and Rock Technology – 523
Schauenburg Flexadux Corp – 315
Schnabel – SWS – 913
Schnabel Foundation Co – 620
Shaft Drillers International LLC – 108
Shannon & Wilson, Inc – 410
Shotcrete Technologies, Inc – 514
Sika Corporation – 933
Simem Underground Solutions, Inc – 415
SIXENSE – 207
Smith and Long – Tunnelling Division – 804
SoilFreeze Inc – 1007
Spendrup Fan Co – 314
Stantec – 826
STM srl – 1108
TBM Supply – 220
Technical Tunnelling Components LTD (TTC) – 1033
Tenbusch, Inc – 522
Terratec – 819
The Lane Construction Corporation – 518
The Robbins Company – 306
Timberland Equipment Limited – 1112
Tioga Air Heaters – Mobile Air – 714
TLT-Turbo – 106
Tolsa Wyoming Bentonite Inc – 736
TRE ALTAMIRA Inc – 711
TREVIICOS – 1002
Tsurumi Pump – 606
Tunnel Business Magazine (TBM) – 1106
Tunneling Journal – 1238
Tunnels & Tunnelling – 105
Tunnel Talk – 1101
VIP-Polymers Ltd – 937
VMT USA – 813
V-ROD – 837
Williams Form Engineering Corp – 908
Wisko America, Inc – 919
Worldsensing – 1102
WSP – 614[/column]
[/columns]