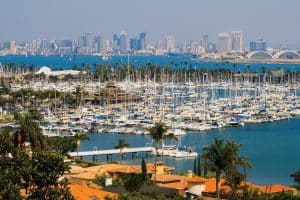 Tunnelers and underground construction contractors, suppliers, designers and owners from around the world came together at the 2017 Rapid Excavation Tunneling Conference (RETC) in San Diego.
The biennial event drew more than 1,400 attendees who visited nearly 200 exhibitors at the Manchester Grand Hyatt June 4-7. Attendees and exhibitors networked at a variety of events, attended four tracks of peer-to-peer technical presentations, and participated in various committee and governance meetings.
"RETC continues to be the leading tunneling conference with regard to contractor participation and issues related to constructing tunnels," said Dave Kanagy, executive director of the UCA of SME, the show organizer. "We were pleased to have more than 1,400 attendees, which was nearly a record, and a packed exhibit hall."
RELATED: World Tunnel Congress 2017 Gathers in Norway
In addition to the technical presentations and exhibition hall, RETC features a host of other activities including short courses and social functions.  Among the social functions were the annual opening luncheon, featuring Michelle Boehm, SoCal Regional Director, and Randy R. Anderson, Statewide Engineering Manager, both of the California High Speed Rail Authority. Other functions include the RETC Dinner, UCA Young Members Networking Event and UCA of SME Breakfast, in addition to receptions in the exhibition hall. The RETC Dinner featured speaker Doug Most, Editor, The Boston Globe, and author of "The Race Underground."
In 2018, the North American Tunneling (NAT) Conference returns after a hiatus in 2016 for the U.S.-hosting of the World Tunnel Congress. NAT will be held June 24-27 at the Marriott Wardman Park in Washington, D.C., the site of RETC 2013. RETC visits Chicago in 2019.
RELATED: NAT 2018 Call for Papers Issued