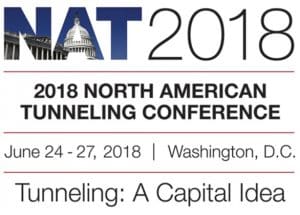 The 2018 North American Tunneling (NAT) conference organizing committee has issued a call for papers due June 30, 2017.
NAT 2018, is taking place in Washington, D.C., June 24-27, 2018. Prospective authors are invited to submit an abstract of 100 words or less on a topic relevant to the 2018 NAT theme: Tunneling: A Capital Idea. Topics include:
Tunnel Boring Machines
Ground Conditioning & Modification
Equipment Automation
NATM/SEM – Conventional Tunneling
Caverns
Small Diameter Tunneling
Shaft Construction
Emerging Technologies
Risk Management
Lining Design Advances
Fire & Life Safety
Rehabilitation
Design
Contracting Methods
Alternative Delivery Methods
Financing
Labor Training
Case Histories
Future Projects
Futuristic Tunneling
Please submit your abstract online and be a part of NAT 2018.
RELATED: RETC Sets Sights on San Diego