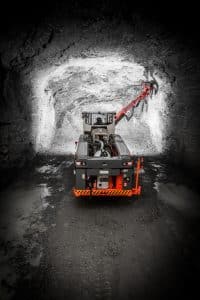 Sandvik Construction has introduced a new tunneling jumbo to its extensive offering, the DT912D. The DT912D – a self-contained, air-mist flushing, diesel-hydraulic high reach single boom jumbo – offers high-quality drilling in its most advanced form. Designed for fast and accurate drifting and production drilling of 12 to 125 sq m (130 to 1,345 sq ft) cross sections, the 24-ton jumbo combines Sandvik's novel technology, creativity and expertise with the vast experience gained over the decades in the business. Being completely self-contained, the DT912D is an optimal machine for multifaceted operations that will take excavation efficiency to another level.
The DT912D has boosted performance written all over it. Featuring a 25 kW (33.5 hp) high-frequency RD525 rock drill for superior drilling performance with high lifetime, as well as the most powerful engine ever installed on a diesel-hydraulic jumbo, the Cummins Tier 4 Final with 205 kW (275 hp), the machine can bring a boost to productivity with low fuel consumption. As a standard, the jumbo has an electric controlled drilling system with added automatic functions, including one-hole automatics and is equipped with a SB150 universal boom for large, optimally shaped coverage and full automatic parallelism. In addition to face drilling, the versatile boom can also be used for crosscutting, bolt-hole drilling and extension drilling.
RELATED: Sandvik Roadheaders Chosen for Australian Highway Project
Efficient 4m³ (141 cfm) onboard compressor and an extra-large 1,000-liter (265-gal) water tank for air-mist flushing allow the DT912D to operate independently from the tunnel or mine infrastructure and guarantee longer drilling period from one set up. This enhances the efficiency of the total cycle time and gives extra flexibility of use. The DT912D offers rapid, safe and balanced tramming thanks to its powerful, four-wheel-drive, center-articulated carrier. Also the ITA tunneling awards shortlisted, FOPS/ROPS complied cabin is ergonomically designed and well insulated to minimize noise and vibration; the noise level remaining under 73dB at all times. As an option the cabin is also available with a cabin lifting system allowing even better visibility to tramming and drilling. This all makes the new jumbo an enjoyable workplace for the operator. Furthermore, the well-proven Sandvik Intelligent Control system Architecture (SICA) with comprehensive built-in diagnostics and user-friendly controls ensures ease of use and maintenance.