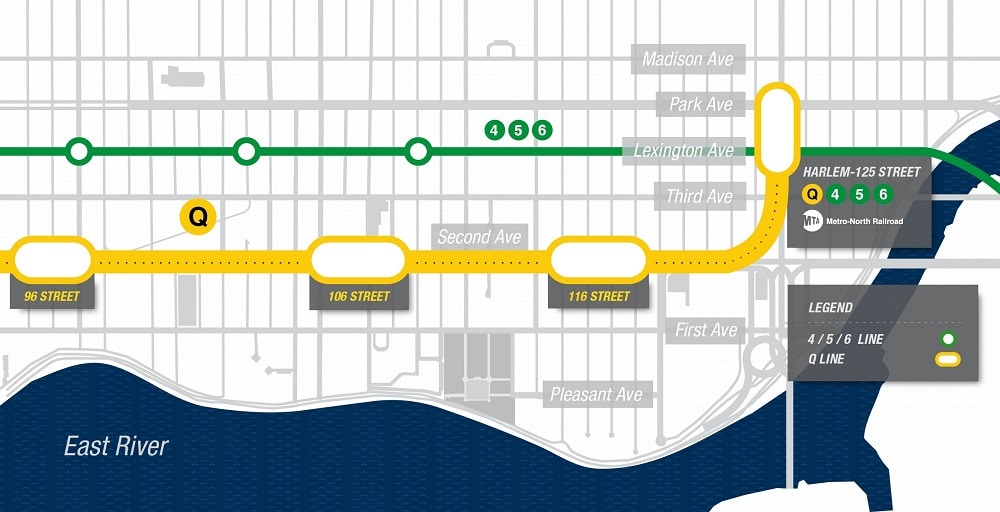 New York Gov. Kathy Hochul July 5 announced that the Metropolitan Transportation Authority is advancing on Phase 2 of the Second Avenue Subway with the solicitation of the first contract for construction of the future extension of the Second Avenue Subway to 125th Street in Harlem.
The long-awaited extension will deliver transportation equity to East Harlem, one of the most transit-dependent neighborhoods in New York City. As part of this announcement, the MTA also unveiled new conceptual renderings of the proposed stations for the extension, providing future riders with a first-ever glimpse into the potential station interior and exterior designs. The draft renderings are subject to further design development.
"As part of my administration's efforts to advance transit equity across New York State, the Second Avenue Subway project will expand critical public transportation service to East Harlem, creating more opportunity for residents," Governor Hochul said. "We remain committed to keeping this long-envisioned project moving along swiftly for East Harlem, and I am proud to see it moving one step closer to reality."
The scope of work for the first contract for Second Avenue Subway Phase 2 incorporates lessons learned from Phase 1 and will involve critical utility relocation, laying the groundwork for advancing construction of three future stations and necessary system infrastructure. The contract will be solicited as a Design-Bid-Build A+B contract, which incentivizes proposers to compete on both cost and time needed to complete the work. In 2022, MTA Construction and Development saved more than $100 million on A+B contract awards compared to estimates. The solicitation has been posted, and a contract is expected to be awarded this fall, with work to begin by the end of the year.
MTA Chair and CEO Janno Lieber said, "Phase 2 of the Second Avenue Subway is an investment in transit equity and a truly life changing project. The East Harlem community has waited decades for it, and this expansion will serve over 100,000 riders daily, connecting Harlemites to jobs, education and opportunity throughout the region."
The announcement follows the Finding of No Significant Impact for the Central Business District Tolling Program issued by the Federal Highway Administration. Revenue from congestion pricing will support $15 billion in funding for critical projects in the MTA's current capital program, which includes Second Avenue Subway Phase 2. The MTA is finalizing a funding agreement with the Federal Transit Administration for the project and has ensured that federally required contingency for the project is in place through a Capital Plan Amendment approved by the MTA Board, subject to approval by the MTA Capital Plan Review Board.
As part of the MTA's commitment to delivering key infrastructure projects better, faster, and cheaper, the first contract for Phase 2 incorporates lessons learned from Second Avenue Subway Phase 1. Addressing utility relocation requirements upfront will reduce the risk of unexpected costs or delays later as construction progresses. The first contract will also include temporary streetscape modifications that will be required during construction, including new bike lanes to replace those that will be impacted by construction on Second Avenue, and building remediation in preparation for future contracts for the new subway station at 106 Street.
Additional cost containment initiatives in Phase 2 include reuse of a tunnel segment that was built in the 1970s from 110 Street to 120 Street along Second Avenue, early real estate acquisition, adoption of best value contract structures like A+B contracts, reduction in back-of-house and ancillary space, and close coordination of contracts.
About Phase 2
The second phase of the project will extend train service from 96 Street north to 125 Street and then west on 125 Street to Park Avenue, approximately 1.5 miles in total. There will be two new stations at 106 Street and 116 Street on Second Ave, and a direct passenger connection with the existing 125 Street subway station on the Lexington Avenue subway line. Phase 2 will also feature an entrance at Park Avenue to allow convenient transfers to the Metro-North Railroad 125 Street Station.
Each station will have above-ground ancillary buildings that house ventilation, mechanical, and electrical equipment, as well as space for possible ground-floor retail and community uses. The expansion will serve an additional 100,000 daily riders and provide three new ADA accessible stations – raising the bar for customer comfort and convenience. Increased multimodal transit connectivity at the 125 Street station at Park Avenue with connections to the Metro-North trains and the M60 Select Bus Service to LaGuardia Airport, will allow for convenient transfers to other subway and commuter rail lines, facilitating smoother, faster transportation across the city and metropolitan region.
About Phase 1
Phase 1 of the project extended the line from 63 Street to 96 Street and was New York City's largest expansion of the subway system in 50 years. Service opened on Jan. 1, 2017, with additional stations at 72 Street and 86 Street. Since its completion, the Second Avenue Subway has carried more than 130 million passengers in total, including more than 200,000 passengers on a typical pre-pandemic day.
RELATED: Second Avenue Subway Opens in New York