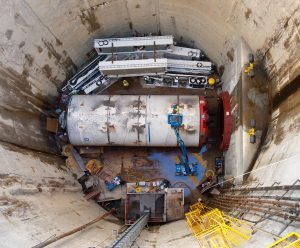 The San Francisco Public Utilities Commission's (SFPUC) Bay Tunnel project was recently awarded the 2015 Outstanding Water Project in the State of California from the American Society of Civil Engineers (ASCE) Region 9, according to McMillen Jacobs Associates, which played a critical role in the project.The award will be presented at the 2015 Region 9 Awards Dinner on March 18, 2016, in Sacramento.
"With their world-renowned knowledge and experience in designing tunnels, as well as their in-depth understanding of the operational requirements of the water supply system, McMillen Jacobs Associates continuously engaged the SFPUC and our multiple stakeholders to identify the challenges, facilitate solutions, and maintain focus on the project objectives of designing a lifeline facility that will remain operable after a major earthquake in either the San Andreas Fault or the Hayward Fault," wrote Johanna Wong, P.E., M.S., PMP, PgMP, SFPUC's Bay Division Regional Project Manager, Water System Improvement Program.
/**** Advertisement ****/
RELATED: Tunnel Achievement Award: The Bay Tunnel
The presence of environmentally sensitive habitats on the Bay margins precluded using cut-and-cover pipelines, which resulted in the need for a 5-mile long tunnel with only launching and receiving shafts and no intermediate construction shafts. These two shafts are located on properties owned by SFPUC in the city of Newark (Newark site) and the city of Menlo Park (Ravenswood site). The tunnel is the first of its kind built under the Bay, utilizing an earth pressure balance tunnel boring machine to effectively counteract the 3.2 bar hydrostatic pressure and sandy/silty soils. Despite numerous challenges, the tunneling was completed eight months ahead of schedule.
The Bay Tunnel was completed on May 20, 2015, within the baseline schedule and well below the baseline project budget.