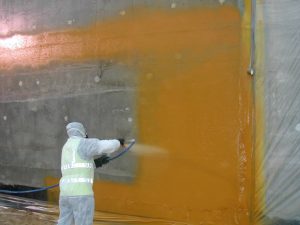 Stirling Lloyd has been chosen to waterproof the recently constructed Lusail Tunnel that forms part of a new $30 billion integrated transportation system in Qatar. The tunnel – and troughs to be constructed from spring 2017 – will carry both road traffic and light rail. Stirling Lloyd's Integritank system was used to waterproof 77,416 m2 of the new tunnel.
The cut-and-cover tunnel will open in spring 2017 and will ensure easy access to the new Lusail City Development from the heart of Doha and will be a vital transport link for the planned 2022 FIFA World Cup games.
The overall Lusail City Development, located 15 km north of Doha, covers a 38 km2 site, which includes 25,000 residential units, housing 175,000 people, all of whom will benefit from the Lusail Tunnel project. The development will generate significant economic diversification as it is set to strengthen Qatar's tourism sector. The construction of this new underground infrastructure faced challenging ground conditions and fast-track construction programs due to an aggressive and high water table.
RELATED: Parsons Awarded Deep Wastewater Tunnels Project in Dubai
Following a number of projects where un-bonded waterproofing systems had leaked on other Lusail sites, the client LREDC was focused on pushing the boundaries and performance of waterproofing to set new standards on their projects. Past tunnel projects within Gulf Cooperation Council countries such as the UAE, including the Yas tunnel and Bainuna Street, further proved Stirling Lloyd's capabilities to meet the specialist needs of underground waterproofing, working together with experienced authorized contractor, Intertectra Qatar.
James Hopper, regional sales manager – Middle East, Stirling Lloyd, comments: "Faced with challenging ground conditions and a fast-track construction program, the ease, speed and effectiveness of the Integritank fully bonded, seamless waterproofing system was integral to the success of the project.
"For the client, it had also been important to have the reassurance of the system's efficiency before beginning work. As Stirling Lloyd had already completed several other similar projects in the area, it was a natural decision to choose Integritank when further protecting the investment in the region's below ground infrastructure."
Established for over 40 years, Stirling Lloyd develops and manufactures high-quality products for use in the protection of infrastructure, through waterproofing, surfacing and highway maintenance products.
RELATED: Herrenknecht TBMs Bore Doha Metro