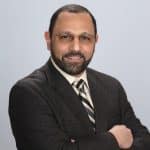 Subsurface & Tunnel Engineering LLC (STE) offers heavy civil tunnel and underground construction engineering. Established in Frederick, Maryland, by founding principal Mohamed Younis, STE offers engineering solutions to the underground construction industry serving owners, consultants, and contractors.
STE's philosophy is to produce adaptive engineering approaches to accommodate changes throughout the project. STE  combines applied experience with modern engineering techniques to develop optimal solutions to underground challenges.
Younis has worldwide experience with tunnel applications in water, wastewater, transportation and mining industries. His design and construction work has taken him to projects in Australia, Bahrain, Canada, Chile, India, Kuwait, Oman, Qatar, Saudi Arabia, United Arab Emirates and throughout the United States.
"We use practical experience to foresee challenges and put forward appropriate solutions to overcome those challenges to keep the project on track or get it back on track," Younis, said. "Our aim is to provide adaptive solutions to achieve project objectives successfully and efficiently."
STE is building a core staff of highly talented engineers to efficiently carry out its mission. STE strives to be a center of excellence for underground design and construction.