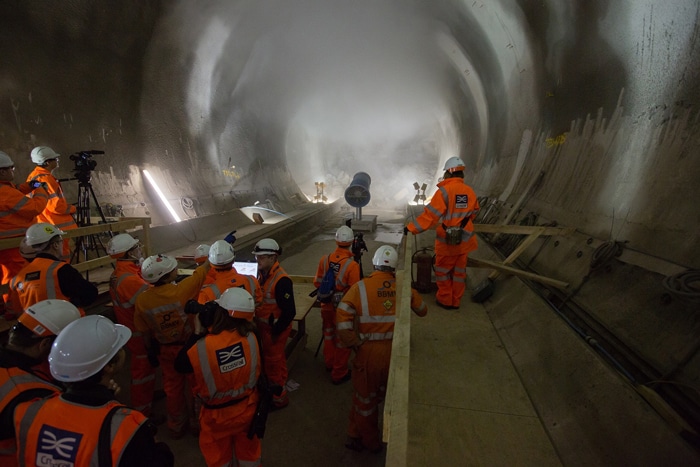 Tunnel machine Victoria, named after Queen Victoria who oversaw the birth of modern railways, has successfully broken in to the eastern end of Liverpool Street Crossrail station.
The breakthrough, 40 m beneath the City of London, is part of Crossrail's longest tunnel drive, 8.3 km from Limmo Peninsula, near Canning Town, to Farringdon.  Victoria joins her sister machine, Elizabeth, who arrived in January.
Victoria now has 750 m of tunnel to bore, before arriving at her final destination at Farringdon station this spring when Crossrail tunneling will complete. Over 40 km out of 42 km of rail have now been constructed as part of Europe's largest infrastructure project.
Elizabeth and Victoria each weigh 1,000 tonnes, are 150 m long and over 7 m in diameter. They are the last of eight Crossrail tunnel machines to have carved a route beneath London linking the West End, the City, Canary Wharf and southeast London.
Crossrail will boost the capital's rail capacity by 10%, bringing an additional 1.5 million people with 45 minutes commute of central London.
Liverpool Street is one of 10 new Crossrail stations being built in central and southeast London. The new station will be located between London Underground's existing Liverpool Street and Moorgate stations, with connections to both.
Crossrail services through central London will commence in December 2018. When the TfL-run Crossrail service is fully open in 2019, it will give commuters easy access to destinations across London and the South East including Canary Wharf and Heathrow.
Joint venture Dragados Sisk is constructing the eastern tunnels between Pudding Mill Lane and Stepney Green, Limmo Peninsula and Farringdon, and Victoria Dock Portal and Limmo. The station tunnels at Liverpool Street have been built by a joint venture comprising Balfour Beatty, BeMo Tunnelling, Morgan Sindall and Vinci Construction.
The Crossrail route will pass through 40 stations and run more than 100 km (73 miles) from Reading and Heathrow in the west, through new twin-bore 21 km (13 miles) tunnels to Shenfield and Abbey Wood in the east.
Crossrail is being delivered by Crossrail Limited (CRL). CRL is a wholly owned subsidiary of Transport for London. Crossrail is jointly sponsored by the Department for Transport and Transport for London.