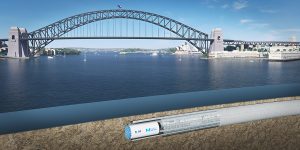 The tender process has started to build the new twin Sydney Metro tunnels under Sydney Harbor and through the CBD for Stage 2 of Sydney Metro – Australia's biggest public transport project.
NSW Minister for Transport and Infrastructure Andrew Constance made the announcement at an industry briefing in Chatswood, attended by more than 450 people from 250 Australian and international companies.
The project includes 15 km of new twin rail tunnels from Chatswood, under Sydney Harbor and through Sydney's central business district to Sydenham.
RELATED: Tunneling Complete on Doha Metro's Green Line
"It's full steam ahead on Sydney Metro. We've now taken the next step and opened expressions of interest for tunneling, asking industry to partner with us in delivering this city-shaping project," Constance said.
"The first of five tunnel boring machines will be in the ground before the end of 2018 to deliver new twin railway tunnels from Chatswood to Sydenham, as we get on with the job of opening Sydney Metro City & Southwest by 2024.
"We finished tunneling on Sydney Metro Northwest in January this year, with services on track to start in the first half of 2019 with a new metro train every four minutes in the peak."
Following an intense process of engagement and consultation with industry over the past six months, major procurement for Stage 2 of Sydney Metro is now moving forward with the tunnel and station excavation works.
RELATED: Robbins TBM Completes Tunneling for Chennai Metro
"Sydney Metro isn't just a city-shaping project – this is a fully-funded state-building and nation-building infrastructure project being delivered right now," Constance said.
"As we embark on the formal procurement process for Sydney Metro City & Southwest, this is a further opportunity for industry to work with the government in delivering a truly world-class piece of infrastructure."
The tunneling contract is expected to be awarded mid next year.