TERRATEC announced the delivery of a new double shield TBM to SELI Overseas S.p.A. after a successful performance of the factory testing on April 12, 2016.
The double shield TBM will service the Vishnugad-Pipalkoti Hydropower Project in India, which is located in the state of Uttarakhand, around 500 km northeast from Delhi. The project comprises the construction of the dams, waterway tunnels vertical shafts and a power house generating capacity at 444 mW. The main contractor is Hindustan Construction Co. Ltd. (HCC) of India.
SELI  will execute the low pressure head race tunnel in subcontract to HCC. The Italian tunneling contractor and TERRATEC have jointly developed the design features of this 9.86-m OD hard rock double shield TBM to complete the 13-km head race tunnel.
RELATED: TERRATEC TBM breaks through in Istanbul Metro
The TBM will bore through dolomitic limestone in about 33% of the alignment and through slates in 64% of it. The balance 3% of the tunnel will go across critical geological sections: the thrust zones (150 m with shallow overburden) the shear zones (5) and the fault zones (3).
These critical zones will represent the most challenging ones and for that the TBM has been carefully designed. The cutterhead has a very robust yet versatile concept, mounting heavy duty 19-in. disc cutters but keeping 12 large bucket openings. The 4,200-kW electric VFD main drive will allow the cutterhead to cut efficiently the hardest rock zones at the maximum speed of 6 rpm and also to deliver an exceptional torque over 22,000 kNm to cope with those fractured parts of the alignment.
RELATED: Twin Robbins TBMs Play Key Role in Austrian Hydro Project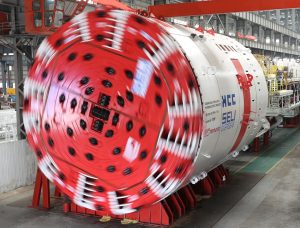 Other state-of-the-art features on the TBM include high-speed regripping system, single shield advancing mode, high-pressure emergency thrust, flood control doors and many others. The key parts of the TBM were produced in Australia and Japan. The assembly of the TBM was performed at TERRATEC facilities in China.
Representatives of SELI Overseas and HCC attended the factory acceptance test and showed their satisfaction. The machine is now to be dismantled and sailed up to Mundra Port in India, from where to send it by road up to the project site. The TBM is expected to commence its assembly at the jobsite in July 2016.