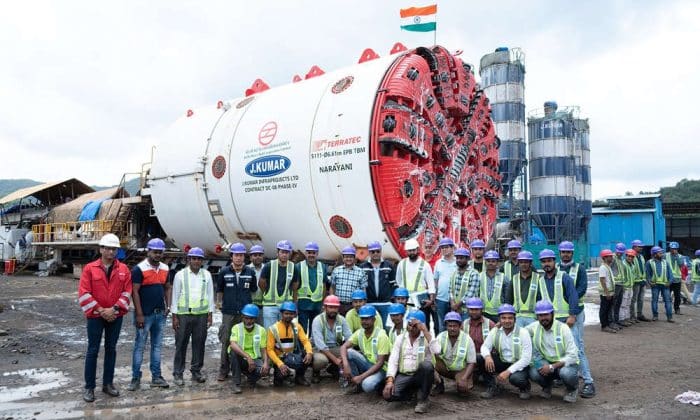 In late August, TERRATEC celebrated the successful Factory Acceptance Test of a new 6.61-m diameter Rock Earth Pressure Balance Tunnel Boring Machine (EPBM) destined for Delhi Mass Rapid Transit System Project – Phase-IV, Contract DC-08 in India. The event was attended by representatives of Delhi Metro Rail Corporation Limited and contractor J.Kumar Infraprojects Ltd.
TERRATEC has successfully delivered three machine orders for this project. This includes a combination of both brand-new and refurbished EPBMs, with the new TBM (S111) specifically assigned to construct the 23.62-km long, 5.7-m wide Silver Line tunnel, connecting Aerocity to Tughlakabad via 16 stations. The anticipated launch point for TBM S111 is the Aerocity Shaft, while the previously launched TBMs, S63B and S64B, have already commenced their operations from the Kishangarh Shaft.
This new 6.61-m diameter Rock Earth Pressure Balance (EPB) machine named "Narayani" marks the third deployment by J.Kumar for the construction of twin tunnels spanning 6.116 km within the 65.1 km Delhi Metro Phase 4 project's Package DC-08, between Aerocity and Kishangarh stations.
A milestone for this project is the manufacturing and assembly of the TBM in India with key components arriving from overseas and a range of high-quality equipment meeting TERRATEC's exacting standards manufactured or procured in India.
The versatile TERRATEC EPBM has a robust mixed-face dome-style cutterhead designed to work effectively in the expected mixed ground geological conditions. The tunnel alignments are expected to encounter quartzite, sandy silt, and rocks.
As the TBM progresses, 1,400-mm wide by 275-mm thick universal reinforced concrete lining rings will be installed, which consist of five segments plus a key. Muck removal, segment transport and supply of consumables will be facilitated using rail-bound equipment powered by battery locomotives.
TERRATEC's Field Service staff will be present throughout the machine operation, providing unwavering support to ensure optimal performance and the successful completion of the project.
In a significant achievement, TERRATEC's refurbished Earth Pressure Balance (EPB) machine (S86) with a diameter of 6.52m made its second breakthrough at Delhi Metro's Krishna Park Extension Station in November 2022. This breakthrough not only marked the successful completion of a 2.03 km underground extension for package DC-06 but also played a crucial role in expanding the 38.235 km Magenta Line (Line-8). The unwavering performance of TERRATEC's EPB machine highlights its reliability and effectiveness in delivering high-quality tunnelling solutions for the Delhi Metro.
TERRATEC has been chosen again for the underground tunnel package in Delhi Metro Project due to TERRATEC's consistent success on previous projects such as Lucknow Metro, Pune Metro, Kanpur Metro, Ahmadabad Metro, Surat Metro and Mumbai Metro. This is a result of TERRATEC's tailor-made and robust TBM design, prompt on-site assistance, a readily available stock of TBM spares, and a highly skilled and specialized TBM support team that remains dedicated throughout the entire tunnelling operation.
RELATED: TERRATEC Delivers Tunnel Conveyors for Metro Manila Subway