The third rail on the Toronto Transit Commission's (TTC's) Line 1 Yonge-University extension into York Region was powered up for the first time March 26, allowing for testing of the Automatic Train Control (ATC) signal system and trial runs for trains. Over the coming months, power will be tested across the extension or in parts as required.
Testing and commissioning on systems including ventilation, public address, radio communications, escalators, elevators, lighting and fire alarms began several months ago, and will continue until opening day before the end of 2017.
For safety purposes, access to track level is now restricted to authorized personnel only.
RELATED: Trackwork Complete on Toronto-York Spadina Subway Extension
The six-station, 8.6-km extension of Line 1 runs from the current terminus at Downsview Station (to be renamed Sheppard West Station in May) through York University and into York Region, ending at the Vaughan Metropolitan Centre at Hwy. 7 and Jane St.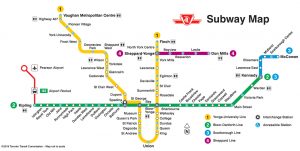 The extension, the first subway to cross Toronto's boundary, will see additional commuter parking and inter-regional connections to York Region Transit and GO Transit.
This project is jointly funded by the Government of Canada, the Province of Ontario, the City of Toronto and The Regional Municipality of York.