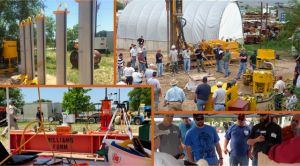 Texas Engineering at The University of Texas at Austin is hosting the 39th Annual Grouting Short Course. The course will be held in Austin, Texas, from Feb. 12-16, 2018. Please note this is an earlier date than in years past.
This is the new, updated edition of the original Grouting course that has been running for 39 years. Texas' Cockrell School of Engineering is hosting this special event through its Texas Engineering Executive Education (TxEEE) unit. This past year, TxEEE hosted learners from around the world—from 5 continents and 12 countries. This truly is a world-class training event with the international grouting leaders teaching the latest best practices.
RELATED: Agenda Set for Risk Management in Underground Construction Course
The Grouting Fundamentals & Current Practice course covers pressure grouting as a method to improve geotechnical characteristics of soils and rock masses. Owners, regulators, consultants, and contractors who have interest in pressure grouting should attend. You will also be taught a broad array of geo-structural construction and remediation techniques. This course is also for petroleum engineering personnel involved in well drilling and operations. 
RELATED: Microtunneling Short Course Prepares for 25th Anniversary
Major topics include rheological properties of cementitious and chemical grouts, cement and chemical grouting procedures, grouting of rock under dams, grouting of rock anchors and micropiles, deep mixing, jet grouting, cutoff walls and composite seepage barriers, compaction grouting, slab jacking, grouting for underground structures, overburden and rock drilling methods, and field monitoring/instrumentation. An on-site field demonstration is also included.
By attending this course, you are eligible to earn 3.5 units of continuing education credit.
For more information or to register, click here.
To learn more about the conference and for technical information, contact Scott Kieffer, Course Organizer, kieffer@tugraz.at, or Chadi El Mohtar, Faculty in Charge, elmohtar@mail.utexas.edu.
RELATED: Tunnel Achievement Award Presented at Breakthroughs in Tunneling Short Course