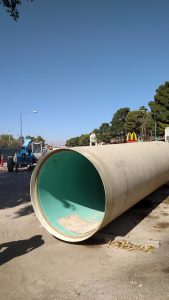 Effective June 26, 2017, Thompson Pipe Group has entered a definitive agreement to acquire the concrete and steel pressure pipe assets of U.S. Pipe, a division of Forterra. The new entity will operate under the name Thompson Pipe Group, and becomes one of the largest and most diverse pressure pipe providers in North America, with manufacturing locations across the country.
Thompson Pipe Group will provide the water and wastewater infrastructure, as well as the power and industrial markets, with various pressure and gravity pipe product solutions for open-cut and trenchless installations. All of its products will be backed by the engineering support, field services, and transportation support within the sector.
The acquisition positions Thompson Pipe Group to serve the growing needs of a vital industry at an important time in its history.
RELATED: Thompson Pipe Group—Flowtite Hires Rahman
"We are excited about the opportunity to take one company's non-core asset, especially the people, and provide the focus and discipline to turn this business around," says CEO Ken D. Thompson. "My father started this company as a small private underground utility contractor in 1972. As we grew into large public works projects, we gained experience installing the very products that we now produce. We know what it takes to be the best construction partners for trenchless, drainage, water and wastewater owners, engineers, and contractors."
"I'm very excited about our new lineup. We'll now be able to supply exactly the right product for the right application on a national scale," adds Executive Vice President Mike Leathers. "It's an enormous challenge, but one that Thompson Pipe Group will be well equipped to meet. With a complete range of pipe products and the engineering support, we can serve our customers like never before. We'll have, by far, the largest offering of open-cut and trenchless product solutions in North America."
Thompson Pipe Group is a privately held company headquartered in Rialto, California, with production plants situated throughout North America.
RELATED: Pipe Jacking Association Launches New Website