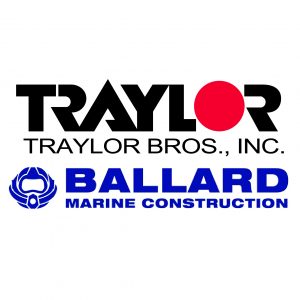 Traylor Bros. Inc. announced in July it has signed a definitive agreement to make a significant financial investment in Ballard Marine Construction LLC, with the option to purchase majority ownership in the future. Traylor Bros. and Ballard Marine Construction are very successful specialty contractors with excellent reputations in their respective industries. Specific terms of the deal are not being disclosed.
Ballard Marine Construction, originally an underwater diving specialty company, has grown over the past 16 years into a turn-key general contractor serving a variety of clients in the hydropower, tunneling, industrial, nuclear, water utilities, and marine industries worldwide. The company provides various services in the areas of underwater construction, underwater inspection and surveying, environmental/remediation, plant maintenance, ships husbandry, and contaminated and potable water diving under a wide variety of contract types, including CMAR, EPC, and Design-Build.
RELATED: Traylor Elected President of The Moles
"We are excited to partner with Ballard in growing their market share and providing exceptional turn-key marine and underground services to their clients worldwide. Ballard and Traylor share a culture that prioritizes people, ethics, and innovation. This like-minded thinking will simplify the integration process, allowing us to concentrate our efforts toward designing and building quality projects. I am certain we are better as a team than as separate companies," said Mike Traylor, Co-President, Traylor Bros. Inc.