By Desiree Willis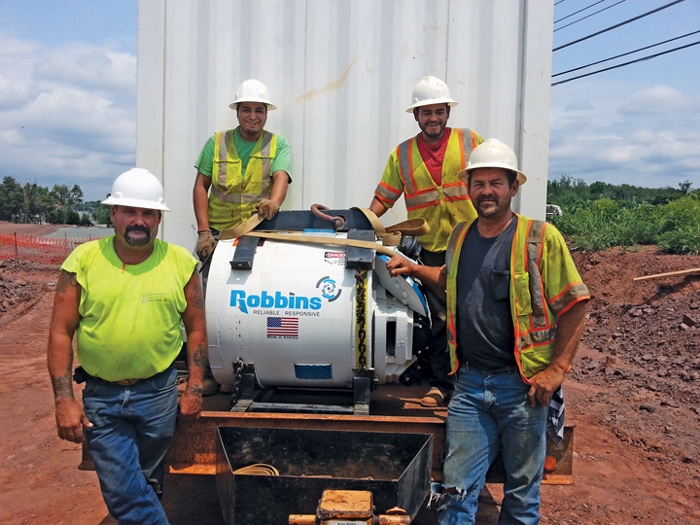 Boring a small tunnel in hard rock is never an easy task, but when the rock is 28,000 psi UCS, the term "hard" doesn't begin to cut it. That was the obstacle facing Virginia-based trenchless contractor Kruckenberg Service Co. at a set of utility bores for new sewer lines in Ashburn, Va., in late 2013.
"Cut-and-cover was a problem with the rock hardness, as we had to go under a busy road. We also wanted casing under parts of the road that were planned to be widened," said company owner David Kruckenberg, noting that utilities near the new sewer lines also meant there were limited options. "We had a 36-in. water line, 10-in. water line and 10-in. force main sewer nearby. It had to be bored, not blasted."
The contractor ultimately opted for a 36-in. diameter Small Boring Unit (SBU-A) manufactured by The Robbins Co., with 9.5-in. disc cutters. The rock would be some of the hardest ever bored with a machine of such small diameter and small-sized cutter discs.
Historic Ground 
Buried lines were not the only cause for concern at the Mt. Hope Church Sewer Bore Project. "The pipeline was constructed to service 25 single family homes under construction, as well as a historic Baptist church, built in 1835, that it passes within a few feet of," said Casey Rafter of general contractor Metro Earthworks, a division of Shirley Contracting Co. LLC. "The church limited the method that could be used. We couldn't blast certain areas, and for the pits at either end we had to follow guidelines for maximum particle velocity near historic buildings."
Metro Earthworks had blasted about 9,000 ft for installation of a variety of utilities including sanitary sewer, storm and water lines, but sub-contracted several crossings to Kruckenberg. In particular, the 210-ft long bore below Belmont Ridge Road was of concern due to its proximity to the church and buried utilities. While the contract did not specify an excavation method, it had to be bored rather than blasted, and the bores were required to maintain a grade of 0.43 percent.
Hard Rock
Kruckenberg Service Co. knew they had their work cut out for them based on excavation of the launch and receiving pits. At 24-ft deep, 40-ft long and 16-ft wide, the launch pit revealed bluestone rock below the surface. "The guy blasting the pits said it was almost like diamond, it was so hard," said Kruckenberg.
Metro Earthworks had also tested rock on its sections as being as high as 29,500 psi and incredibly abrasive. It was decided to install the pit in the middle of the bore and excavate in one direction, then re-launch from the other direction, welding casing through the pit.
When Kruckenberg chose an SBU with an Auger Boring Machine (ABM) for the excavation, Metro Earthworks was initially unfamiliar with the method. "We had never been involved on an SBU project before, but the customer service was fantastic," said Rafter. The 36-in. SBU-A was delivered to the site and launched in early 2014.
Disc Cutting through Rock
The SBU-A was chosen for its similarities to a larger diameter TBM. Mounted with disc cutters in a circular cutting head, an SBU-A regularly tackles hard rock up to 25,000 psi UCS. The cutting head, in diameters from 24 to 72 in., is welded to the lead steel casing and used with a standard ABM. The contractor-supplied auger pilots directly onto a taper hex shaft in the thrust bearing assembly. The ABM provides both torque and forward thrust, while the disc cutters chip away at the rock face. Spoils are removed via muck buckets in the cutterhead that dump onto the auger. A crewmember removes the spoils via a door in the ABM's master pusher.
The action of the disc cutters is not to cut rock, but to fracture it. The rolling disc cutters create small fractures in the rock between them, causing the fractures to propagate. Chips of rock then fall away from the tunnel face.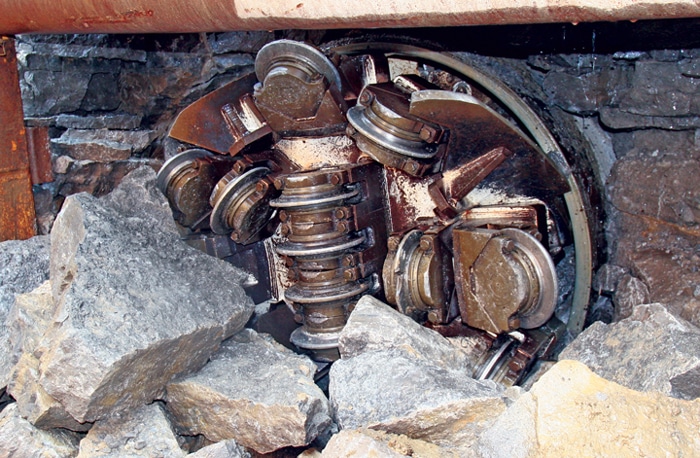 Tough Tunneling
The crew averaged from 3 to 7 ft per hour in the rock. "Our crew and, in particular, our foreman, John Kevin Beamen, were so important. We pulled the augers every 5 to 10 ft to check alignment with a laser, and it required a lot of patience. The rock was harder on the bottom, so we had to watch for drift as the SBU wanted to raise up," said Kruckenburg.
The SBU-A successfully completed the 210-ft crossing in one month, requiring some extra time to have the cutters changed out, as the rock had worn them down. "I've used Robbins hard rock heads for the last 12 years — auger boring is our thing, and I had never seen rock this hard," said Kruckenberg.
Crews also had to deal with water inflows, in addition to rock hardness. "The rock also contained pockets of groundwater. We went under some fractured rock and found water coming in — we had to install three 2-in. electric pumps to keep the water down, as well as a 4-in. pump in the receiving pit. At one point we had water 5 in. deep in the casing," said Kruckenberg.
Even with the short downtime and challenges, general contractor Metro Earthworks was impressed with the process. "We had a minor issue with the cutterhead, and we brought it from Virginia to Ohio on a Friday. It was back on the jobsite that following Tuesday. We had incredible service and because of that, I would certainly use them again. They also helped us to meet our budget and complete the project on schedule," Rafter said.
Both companies also worked with Robbins to address the issue of the hard rock. "Robbins was honest about the limitations of the small diameter machine and how far we could bore with it in such difficult conditions. For our next project in the same conditions, they offered a machine rental at a larger size, so we would have an SBU that could deal with the harder rock conditions more easily," said Rafter.
Small Diameter, Big Plans
That larger SBU-A, a 48-in. machine, completed a second bore in January 2014. "I finished the next bore on this project using a 48-in. SBU-A, and it did 140 ft in five days. It ate that rock up. The thing is a beast," said Kruckenberg of the SBU. That project was excavated in equally hard rock at rates of over 20 ft per day (operating in one 10-hour shift).
Kruckenberg Service Co. sees the value of investing in SBUs, as it owns a 30-in. SBU-A and has rented multiple SBUs in various sizes since the company first tried them on a bore back in 2002. The contractor also began another new project in late July, using its 30-in. SBU-A rebuilt in Robbins' Ohio-manufacturing facility. The 140-ft bore for a gravity sewer will pass under Centerville Road in Chantilly, providing just 2 ft of clearance around several active utility lines. "We need to maintain a 1 percent grade while keeping clear of buried utilities at a point 120 ft into the bore — it's going to be tough," said Kruckenberg.
The contractor is expecting somewhat softer rock along with a potential for mixed ground conditions. The company is not stopping there, however, with another bore planned in the coming months in Manassas, Va. The job will use the same 30-in. SBU-A under the Norfolk Southern railroad track. For other contractors considering SBUs, Kruckenberg offers some advice: "If you're doing hard rock, SBUs are the only way to go, there isn't any other competition out there. I don't see any other head going through rock this hard."
Desiree Willis is a technical writer for The Robbins Co., based in Kent, Wash.