After Celebrating Its 50th Anniversary, Jenny Engineering Corp. Moves Forward Under the COWI North America Banner
The tunneling industry has always been driven by people who push boundaries – individuals who dare to come up with novel ways to do the unprecedented. It is this spirit of innovation that led to the crossing of Thames River in London in the 1800s, to the crossing of the English Channel a century later, and to larger and longer tunnels being completed in the 21st century.
For 50 years, Jenny Engineering Corp. has embodied this spirit, taking a cue from company founder, Bob Jenny. The company celebrated its golden anniversary in 2015, and will begin a new chapter in 2016 operating under the COWI North America banner, combining its accumulated expertise with that of the worldwide COWI firm that has its own rich history.
During his career, Bob Jenny was one of the most recognized and respected tunneling engineers in the United States and beyond. His Springfield, New Jersey-based firm worked on such projects as the Washington Metro, New York City Tunnel No. 3 and the Channel Tunnel. Jenny Engineering Corp. pioneered the use of NATM (or SEM) tunneling in soft ground in the United States (as part of the Washington Metro program) and introduced first fully encapsulated epoxy resin ground support dowels in rock for tunnels in the United States.
The company continued on the legacy after Jenny passed away in 2008 at the age of 76, including design work for projects from coast to coast. Because of this track record, Jenny Engineering Corp. was an attractive fit for COWI North America – the North American arm of Denmark-based COWI – as it was looking to add tunneling to its portfolio here.
Jenny Engineering Corp. became a COWI North America company when an agreement to purchase the firm was finalized in on Dec. 31, 2012 – completing COWI's vision to establish a Bridge, Tunnel and Marine group in North America.
"Globally, COWI has a Bridge, Tunnel and Marine group, and they wanted to have that same service offering in North America," said Steve Hunt, president of COWI North America. "When we started talking to Jenny Engineering Corp., we found that there was good synergy in terms of our client base – a lot of the same contractors we were dealing with on the bridge and marine business were the large heavy civil contractors that Jenny worked with and had strong relationships with. It was a good fit from the moment we first met."
Additionally, Jenny Engineering Corp.'s highly technical services and niche business model meshed well with the specialized approach that COWI North America's Bridge, Tunnel and Marine group offers.
A Growing Presence
COWI itself is a company with a long and storied past. Founded in Denmark in 1930 by Christen Ostenfeld, COWI is a full service engineering firm with divisions that include Planning and Economics; Water and Environment; Transportation; Buildings; and Industry and Energy. COWI has more than 6,000 employees and operates in 24 countries across North America, Europe, Africa, the Far East, the Middle East and India.
COWI first entered the U.S. market with the acquisition of Ben C. Gerwick Inc. in 1988, and entered the Canadian market in 1998 with the acquisition of Buckland & Taylor. Buckland and Taylor just completed design of the main span of the $3.98 Billion new New York Bridge, a cable-stayed bridge with a main span of 1200 feet.  COWI North America has more than 300 staff and operates in 15 offices throughout the United States and Canada.
Worldwide, COWI strengthened its tunneling offerings with the acquisition of Donaldson Associates in the United Kingdom in 2014, bringing its combined number of tunneling specialists to approximately 350.
"We have grown to become one of the larger firms offering tunneling services globally, and to take advantage of that strength we are going to work under the COWI brand," Hunt said. "In this way, our clients and our partners can clearly identify our resources in the international tunneling market."
The integration of the COWI companies and staff worldwide is already well underway. In fact, Jenny staff has recently been involved with the massive Doha Redline metro project in Qatar.  Jenny staff has also been involved on projects in Copenhagen and Algeria.
Sharing the staff resources is a two-way street, said Scott Roux, president and managing director of Jenny Engineering Corp. "We have had some our international staff assist us on projects here in North America," he said. "We run the business internationally as a single team."
To help share experiences – and help integrate team members – COWI held an internal tunneling technical conference in September in the United Kingdom attended by about 80 specialists. "Those conferences are part of our commitment to developing a high level of technical expertise that is the culture of the company," Hunt said. "It also helps for staff to meet face-to-face and get to know their peers in other offices around the world."
Tunneling in North America
The tunnel market in the United States has been strong over the last decade-plus, and it projects to be stable into the near term. Transportation projects on the coasts and sewer improvement programs throughout the country have been largely driving the market. One aspect of the market that has been evolving, however, is the use of alternative contract delivery methods – specifically design-build and public-private partnerships (P3 or PPP).
In this changing atmosphere, COWI North America has positioned itself to compete in the market. "We not a fully multi-disciplined group but instead we are specialists in our core areas," Roux said. "For this reason, we are able to partner with some of the big A/E firms on large projects to provide winning technical solutions, particularly for design-build projects."
Hunt adds that COWI's worldwide footprint and access to 350 tunnel staff is also beneficial. "With the fast delivery times and compressed schedules associated with design-build, the ability to pool your resources becomes an advantage," he said.
However, COWI North America is also comfortable operating in the more traditional role of design engineer for the owner.  This versatility is evident in Washington, D.C., where COWI North America is working on four different projects in a variety of roles. COWI provides resident engineering and construction management services for DC Water on the 26-ft outside diameter, 24,000-ft long Blue Plains Tunnel that holed through in July.
In contrast, Jenny Engineering is the tunnel and shafts designer for the Impregilo-Healy-Parsons JV as part of the design-build contractor team for the Anacostia River Tunnel, the next leg of DC Water's CSO abatement program that is currently under construction. The firm is also working on the contractor team with Corman Construction for the Division I – Main Pumping Station Diversions.
Finally, Jenny Engineering is working for DC Water as a designer for the Division Z – Poplar Point Pumping Station Replacement and Main Outfall Sewers Diversion project, a design-bid-build project that comprises three small-diameter sewer installations.
In addition to DC Water, Jenny Engineering has been involved with sewer tunnels for the Northeast Ohio Regional Sewer District in Cleveland, as well as the recently holed-through OARS tunnel in Columbus, Ohio.
Prakash Donde, Principal of Jenny Engineering Corp. and with the firm since 1980, sees continued market strength in the water and wastewater sector. "This has been a strong market for us we see this continuing, particularly because they are largely court-ordered, so the projects are expedited," he said. "There are projects and programs coming up all over the country, including Rhode Island, Pennsylvania and Texas. We are keeping our sights on many projects in water and wastewater."
One other area of strength of COWI/Jenny is the area of immersed tube tunneling. Jenny Engineering Corp. had been involved in several immersed tube projects, including providing feasibility studies and final design and construction services for the Fort Point Channel Immersed Tube for the Massachusetts Bay Transportation Authority in Boston. COWI, meanwhile, had its own history of immersed tube tunnels in Scandinavia and beyond.
This was a factor in COWI North America being named to the Jacobs Engineering-led design team for the Parallel Thimble Shoal Channel Tunnel, which would add an additional two-lane tunnel nearly 6,000 ft under the Thimble Shoal Channel to expand the capacity and improve the safety of the Chesapeake Bay Bridge-Tunnel. That tunnel was built 50 years ago to connect the Norfolk, Virginia, area to the Delmarva Peninsula.
"Jenny Engineering has designed a concrete immersed tube tunnel for MBTA in Boston, and COWI internationally has a long involvement in many immersed tube tunnels, so that was an added attraction bringing the two sets of expertise together," Hunt said. "We are quite strong in that area and we feel we are well positioned to be involved on any immersed tube project in the world."
Moving Ahead
As COWI North America moves forward under one brand, it is in the process of aligning its offices and leveraging its capabilities across its Bridge, Tunnel and Marine sectors. For example, tunnel staff can provide geotechnical services for heavy civil projects that may be taken on with the Bridge or Marine division. Additionally, COWI North America office locations will co-locate two or all three of the divisions more frequently in the future.
COWI North America is looking forward to bright future, and plans to retain the legacy of Jenny Engineering Corp. It has the advantage of moving forward with long-time Jenny personnel, including Donde, Tom Kwiatkowski and Stanley Niemiec. Jenny Engineering Corp., company leaders say, is known for its constructible designs, quick response times and technical ability. Hunt points to the aftermath of Superstorm Sandy as an example of how owners trust Jenny.
"When various tunnels around New York were flooded after Sandy, in many cases Jenny Engineering staff were the first people called in," he said. "Jenny had a history with all the tunnel owners, and had been involved with the inspection and repair of those tunnels over the years."
Tunnel systems – including the Holland Tunnel and PATH tunnels – were inspected by Jenny staff, Donde said. Clients included the Port Authority of New York and New Jersey and New York City Transit. "There is still a lot of work to be done to repair and strengthen the infrastructure," he added.
As for future growth, Hunt hinted that COWI may not be finished expanding in North America just yet. "Because of the size of the projects, we think there is some room for us to be bigger," he said. "With the large contract packages that are coming out with compressed schedules, you need a certain critical mass to address that demand, so we think there is room to grow somewhat on the tunneling side."
Jim Rush is publisher/editor of TBM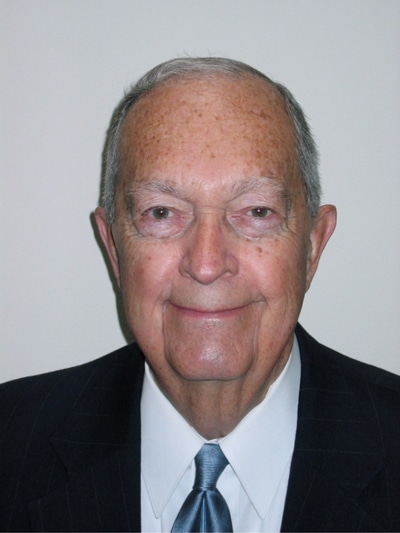 Bob Jenny – Founding Father
Jenny Engineering Corp. (JEC) was founded in 1965 by Robert J. "Bob" Jenny, one of the world's preeminent experts in the design and construction of tunnels and underground structures. He passed away in 2008 at the age of 76.
Jenny graduated from the Newark College of Engineering, NJIT, with a bachelor's of science degree in civil engineering.  He also earned a master's of science degree in civil engineering with specialization in geotechnical engineering.  He was a licensed professional engineer in 33 states in the United States, and Canada, a land surveyor in New York and New Jersey, and a licensed professional planner in New Jersey.
Upon its founding, Jenny Engineering Corp. pioneered the use of innovative tunneling techniques in the United States and was responsible for the design and management of many noteworthy projects worldwide. Jenny led the company in the design of tunnels, shafts, substations and underground structures on 26 tunnel sections of the Washington Metro.
He was consulted on the design of the undersea crossover cavern in the English Channel Tunnel, and on the construction of the Shanxi Wanjiazhai Yellow River Diversion Project in China.  He served as Project Director for geotechnical engineering and construction management contracts for the construction of New York's City Water Tunnel No. 3, one of the world's largest civil engineering efforts.  He lectured widely on tunnels and underground construction and co-authored two books: Tunneling-The State of the Art and Tunneling-The State of the Industry.
He was a member of numerous professional organizations and committees, and the recipient of various awards, and was a decorated Army veteran of the Korean War.