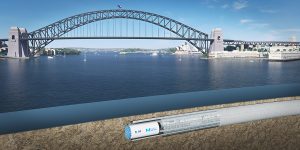 Minister for Transport and Infrastructure Andrew Constance on Aug. 4 announced two groups have been shortlisted to build the tunnels under Sydney Harbor and through the Central Business District (CBD) for Sydney Metro – Australia's biggest public transport project.
Earlier this year, Sydney Metro completed the 15-km (9-mile) twin tunnels in the North West and now the next stage of Sydney's tunneling boom is taking shape.
RELATED: Tender Process Begins for Sydney Metro
The first of the tunnel boring machines will be in the ground before the end of 2018 for tunneling under the harbor and through the CBD. Several local and international firms have been competing for the work. In fact, more than 18 tunneling and civil engineering organizations were engaged as part of industry consultation earlier this year in the Sydney Metro City & Southwest Tunnel and Station Excavation Works contract.
Following an assessment of the expressions of interest submissions, two strong joint venture parties have been shortlisted and will be invited to tender for the contract.
They are:
The NSW Government expects to award the contract to build the tunnels around the middle of next year.
RELATED: Jacobs JV Wins Contract for WestConnex New M5 Project in Australia