The mixed face/mixed reach hard rock project he will present on is the recently completed microtunnel drive that crossed the Schuylkill River in Reading, Pennsylvania. The project consisted of 436 ft of 60-in. steel casing with an average depth of 35 ft at the shafts. Ground cover under the river was as little as 5 ft.
Mining conditions began with a mixed face of non-cohesive gravel in the top of the heading overlaying fractured dolomitic rock at the bottom. The heading transitioned to a full face of fractured dolomitic rock approximately halfway in to the drive. The rock had unconfined compressive strength (UCS) values of up to 34,300 psi. The presentation discusses the challenges associated with the project, including limited work space, rock excavation in the shaft and tunnel, disc cutter wear and changes, managing the water table, and receiving the MTBM in a 9-foot ID drilled shaft.
RELATED: Microtunneling Provides Solution for Project under Toronto's Pearson International Airport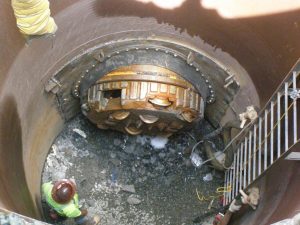 Bradshaw began his career at the age of 14 working as a tunnel laborer for his family's tunneling construction company, L.M. Bradshaw Contracting, Inc. In 1982, after completing a bachelor's and master's in civil engineering from Georgia Tech and a master's in business administration from Harvard University, he assumed the role of Vice President and Corporate Secretary and helped form Bradshaw Construction Corp. He has played an active, hands-on role in the business including: tunnel supervisor, safety officer, chief engineer/estimator, financial manager, and in 1991 was appointed president and treasurer.
To register for this free webinar, click here.