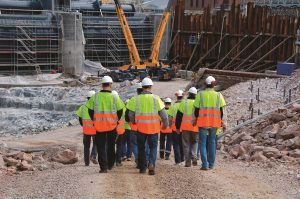 Washington State University will begin offering a bachelor of science degree in construction engineering in fall 2016, bolstering its efforts to meet high demand in the heavy construction industry.
More than 150 construction and engineering contractors on the West Coast are supporting WSU's efforts to establish the program, which received final approval in February.
"The additional opportunities that will be available as a result of this curriculum will benefit students as they prepare for careers in construction,'' said Scott Cassels, executive vice president of Kiewit Corp., one of the largest construction and engineering companies in North America.
Students who study construction engineering will be trained in heavy infrastructure design, building design and construction technology. They will take core engineering courses as well as courses in heavy/civil construction administration; heavy/civil estimating; earthwork and equipment; human factors/ management; delivery systems; and planning and scheduling. Graduates will be able to enter the contracting industry and obtain a professional engineer license.
"This unique combination of engineering and management principles prepares graduates who can excel in the modern construction industry,'' said Balasingam Muhunthan, chair of WSU's Department of Civil and Environmental Engineering.
According to the American Society of Civil Engineers, the nation's aging infrastructure – including bridges, roadways and water systems – needs $3.6 trillion in investment by 2020. At the same time, the heavy civil construction industry has undergone a paradigm shift in the way large-scale projects are built. Design-build project delivery, in which one entity works under a single contract to design and build a project, requires that onsite construction managers have a technical engineering background as well as knowledge of estimating scheduling, contracts and construction methods.
Two years ago, WSU faculty members in the civil engineering and construction management programs came together to establish a construction engineering track within the civil engineering curriculum that allows students to take construction management courses. The program has been popular, and the new degree will expand and formalize that effort – providing training in engineering principles along with business and management concepts for construction professionals.
"This new major provides the heavy construction industry with the opportunity to focus its support towards students who will be working for our members in the future," said Dave Woods, executive director of The Beavers, a heavy construction industry association.
The new degree is the latest of several science, technology, engineering and math related programs that WSU has recently implemented to address growing demand for engineers and computer scientists.
For more information about WSU's construction engineering program, click here.