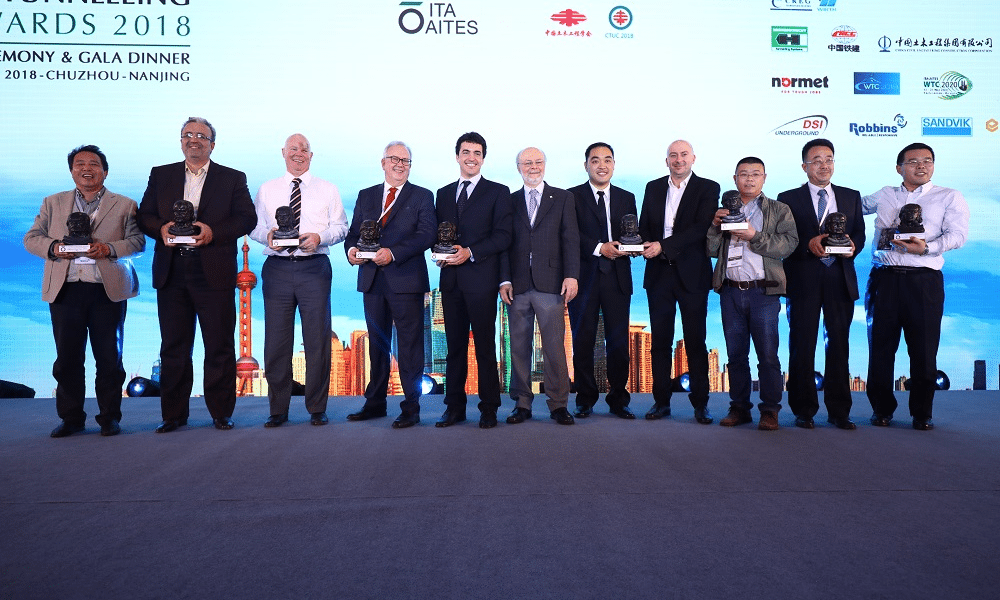 Since 2015, the international competition "the ITA Tunnelling and Underground Space Awards" seeks and rewards the most ground-breaking innovation and outstanding projects in tunneling and underground space utilization. This year the event took place in Chuzhou, China, Nov. 7.
This location in China is meaningful as the country has had to cope with increasing space-scarcity issues. While innovative projects are born to reshape cities of tomorrow, primary needs still concern major infrastructure with a strong focus on massive rail transportation projects and energy transportation.
ITA vice president Jinxiu (Jenny) Yan discussed the increasing role of subterranean spaces in China over the last 40 years: "Despite the uncertainty of geology and complex environment, China completed 45,000 km of tunnels over the past 40 years. One of the main issues for China is also the construction of tunnels in high altitude. The Sichuan-Tibet Railway, a mega future project is also one of the most challenging as it has to cope with a freezing environment."
Through eight categories and one Lifetime Achievement Award, the ITA Tunnelling Awards identify and reward major disruptive innovations and groundbreaking projects. This edition took place in Chuzhou, Nov. 7, following the 20th CTUC conference (Chinese Tunnels and Underground Works Conference) and drew more than 300 attendees.
The winners were:
Major Project of the Year (over €500M) – The Immersed Tunnel of the Hong Kong-Zhuhai-Macao Bridge Link – China
It has taken 8 years to create this 6.7 km tunnel, immersed on 5.6 km, connecting the cities of Hong Kong, Zhuhai and Macao. The tunnel was assembled with 33 elements of 180m in length, 11.4m in height and 37.95m in width, for a weight of 80.000 tons. Those are the world's largest tunnel elements. Artificial islands have been created at the both ends of the tunnel to connect it to the bridges. This bridge link is 45m under the sea, to allow passage of 300,000 DWT tankers. This is one of the deepest immersed tunnels in the world. Some innovative techniques have been used to build this tunnel. Due to delicate geological conditions, the foundations of the immersed tunnel have been mixed between rigid and soft ones. This resulted in the use of pre-stressed high strength concrete piles, jet grouting piles, sand compaction piles, compacted block stone plus gravel bed foundation to create optimum foundation conditions. This is also the first tunnel in the world where curved tunnel elements have been prefabricated, improving many technologies to measure what size was necessary. To conclude, the final section of the immersed tunnel, the so-called closure joint, is an innovative "V shape" and of a sandwich structure (steel box structure filled with high fluid concrete) as the basic structure.
Project of the Year (between €50M and €500M) – The Queershan Tunnel on National Road 317 – China
In September 2017, after 10 years of repeated scheme demonstration and five years of construction, the Queershan Tunnel on G317 went into operation. The Queershan Tunnel conquered a number of technical problems in construction in the high altitude and cold regions of plateau and broke the natural barrier on the northern line of the Sichuan-Tibet Highway, which will further close the link between the mainland and Tibet and help accelerate economic and social development in Tibetan region. It cost €150 million. The tunnel, completed on schedule, eliminates road closures due to winter weather.
Project of the Year incl. Renovation (up to €50M) – Zarbalizadeh Shallow Tunnel Construction underneath the Operating Railways – Iran
This Zarbalizadeh Tunnel project is to construct an underpass in the 16th district of Tehran, providing an east-west connection between two urban areas and reducing traffic and travel time in this densely populated region. The project has been constructed by going under the subway line of Tehran Metro Line 1 with 3 minutes headway time and 550,000 daily commuters, and the North-South Railway with transportation of 40,000 passengers and a hundred tons of goods per day. This project is located between the South Passenger Terminal and two Tehran's subway stations. Tunneling was completed in June 2017 and cost €6.5 million.
Technical Project Innovation of the Year – A Mechanized Method with Large Section Horseshoe Shape EPB-TBM First Applied in Loess Mountain Tunnel – China
This project is a mechanized method with large section by horseshoe shaped EPB TBM. Safe and fast, this new method guarantees the quality of construction and the working environment. Compared with single circular cutterhead EPB TBM, the newly developed horseshoe shaped EPB TBM with multiple cutterheads could reduce manufacture cost of the TBM, increase utilization ratio of the section, and reduce the quantity of excavation and construction material. The project has developed the world-first large horseshoe section (10.95 m height and 11.9 m width) EPB TBM with multiple cutterheads. The occurred from Nov. 11, 2016 to Jan. 26, 2018, at a cost of €60 million.
Technical Product/Equipment Innovation of the Year – Multifunctional Energy-Storage and Luminescent Material for Sustainable and Energy-saving Lighting for Tunnels – China
This project deals with a multifunctional energy-storage and luminescent material (LUMA) for sustainable and energy-saving lighting for tunnels. It is featured by energy storage, delayed luminescence, release of negative oxygen ions, dirt resistance, self-cleaning and anti-staticity. LUMA has been applied in manufacturing a series of products including tunnel coating, tunnel reflective aura, delineator, raised pavement marker and road marking. It fulfils "safety, comfort, environmental friendly, and energy efficient" requirement simultaneously for tunnel decoration and lighting. LUMA are innovative products that promote the technological advance of energy saving, safety and disaster prevention in road tunnels. LUMA significantly reduces the energy consumption in tunnel lighting.
Innovative Underground Space Concept of the Year – Norwegian Rock Blasting Museum – Norway
The Norwegian Rock Blasting Museum is an underground museum located near the Olympic City of Lillehammer in Norway. The museum was created 25 years ago by the main stakeholders of the industry, to recognize Norway's close and extensive history with tunnels. The Norwegian Rock Blasting Museum is an entertaining and informative journey through the history of Norwegian tunneling and rock blasting, with a 240 m long semi-circular tunnel as the main attraction. The tunnel display equipment and tunneling techniques date from the beginnings of tunneling all the way to modern computerized drilling and TBM boring. This is a unique museum, and possibly the only purpose-built "tunneling museum" in the world.
Safety Initiative of the Year – ROBY 850 Semi-Automatic Drilling Robot – Hong Kong, China
Advances in construction technology has enabled longer and larger tunnels to be built, and hence more evaluation and management (E&M) services are being installed along the tunnels to provide ventilation, lighting, security, communication, and fire service etc. There is an increasing demand, for construction workers, to install the E&M services and cladding, in particularly, drilling anchors and installing permanent utility containment system including cable brackets and cable trays. For the past three years, Bouygues TP R&D teams in collaboration with Dragages Hong Kong have worked to develop a specific tool to replace human involvement in this repeated setting-out, drilling and anchors installation by this robotic system which significantly reduces the risks associated with the drilling operation. Through development, this has led to the so-called ROBY 850 – Semi-Automatic Drilling Robot. ROBY 850 has been developed in order to improve the safety and productivity and has brought evolutional change to this practice and eliminated the health and safety risk.
Young Tunneller of the Year – Giuseppe M. Gaspari – Italy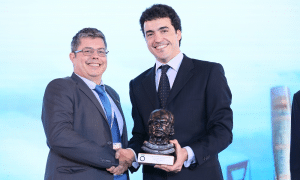 Giuseppe M. Gaspari has more than 10 years experience as a Tunnel Engineer, holding a degree in Civil Engineering, a master's in Geotechnics and a second-level master's in Tunneling and TBMs. He is currently enrolled in the Kellogg-Schulich executive MBA global business program.
He joined Arup in 2018 in support of the development of the Canadian infrastructure market, with specific involvement on the design management of the Toronto Relief Line South. In his previous position as General Manager and Tunnel Lead for Geodata Engineering in Canada, he was involved in several North American projects, including Toronto York-Spadina Subway Extension, Toronto Eglinton Line, Jarry Tunnel in Montreal and Deer Creek Tunnel in Missouri. He has been the Deputy Project Manager for the West Vaughan Sewage Servicing Project, a 14-km EPB-TBM tunnel with nine shafts, co-leading civil, structural, geotechnical and electro-mechanical teams for the preliminary and detailed design, the ground investigation program, the GBR, the contractual form definition and the technical specifications. He was also the Design Project Manager for the Bergen Point Outfall in New York.
Gaspari's tunneling skills include global design and contract management of: SEM projects (26-km long Istanbul Metro Line Kadikoy-Kartal, and Hongud-Hospet Highway Tunnels), TBM and segmental lining (both single tube in Turin metro and double tube in Delhi, Bangalore and Mumbai), long and deep tunnels (including the 50-km-plus high-speed railway Brenner Base Tunnel, Austria/Italy), large hydropower plants (Minas La Union, Equador) and cut-and-cover structures (Singapore Thomson-East-Coast LRT and the 3-in-1 Depot). He relocated to Toronto in 2015.
His dedication to the tunneling industry can be seen in his organization membership and leadership. He has been a steering board member for ITA Young Members since 2016, a WTC 2019 Executive Committee member, founder and president of Young Members at both SIG (Italian Tunneling Society) and AGI (Italian Geotechnical Association), and is a member of several other related societies.
Lifetime Achievement Award – Dr. Evert Hoek – Canada
Dr. Evert Hoek was born in Zimbabwe, graduated in mechanical engineering from the University of Cape Town and became involved in the young science of rock mechanics in 1958 when he started working in research on the problems of brittle fracture associated with rockbursts in very deep mines in South Africa. He has been elected as a Fellow of the Royal Academy of Engineering (U.K.), a Foreign Associate of the U.S. National Academy of Engineering and a Fellow of the Canadian Academy of Engineering. He has published more than 100 papers and three books. His consulting work has included major civil and mining projects in 35 countries around the world and has involved rock slopes, dam foundations, hydroelectric projects, underground caverns and tunnels excavated conventionally and by TBM.
Previous ITA Tunnelling Awards awards were presented in Hagerbach Tunnel, Switzerland (2015), Singapore (2016) and Paris (2017). The three previous editions received more than 240 entries and 110 nominations, rewarded 30 projects and personalities and gathered more than 750 attendees.
RELATED: Tunnel Achievement Award – Northgate Link Extension