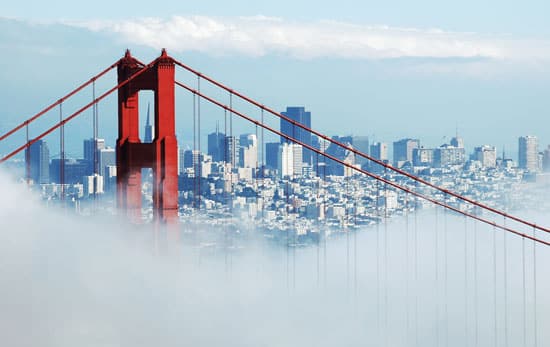 The Underground Construction Association and the International Tunnelling Association (ITA) will host the 42nd annual World Tunnel Congress and General Assembly in San Francisco, April 22-28, 2016. It marks the first time the World Tunnel Congress has been held in the United States since 1996, when it was held in Washington, D.C.
Organizers are expecting more than 2,500 delegates from around the world to the Moscone Center in the heart of San Francisco. The top-tier technical session features 800 industry speakers while the 138,000-sq ft exhibit hall will host more than 200 exhibitors from around the globe. The World Tunnel Congress also features the annual ITA general assembly, where representatives from member nations get together to report on their latest initiatives and discuss the future of ITA. ITA training and educational sessions and working group meetings are also on the schedule.
The theme of the WTC 2016 is "Uniting the Industry." WTC 2016 in taking the place of the North American Tunneling Conference, which will return in 2018. Urban underground space use is rapidly increasing worldwide as a result of urbanization as well as the need to build or improve infrastructure systems. The World Tunnel Congress provides the venue for industry professionals from across the globe to learn from others as we address the challenges.
San Francisco itself is a prime attraction, with a wealth of sites, attractions, shopping, restaurants and entertainment. Its location on the Pacific Coast provides a gateway for Asian as well as European delegates.
World Tunnel Congress promises to be a great event for both the U.S. market and the global market as well. TBM: Tunnel Business Magazine looks forward to taking part in the show and we hope to see friends old and new in San Francisco.
ABC Industries
In 2016, ABC Industries marks 90 years of producing the most dependable, durable ventilation equipment for the tunnel and underground construction industry.  The company's high-quality, customized ducting solutions are installed at many of the largest underground project sites in North America and around the world.  ABC's MineVent and TruOval MineVent layflat blower tubing, MineDuct wire-reinforced exhaust ducting, RigiDuct filament-wound fiberglass ducting, brattice, fly pads, blast curtains, and fans offer underground professionals a suite of ventilation solutions.  As tunneling and underground construction continues to evolve, ABC Industries proactively collaborates with industry professionals to engineer unique, high-quality ventilation products.
ABC Ventilation Systems
ABC Ventilation Systems is a full line ventilation supplier for tunnels and mining.  ABC Ventilation can help with the design of your tunnel system and a complete package of fans, ducting, variable speed drives and dry dedusting equipment.  ABC Ventilation Systems has just started production of its polymer Hardline product.  ABC Hardline can be purchased welded in oval or round and also come in a form that ships compact and then is assembled on site.  ABC Hardline is an ideal replacement for fiberglass or steel ducting, which have higher shipping costs and greater leakage and damage on site.
AECOM
AECOM designs, builds, finances and operates infrastructure assets for governments, businesses and organizations. As a fully integrated firm, AECOM connects knowledge and experience across its global network of experts to help clients solve their most complex challenges. AECOM delivers comprehensive solutions to major tunnel projects, totaling more than 1,000 miles worldwide. AECOM's experts are well versed in all methods of tunneling in every type of ground condition, drawing from the firm's strong capabilities in bored tunnels, immersed tube tunnels, cut-and-cover tunnels, microtunneling, fire and life safety, ventilation, geology and geotechnical engineering.
Akkerman
Face-access, peripheral-drive microtunnel boring machines (MTBMs) are available in standard sizes 72-to 114-in. OD to precisely complete extended and curved tunnels (with AZ100 Total Guidance System) with exceptional drive and cutting torque. This new generation of MTBMs enables face access to replace cutterhead tooling to tackle the complex alignments that our industry demands. Back-loaded tooling mounts on the cutterhead make access and replacement of worn tooling a simple process. The MTBMs feature an onboard electric over hydraulic power pack for cutterhead drive with low, medium, and high torque modes for accurate control in changeable geology. Cutterheads can be customized for specific ground conditions.
Arup
Arup is a trusted industry leader in the planning, design and delivery of underground projects of all types and sizes. Collaborating with public agencies, contractors and other engineers, Arup employs a multidisciplinary approach using committed specialists to produce innovative solutions to the world's most complex and challenging tunnel projects. Winner of the 2015 Global Tunneling Project of the Year (over $500M) at the NCE Tunneling & Underground Space Awards, Arup's experience encompasses all aspects of tunneling and ground engineering in the full range of rock and soil conditions.
ASI Group Ltd.
ASI Group Ltd., founded in 1987 as Aquatic Sciences Inc., is a full-service engineering and marine technology company comprised of two groups: ASI Marine and ASI Water. ASI Marine provides industries and governments worldwide with leading-edge underwater services focused on the assessment, maintenance, rehabilitation and construction of underwater infrastructure and environments. More specifically, ASI Marine specializes in underwater remotely operated vehicle (ROV) inspections, commercial diving and marine geophysical/hydrographic surveys. ASI Marine also focuses its commercial diving expertise in providing hyperbaric intervention support services to the tunneling industry. To date, ASI has performed over 500 hyperbaric interventions in soft ground tunnels.
Avanti International
Avanti International is the most experienced producer of high-quality chemical and cement grouts in the United States. Avanti's products have been used extensively to control groundwater in many geotechnical applications before, during and after construction to stop leaks, stabilize soils, fill voids, and create impermeable barriers in mines, tunnels, dams and subways. AvantiGrout has been used worldwide in climates as arid as Egypt to the humid locales of South America. Avanti has a full product line including ultrafine and microfine cements, hydrophilic and hydrophobic foams, acrylamide, acrylic and acrylate grouts, chemically activated gels and water-activated foams.
Babendererde Engineers
Babendererde Engineers specializes in mechanized tunneling and underground storage construction.  Babendererde supports projects worldwide with customized services during project development and design, as well as with construction management and applied process engineering.  Another successful service being offered is practical trouble-shooting on-site for TBMs in difficult situations.  For water and gas storage, Babendererde provides assistance for developers and construction companies. Tunnelsoft supports the tunneling industry with specialized software for data management and visualization.  Babendererde's major product is the software Tunnelling Process Control (TPC).  Its unique flexibility, combined with powerful automatic reporting and notification tools, makes it one of the leading solutions in the market. TPC has successful references all over the world.
Bamser
Bamser is a specialist team of tunneling engineers dedicated to constructability assessment, design review, cost planning, first principals programming and estimation for tunneling projects. Bamser is driven by a single desire to reduce the design and construction price of tunnel projects. The firm's success lies in the depth of knowledge of its highly-skilled people and their practical, site-based, underground engineering experience. Bamser's involvement in the planning, procurement and more importantly the delivery of nearly every major tunnelling project in Australia in the past decade has Bamser well placed to play a significant role in the coming tunneling boom "down under."
BESSAC
BESSAC, a worldwide major tunneling and microtunneling contractor, presents 40 years of experience on tunnel and microtunnel projects. BESSAC masters all mechanized excavation techniques (microtunneling, EPB TBM, Slurry TBM, air pressurized TBM) and has over 130 km of microtunneling and tunneling experience in about 120 projects in last 10 years. These works were realized in 20 countries on five continents.
Brokk
Brokk, the world's leading manufacturer of remote-controlled demolition machines, introduces the updated Brokk 60 II, now with 10 percent more power than the original Brokk 60. The new model is the smallest unit in the world and has an upgraded hydraulic system, which increases the machine's power. The Brokk 60 II weighs 1,102 lbs, and its overall dimensions remain the same as the original Brokk 60 — only 23.2-in. wide and 34.3-in. tall. While mainly used in the construction industry, it is also ideal for other applications where limited space is common, such as mining, nuclear and process industries.
Brookville Equipment Corporation
Brookville designs and manufactures diesel and battery locomotives, personnel carriers and combination vehicles for underground miners and tunnelers. Customizable Brookville units come in ranges of 4 to 50 tons with variable gauges of 24 to 48 in. and can be designed to meet MSHA permissibility standards. Recent product enhancements include remote control, LED gauge panels, and integrated rearview cameras for operational safety and efficiency. Brookville units have serviced some of the industry's most notable projects, including the East Side Access Project in New York City. In 2015, Brookville delivered three 27-ton tunneling locomotives to the Crenshaw/LAX Transit Corridor Tunnel Project in Los Angeles.
Comtrol
Comtrol has built a reputation for manufacturing the highest quality communication and control systems designed to operate in harsh environments. Comtrol's communication systems provide durability, flexibility and unlimited expansion opportunities. Thousands of Comtrol's systems have been successfully installed around the globe, attesting to the firm's reputation. Comtrol is a manufacturing business that can engineer and build custom products to meet the specific needs of its customer base, whether they are in the mining, tunneling, drilling, or oil and gas industry. Comtrol has invested decades of research and development into the perfection of quality audio systems for industrial environments.
COWI NORTH AMERICA
COWI North America is a leading bridge, tunnel and marine engineering consulting group built on over 80 years of international experience. COWI North America provides clients with innovative and sustainable solutions to the most complex engineering challenges worldwide from 13 offices across North America. COWI Tunnel North America (formerly Jenny Engineering Corp.) is an internationally recognized engineering consulting group specializing in the planning, design, inspection, and construction management of tunnels, shafts, and underground structures. COWI Tunnel provides local and international clients with practical, cost saving, and innovative design solutions, and has rendered professional services worldwide.
Crux
Crux is a leader in geotechnical construction and exploration.  With over 15 years of experience in the tunneling industry, Crux has provided solutions to some of the most difficult-access and geologically challenging projects in North America.  Crux's drilling expertise includes high core recovery; borehole surveying; and instrumentation.  Crux's construction team provides pre-excavation stabilization including dewatering; permeation and compaction grouting; tube arch canopies; and cased horizontal boreholes.  Projects are supported by the firm's in-house fabrication group to ensure customized equipment is deployed to meet specific needs, while in-house geostructural engineering and consulting services support design-build, EPC or value engineering opportunities.
Daigh Company
Daigh Company distributes Dā-mite Rock Splitting Mortar. Dā-mite is used to fracture rock and concrete in "no-blast" conditions. Dā-mite is an ideal and effective tool for fracturing mass rock, boulders, trench rock, dimensional stone, concrete and reinforced concrete. Mix Dā-mite with water and pour into predetermined, predrilled holes. Dā-mite will then set and expand with enough force and compressive strength to break the rock or concrete. No license or permit are required. There are four grades of Dā-mite, providing enough versatility to be utilized in drilled hole diameters from 1 to 2.75 in.
David R. Klug & Associates
David R. Klug & Associates Inc. provides international and national manufacturers' representative services to the underground heavy civil and mining industries. The company specializes in the coordination of specialty products, equipment and services for soft ground, conventional and NATM tunneling practices. Expertise is offered in the supply of various componentry used in the manufacture of one-pass precast segmental tunnel linings inclusive of EPDM gaskets, plastic and steel connectors, grout lifitng assemblies, steel fiber reinforcement and precision steel casting moulds. For conventional and NATM tunneling practices, the company offers prefabricated welded wire fabric and rebar reinforcing panels in conjunction with concrete final lining forming systems.
Derrick
Derrick is a family-owned and operated company with a global presence focused on pioneering fine-separation technology. Since 1988, Derrick has manufactured innovative technologies for the underground construction industry. The Derrick HI-Cap shaker offers over 57 sq ft of screen surface on a single unit, which allows unmatched shaker performance with minimal footprint. This is accomplished by utilizing Derrick's true, high G linear motion shaker design, coupled with Derrick's Polyweb urethane screen surfaces. Its characteristic high open area allows for maximum fluid and solids handling capacity. Polyweb screens are virtually non-blinding and outlast comparable wire cloth surfaces many times over.
Dr Sauer & Partners
Dr. Sauer & Partners (DSP) is an independent consultancy specializing in tunnel design, supervision and construction management services. Some of the services offered include: Feasibility to IFC tunnel design, geotechnical engineering, construction management, waterproofing and water control, instrumentation and monitoring and tunnel rehabilitation. DSP's expertise includes in-depth geological/geotechnical knowledge to ensure delivery of a suitable solution for the prevailing ground conditions. DSP provides environmentally aware design solutions for dewatering, water control, ground improvements and construction logistics and has over 10 years of experience providing solutions for some of the world's most complex urban tunneling projects.
Gall Zeidler Consultants
Gall Zeidler Consultants (GZ) is a worldwide leader in geotechnics, tunnel design and engineering, and tunnel construction management, with special expertise in transportation and infrastructure projects. The company's expertise has consistently been sought after by major contractors and project owners in the industry to assist with the mitigation of risks associated with tunneling, streamlining the design process and thus making it more time and cost efficient.  In addition, GZ provides specialized staff to conduct quality assurance and control as well as geological mapping, and construction management on-site for a number of complex, large-scale infrastructure projects.
GCP Applied Technologies
GCP Applied Technologies (formerly Grace Construction Products) has introduced its state-of-the-art TYTRO Shotcrete System to help underground construction practitioners reduce operating costs, minimize excavation downtime, achieve desired technical performance, and meet the highest safety standards. GCP's TYTRO shotcrete admixtures have been formulated to achieve faster early strength, enhanced bond to rock substrate, larger thickness in one pass, and minimum rebound and dust. The TYTRO system features the TYTRO RC 430 technology, an innovative pozzolanic rheology control agent that delivers major operational improvements, increased safety and lower installed cost when used as a replacement for silica fume or other pozzolanic materials.
Hatch
An employee-owned professional services firm, Hatch is rooted in the infrastructure field, beginning with its work on Toronto's subway system in the 1950s.  Hatch's team extends to over 10,000 personnel in over 65 offices worldwide, currently managing projects valued at more than $35 billion. Hatch understands and has the knowledge and experience to overcome the challenges associated with a new transit, highway, sewer, water and pedestrian tunnels of all kinds. Hatch has engineered thousands of miles of tunnels on five continents beneath urban centers, residential areas, mountains and rivers. We have over 100 tunnel specialists that include engineering, geologist and construction management professionals.
Herrenknecht AG
Herrenknecht presents itself as a pioneer in mechanized tunneling. As the largest TBM in the world, with a diameter of 17.6 m, in Hong Kong a Mixshield is excavating a road tunnel for the connection of the International Airport. For the Eurasia Tunnel, a Herrenknecht TBM is crossing the Bosphorus strait in depths of up to 106 m and connects Asia with Europe. Twenty-one Herrenknecht EPB Shields are tunneling simultaneously for the construction of the Doha Metro. In Germany, 4 EPB Shields and 5 AVN Machines are installing more than 50 km of new pipelines for the River Emscher restoration project.
HNTB Corp.
Urban growth is exerting increased demand for more efficient transportation, reliable power, water and wastewater conveyance, and communication systems. Many cities are opting to add infrastructure underground. Modern technology makes that solution possible and preferable. Impressive, sophisticated underground structures can help solve current and future urban congestion and development challenges. HNTB Corp. has more than 45 years of experience in the design, construction and restoration of tunnels and underground structures in various grounds in the highway, transit, rail, aviation and water resources markets. Projects range from small-diameter excavations to the world's largest machine-bored tunnels.
Hobas Pipe USA
Hobas centrifugally cast, fiberglass-reinforced, polymer mortar pipe is ideal for a variety of installation methods including nearly every trenchless application: sliplining, jacking, microtunneling, two-pass tunnel and casing carrier plus open cut and above ground for both pressure and gravity applications. Key applications are storm and sanitary sewers, other corrosive environments and potable water. Sections join with push-together, leak free, gasket sealed couplings. Non-pressure and pressure classes are manufactured in diameters from 18 to 126 in.
Innovative Wireless Technologies
Innovative Wireless Technologies Inc. (IWT) is a leading supplier of wireless communication and tracking systems for underground mining and tunneling operations.  IWT's SENTINEL system provides real-time, crystal clear voice communications with minimal setup time and low maintenance for maximum productivity and low cost of ownership.  It also inherently provides tracking – all in one system. IWT's SENTINEL system can be configured with line-powered, battery backed-up, mesh networking infrastructure for long-term deployments, or with portable, battery-powered infrastructure components for shorter mission life applications.
Jennmar
Jennmar has been an innovative leader in ground control for the mining industry for more than 40 years. Over the past decade, the success of Jennmar's products and engineering solutions has led the company, quite naturally, into tunneling applications as well. Jennmar has made key acquisitions of people and equipment to further enhance its deep commitment to serve the tunneling industry. Jennmar's primary product roster includes PYTHON expandable rock bolts, FRICTION-LOK stabilizer systems, steel sets, steel tunnel and shaft ribs, lattice girders, rail ties and resins. With the company's alliance partner, Contech, Jennmar can also provide TWO-flange liner plate.
King Shotcrete Solutions
King Shotcrete Solutions include pre-packaged shotcrete material, as well as mixing and placement equipment, intended for mining, tunneling, concrete construction and concrete rehabilitation projects. King Shotcrete Solutions supports your complete shotcrete operation. King is also a distributor of mixing and pumping equipment designed for a variety of grouting applications. Notably, King is a key distributor of Aliva equipment to the U.S. market. The strength of King Shotcrete Solutions lies in its ability to provide high-quality equipment, as well as a high level of technical support, from the supply of wear parts to equipment servicing and training.
Line Power
Line Power is part of Electro-Mechanical Corporation of Bristol, Virginia, and since 1972 has been designing and building custom electrical power distribution equipment for mining, tunneling and dredging, sold directly to TBM manufacturers, contractors and engineering firms. This includes power centers, portable substations, vacuum circuit breaker switch houses, belt and pump starters, transformers and e-house switchgear for processing facilities, hoist and elevator control houses, maintenance facilities, offices, or anywhere electrical power distribution equipment is used. The Rebuild Division offers complete repair/refurbish/rebuild services and can often update your existing equipment to current standards and technologies.
Lovsuns
Lovsuns is proud to have come from a legacy that has built and refurbished 600-plus TBMs for 400-plus projects around the world totaling 2,500 km of completed tunnels. Lovsuns views that as just the start of its ambitious journey into the future. Whether it's soft ground or hard rock, large or small diameter TBMs, Lovsuns supports clients in succeeding on the most challenging projects worldwide with custom-made, reliable, durable and competitive product solutions from its facilities in Canada and China. Lovsuns covers major infrastructure segments: metro, railway, road, hydropower, water conveyance, sewage and oil pipelines.
Malcolm Drilling Co.
Malcolm Drilling Co. Inc. has for five decades been an innovator and leader in the deep foundation industry. Malcolm's list of core services as it relates to tunneling and geotechnical construction includes access shafts, support of excavation systems, cutoff and secant pile walls, grouting techniques, various soil mixing methods and dewatering. These combined services have routinely been applied on numerous complex tunneling projects throughout North America from SR 99 in Seattle to the POMT in Miami. The company's engineering experience facilitates design-build efficiency and allows for timely collaboration with owners and contractors. Malcolm provides these services nationwide through our regional offices.
MAT
MAT Mischanlagentechnik is a branch office of BAUER Maschinen GmbH and manufacturer of plants and systems that are suitable for mixing, pumping and separation of slurries. The product range comprises separation plants, screening machines, hydrocyclones, decanter centrifuges, flocculation units, thickeners, pump packages, batch and continuous mixers, injection plants, and accessories. MAT develops, produces and supplies high-quality separation, mixing and materials handling equipment that proves efficiency, reliability, performance and return on investment for customers in a variety of industries around the world, particularly in the fields of tunneling, microtunneling, horizontal and vertical drilling, and related applications.
McDowell Equipment Ltd.
McDowell Equipment Ltd. supplies new and late-model tunneling equipment for rental or sale. The company's rental fleet consists of underground loaders from ½ to 10 yd; underground haul trucks from 7 to 40 tons; low-profile motor graders; jumbo drills with one, two or three booms; underground remixers; locomotives; and muck cars. McDowell manufactures shotecrete machines, scissor lifts, ANFO loaders, and personnel carriers. The company can also offer fully re-manufactured or reconditioned equipment at significant savings from new with fast delivery times.
McMillen Jacobs Associates
McMillen Jacobs Associates is an employee-owned engineering and construction firm serving the water resources, heavy civil, and underground markets. The firm designs with vision and builds with integrity. McMillen Jacobs Associates offers comprehensive design, design-build, self-performing construction and construction management capabilities. The company's services include environmental studies, licensing, permitting, hydraulics, hydrology, and dam safety, as well as civil, structural, geotechnical, mechanical, and electrical engineering. McMillen Jacobs Associates also provides claims and dispute resolution services, and maintains offices covering North America and Australasia.
Measurand
Measurand Inc. has been a leader in shape-sensing technology for over 20 years. Let Measurand help you revolutionize your monitoring plan with SAA, a unique chain of inclinometers used for monitoring and measuring deformation in a variety of Geotechnical or Civil Engineering applications. SAA is dramatically easier to install, has an unprecedented range, and survives long after others have failed. Over 65,000 m of SAA have been deployed worldwide.
Michels
Michels uses a variety of tunneling techniques to complete challenging tunnels in all locations and soil conditions for pipelines, water mains, and storm and sanitary sewers. Michels' extensive experience includes working with earth pressure balance TBMs, hard rock TBMs, conventional drill-blast tunneling, sequential excavation methods (SEM), and remote controlled tunneling systems. Michels has experience working on land, under water, in the largest cities and in the most remote regions. Michels comprehensive pre-planning process is critical to its ability to build safe, reliable tunnels under even the most extreme conditions.
Moretrench
Moretrench specializes in complex underground construction geotechnical challenges, particularly those related to tunnels, shafts, cross passages, and other underground structures. The company's services  include ground freezing, dewatering and groundwater control, earth retention and excavation support, soil stabilization and grouting, remediation of mixed-face conditions,  rock consolidation, and groundwater treatment. These services are available nationwide through offices in New Jersey, New York, Florida, Massachusetts, Pennsylvania and Maryland.
Mott MacDonald
Mott MacDonald has a century-long history providing tunnel design and engineering solutions for rail and transit, road, water/wastewater conveyance, CSO storage, and cable and communications. The firm's reputation for technical excellence is in planning and preliminary design, final design, program management, design/build and P3, scheduling and cost estimating, risk management and risk assessment, feasibility studies, construction management, value engineering.  Complimentary skills in technical areas include tunnel inspection and rehabilitation, ground stabilization and treatment, tunnel systems, ventilation, and fire-life safety. With over 2,300 staff and 62 offices throughout North America, Mott MacDonald is dedicated to providing technical excellence to clients.
Naylor Pipe Co.
Established in 1925, Naylor Spiralweld Steel Pipe is the contractor's choice for tunnel construction pipe: ventilation, compressed air, cooling water, well point headers and dewatering service are common uses. Naylor Pipe is manufactured in accordance with ASTM A-139 and ASTM A-211 specifications. Diameters range from 4 to 96 in. and thicknesses from 1/16 to ½ in. Also available are the necessary fittings and connections including the exclusive Naylor Heavy Duty Wedgelock Couplings to complete your pipe system.
Nicholson
Nicholson has been both a leader and an innovator in the geotechnical construction industry for more than 50 years. With regional offices across the country and headquarters located in Pittsburgh, Nicholson is a nationally renowned specialty contractor, offering proven expertise in the design and installation of deep foundation elements, earth retention systems and ground treatment solutions. Nicholson prides itself on its ability to consistently provide clients with innovative, high-quality design-build options for projects of varying size and complexity. Nicholson is the North American subsidiary of Soletanche Bachy, one of the world's leading geotechnical contractors, and is part of a global network of unparalleled geotechnical resources and expertise.
Nightstick
The Nightstick intrinsically safe XPP-5454GC Dual-Light Headlamp comes with a stainless steel hard hat clip that attaches to a hard hat front-mounted helmet lamp bracket in a configuration that adds convenience to safety. This headlamp is cETLus, ATEX and IECEx listed intrinsically safe for global use, is rated IP-X7 waterproof, boasts a 2 m drop rating and weighs just 3.4 ounces. Included are 3 AAA batteries and 2 top-mounted buttons that independently provide a spotlight for distance and a secondary floodlight for visibility up-close. Pressing both switches simultaneously places the light in dual-light mode for added safety.
Normet
Normet is a fast-growing and innovative technology company with a passion to offer continuous improvement to underground construction and mining processes for increased safety, productivity and profitability. Normet's broad offerings include equipment for concrete spraying and transport; construction chemicals and admixtures for sprayed concrete and injection systems; spray-applied waterproofing systems, rock bolting, and chemicals for TBM technology covering hard rock, EPB, open face and slurry type machines. Normet has delivered over 10,000 built-for-purpose underground machines which are serviced and supported with lifetime care. Normet currently employs over 900 business professionals and net sales in 2014 was over 190 million euro.
Numesh
Created in 1975, Numesh became Canada's largest producer of welded wire reinforcement (WWR) mesh products used in a variety of concrete applications intended for the construction markets throughout Canada and the United States: slabs on grade, structural slabs, concrete pipe, tunnel precast segments, footings and foundations, architectural precast walls, deck mesh, box culverts, utility concrete products, bridge beams, jersey barriers, concrete road and mining. Numesh's combined capacity to produce and stock reinforcing mesh, in both sheets and rolls, in standard sizes or unique customer specifications, will guarantee exceptional service. Numesh is recognized for flexible manufacturing capacities, quality control and efficient services.
PLAXIS
PLAXIS offers user-friendly and powerful software for design and analysis of tunnels and other geotechnical applications in soil and rock. PLAXIS 2D and PLAXIS 3D contain special constitutive models relevant to tunneling, including Jointed Rock, Isotropic Jointed Rock with Mohr-Coulomb failure criterion, Shotcrete, and Swelling Rock models.  Special tools are available for modeling rock bolts, soil-structure interaction, and tunnel lining. The Tunnel Designer allows quick modeling of sprayed concrete lining, bored tunnels, and complex geometries. The widely used PLAXIS software has special tools for dynamics, flow and thermal modeling, which are seamlessly integrated in the program. A free demo is available.
Pultrall
Established in 1987, Pultrall Inc. is the pioneer of non-metallic concrete reinforcement solutions in North America. A stronger, well tested, widely used and corrosion-proof reinforcement that advantageously replaces the easily corroded steel rebar. Pultrall's solution is V-ROD. V-ROD GFRP reinforcement bar allows the TBM to cut through the caisson without damaging the equipment or reducing the boring speed, thus providing time and cost savings. It also removes the need for a pressure grout block. The anisotropic nature of V-ROD allows TBM to bore through station boxes prior to excavation and it allows boring through diaphragm walls.
Robit
Robit Plc has 30 years of experience serving the mining and construction industries. The specialized offerings consist of Top Hammer Rock Drilling Tools and DTH Ground Drilling Tools. With firm roots in the deep, hard Scandinavian granite and the Finnish mining industry, Robit possess in-depth knowledge of drilling in the most challenging rock types. Robit has become a global company headquartered in Finland, with sales today in more than 115 countries. At present, Robit's high-quality products are manufactured in Finland and South Korea, offices in the United States, South Africa, China, Russia, Peru and Thailand.
Schnabel Foundation Co.
Schnabel Foundation Co. is a nationwide specialty geotechnical contractor that provides design-build solutions for the tunneling industry. Schnabel's services include secant piles, deep soil mixing, soldier piles and lagging, sheet piling, soil nailing, tiebacks, tiedowns and jet grouting for excavation support and groundwater cutoff at approaches and shafts. Since 1959, Schnabel's expert engineers and experienced field staff have designed and constructed thousands of projects throughout the United States. Schnabel has offices in Atlanta, Boston, Chicago, Denver, Houston, Orlando, Philadelphia, San Francisco, and Washington, D.C.
Shannon & Wilson
Since 1954, Shannon & Wilson has developed innovative underground solutions for complex site development problems. The firm's geotechnical expertise includes conceptual to final design, plans and specifications, and engineering support during construction on over 700 soft ground and hard rock tunnel projects. Notable current projects include the Northgate Link light rail (Seattle), Alaskan Way Viaduct Replacement (Seattle), Westside Extension and Regional Connector (Los Angeles), rehabilitation of railroad tunnels in Kentucky and Oregon, construction management for the Lower and Middle River Des Peres Tunnel Facilities (St. Louis), and peer review for new tunnel access to the Chesapeake Bay Bridge-Tunnel (Virginia).
Spetec
Spetec has been developing injection resin systems for the waterproofing and soil stabilization industry for more than 35 years. Resiplast US was established in 2013 to introduce Spetec products to the Americas. Spetec resins are high-quality polyurethane and acrylic injection resins developed to stabilize soil and rock and to seal water ingress. Spetec's resins have been used in structures such as tunnels, metro systems, below grade parking garages, dams, sewers and manholes, mines, excavations, ground barriers and more. Spetec resins are being used worldwide and our products are rapidly becoming the product of choice.
Stantec
Stantec has delivered more than 900 underground projects in the past five years. Stantec's expertise covers TBM and conventional tunneling, pipe jacking, microtunneling, Direct Pipe, pipe ramming, guided bore and pilot tube, auger boring, HDD, and pipe rehabilitation techniques. Stantec's recent experience includes the City of Atlanta's Raw Water Delivery System with five miles of 10-ft diameter tunnels and City of Ottawa's Combined Sewage Storage Tunnels with 3.7 miles of 9.8-ft diameter tunnels. With a promise to design with community in mind, Stantec focuses on risk avoidance and mitigation with robust management programs that deliver the best overall value.
Technical Tunnelling Components
Technical Tunnelling Components (TTC) has over 40 years of experience manufacturing and supplying segment accessories such as connection bolts, grout/lifting sockets, segment packers and grommets along with the award-winning Dowelock connection system. TTC truly is the one-stop shop for all precast segmental fixing and grouting systems. The in-house design and manufacturing capabilities that Tunnelling Accessories and Bosworth Plastics have can also offer products for challenging situations as well as standard segment accessories. TTC supplies components worldwide with an impressive product portfolio along with excellent service.
TERRATEC
Incorporated in 1990, TERRATEC is the renowned Australian designer and manufacturer of tunnel boring machines (TBMs) and raise boring machines (RBMs). The company also supplies conveyor systems and other ancillary equipment and accessories to support the tunneling and mining works. Having its main quarters and engineering center in Australia, TERRATEC has six wholly owned subsidiaries strategically located in different regions through the globe to attend the demand of tunneling and mining equipment worldwide. At present, there are over 30 TERRATEC boring machines working in tunnel and mine sites across five continents.
The Robbins Company
With over 60 years of experience and expertise integrated into its rugged line of field tested, Dual-Mode Crossover Series of TBMs, The Robbins Company offers the ideal machine for mixed ground conditions that might otherwise require multiple tunneling machines. Robbins supplies three types of Crossover machines: the XRE (Crossover between Rock/EPB), the XSE (Crossover between Slurry/EPB), and the XRS (Crossover between Rock/Slurry). The Robbins Company staff will be at WTC to provide additional information about the company's latest Crossover projects in the United States, Mexico and Turkey, as well as its newest worldwide innovations.
Thompson Pipe Group—Flowtite
Tough Flowtite FRP pipe is made using the continuous filament-winding process, allowing for additional strength over conventional centrifugal casting to meet your exact jacking, microtunneling or sliplining needs. The pipe can be customized within a broad range of lengths, diameters, pressure grades and stiffness classes. Flow-Crete jacking pipe is also available, which combines the strength of reinforced concrete with the corrosion resistance and pressure capabilities of Flowtite FRP.  Flowtite can be specified for both pressure and gravity applications, as well as for wastewater and hydroelectric penstock projects and more.
TNO DIANA BV
TNO DIANA BV provides world-class software products and services in the field of finite element solutions dedicated to civil, geotechnical, earthquake and petroleum engineering.  DIANA (the company's flagship software) is an extensive multi-purpose finite element software package that can be applied to a wide range of problems arising in civil engineering. DIANA has been equipped with powerful solvers in order to optimize the solution procedures for all types of linear and nonlinear models with accurate and fast results. Thirty years of ongoing research and development ensures that this tried and tested piece of software continues to be utilized throughout the world.
VMT
VMT has been supplying tailor-made solutions, services, navigation and monitoring systems to the tunneling industry since 1994. Development of specific systems for the guidance of tunnel boring machines in segmentally lined, pipe jacked and conventional tunnels has been the major aspect of product development to date. Now VMT provides a Segment Documentation System (SDS), the leading solution in segment quality management and logistics. This together with VMT's High Adaptability Data and Emergency System (HADES) information transfer infrastructure and deformation monitoring improves the quality and safety on construction sites and helps to reduce costs.
WSP | Parsons Brinckerhoff
WSP | Parsons Brinckerhoff is a leader in tunneling and underground construction, from San Francisco to Stockholm. The firm has participated in the design and construction of some of the longest, largest, deepest, and most complicated tunnels in the world, including tunnels built in hard rock, soft ground or mixed-face conditions, and using mining, boring, jacking, cut-and-cover, and immersed tunnel technology. Projects include the Second Avenue Subway in New York City; the Stockholm City Line; the Eurasia tunnel in Istanbul; and San Francisco's Central Subway. WSP | Parsons Brinckerhoff employs 34,500 professionals in 500 offices across 40 countries.