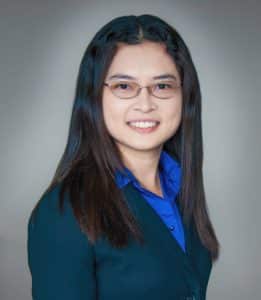 Lucy Wu, P.E., has joined HNTB Corp. as senior tunnel and geotechnical engineer. She is based in the firm's Oakland office.
Wu has previously worked on Bay Area transit projects including the Transbay Transit Center and the BART Warm Springs Extension. Most recently, she served as project engineer for several development projects in Hong Kong.
"We are pleased to add Lucy to our growing Bay Area team," said Jimmy Thompson, HNTB principal tunnel engineer. "Her engineering experience both locally and internationally is a welcome addition to our capabilities as we embark on more complex tunneling and other underground projects."
In her new position, Wu is working as a geotechnical project engineer for the California High-Speed Rail project. HNTB is leading the environmental process and the preliminary engineering for the High-Speed Rail line from San Francisco to San Jose and Merced. HNTB is also overseeing Project and Construction Management for the Construction Package 4, and Wu will be involved in preliminary engineering and design preparation of the tunnels through the Pacheco Pass.
RELATED: HNTB Named CM for Thimble Shoal Tunnel
Wu serves as co-vice chair and Asian region representative for the International Society for Soil Mechanics and Geotechnical Engineering's Young Member Presidential Group and as a member of the ISSMGE Innovation and Development Committee. She also belongs to the American Society of Civil Engineers, the Association for Project Management and the Institution of Engineers Australia, among other professional organizations.
"Lucy brings an incredibly diverse array of geotechnical and tunneling experience," said Nasri Munfah, PE, HNTB national tunnel services chairman and senior vice president. "Her expertise and knowledge will enable her to provide a wide range of solutions to HNTB clients in the Bay Area."
Wu earned a master of science in civil engineering from Stanford University and a bachelor of science degree in civil engineering from Massachusetts Institute of Technology.
HNTB is engaged in the successful delivery of many high-profile Northern California projects including the Warm Springs BART Extension Project in Fremont; the San Francisco Municipal Transportation Authority's Central Subway; the Tom Lantos Tunnels in San Mateo County; the new Presidio Parkway in San Francisco; the new San Francisco Airport Traffic Control Tower; and the San Francisco 49ers' Levi's Stadium, which recently hosted Super Bowl 50.
RELATED: A Look at the Tom Lantos Tunnels
HNTB Corp. is an employee-owned infrastructure solutions firm serving public and private owners and contractors.