AECOM, a premier, fully integrated infrastructure firm, announces the addition of two tunneling experts in its National Tunnel Practice.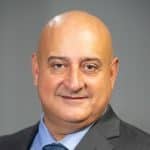 Guido Castrogiovanni has been hired as an associate vice president and senior design manager in AECOM's National Tunnel Practice and is based in New York. Castrogiovanni joins us from the consulting group COWI, a specialized engineering firm. He has 23 years of experience in tunneling, geotechnical and underground engineering in urban areas and is also an expert in alternative delivery methods of tunneling and underground projects. Among his previous projects are the Doha Metro Red Line, the Cityringen Metro in Copenhagen, and Rome Metro Line B1 and Line C, as well as other large transportation projects in Europe, the Middle East, and the United States.
Lars Jennemyr joined AECOM from Skanska as senior tunnel construction engineer in its National Tunnel Practice and is also based in New York. He has a wealth of experience in underground and tunneling projects from across the globe including South East Asia, South America, Africa, Canada and the United States in transportation, water, and hydropower projects. He brings extensive experience in conventional and mechanized tunneling. In addition, Jennemyr has special expertise in tunnel construction, construction planning, constructability, construction estimating, and scheduling and project implementation. His previous work includes the Second Avenue Subway, 86th St. Station in New York; the No. 7 Subway Line Extension in New York; the Regional Connector and the Purple Line Extension in Los Angeles; Citytunnel in Malmo, Sweden; the Kukule Ganga Hydro Power Project in Sri Lanka, and the Hong Kong Strategic Sewage Scheme project.
"AECOM supports a progressive culture and attitude. We are excited that highly competent, broad thinking experts like Guido and Lars will help us foster advancement of state-of-the-art approaches for underground construction," says Nasri Munfah, AECOM's director of tunneling and underground engineering. "With the addition of these specialty talents and our tunneling staff of over 200 professionals and about 1,000 geotechnical specialists throughout the Americas, we offer our clients innovative solutions on a wide range of tunneling projects."
RELATED: AECOM-Arup JV wins ACEC Grand Award for Second Avenue Subway