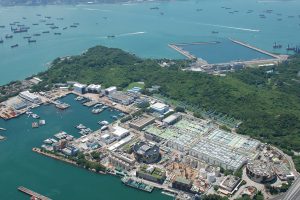 Two Arup projects were recognized with prestigious industry awards at the Global Water Awards, presented April 19 in Abu Dhabi as part of the Global Water Summit. Established in 2006 by Global Water Intelligence, the annual awards recognize and reward those initiatives in the water, wastewater and desalination sectors that are moving the industry forward through improved operating performance, innovative technology adoption and sustainable financial models.
Harbor Area Treatment Scheme (HATS) Stage 2A and Sludge Treatment Facility won the Distinction award in the Wastewater Project of the Year category.
HATS Stage 2A involves upgrading of Hong Kong's largest sewage treatment works to a capacity of 2,450,000 m3 per day, serving an ultimate 5.7 million population on both sides of the Victoria Harbor (equivalent to 70% of total population) in Hong Kong.  As the project consultant, Arup is responsible for the design and supervision of the upgrading works at the Stonecutters Island, and eight preliminary treatment works on the Hong Kong Island.  This included building one of the world's largest underground pumping stations measuring 55 m in diameter, 40 m deep with a capacity of 32 m3/s, and a 260 m interconnection tunnel connecting to the existing pumping station, within the tight 10.6 ha plant.
RELATED: Atkins-Arup JV to Design Options for U.K. Motorway, Including Stonehenge Tunnel
Sludge generated from the sewage treatment works will be delivered to Sludge Treatment Facility via two sludge container vessels, for incineration to generate low-carbon energy.  It is a self-sufficient and sustainable solution to dispose of up to 2,000 tonnes of sewage sludge per day in the largest incinerators of its type in the world. Arup worked with the Veolia–Leighton–John Holland JV on the engineering procurement-construction (EPC) contract to devise and deliver this green facility.
Nominations were shortlisted by a panel of industry experts and the winners were selected via online voting by Global Water Intelligence and Water Desalination Report subscribers, reflecting the views of the international water community.
RELATED: Arup-Atkins JV Awarded 'Super Sewer' Engineering Contract