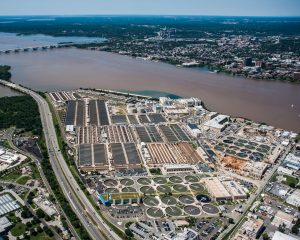 The Blue Plains Tunnel (BPT) team was recently awarded the Excellence in Dispute Avoidance & Resolution Award for projects with a budget of $250 million or greater, Traylor Brothers announced. Traylor Brothers, Skanska and Jay Dee were the joint venture contractors on the project for DC Water with Halcrow/CH2M performing design services.
The design-build contract included designing and constructing the BPT, associated shafts and structures from Blue Plains Advanced Wastewater Treatment Plant (BPAWWTP) to DC Water's Main Pumping Station at 2nd Street and Tingey Street SE. The 23-ft ID tunnel runs for 24,000 ft generally northward from the BPAWWTP, following the Potomac River. Two connected shafts (Figure 8) start the alignment, with two intermediate shafts and one end shaft further along. Tunnel depth is approximately 150 ft, and varies between under the river and shoreline.
RELATED: Blue Plains Tunnel Earns Honors
The award recognizes completed projects that best exemplify the Dispute Resolution Board Foundation (DRBF) best practices. The BPT team will be recognized at the DRBF 20th anniversary Annual Meeting and Conference for the Al Mathews Award Dinner on Friday, Sept. 23, in Washington, D.C. The event, to be held at the Mayflower Hotel, offers workshops, presentations and networking opportunities in addition to the awards dinner.
RELATED: DC Water Megaprojects