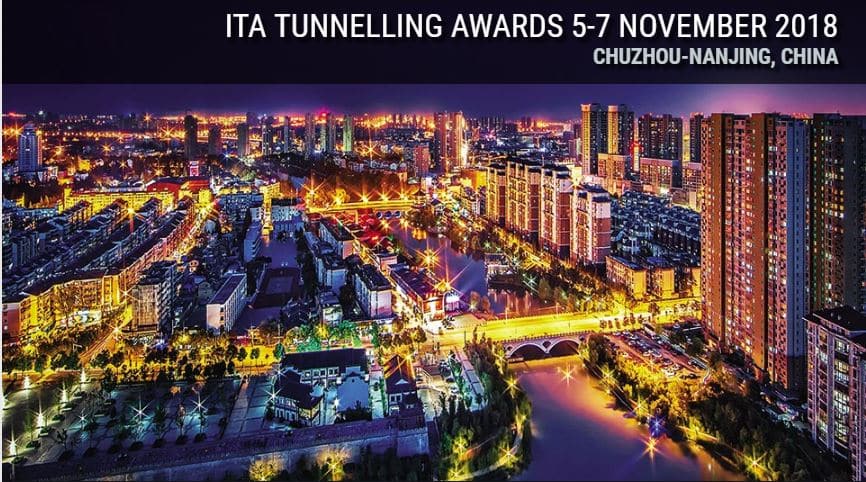 Since 2015, the International Tunnelling and Underground Space Association's ITA Tunneling Awards seeks and rewards the most ground-breaking innovation and outstanding projects in tunneling and underground space utilization.
The 2018 edition will take place on Nov. 7 in Chuzhou-Nanjing during the 20th Chinese Tunnel and Underground Works Conference (CTUC) from Nov. 5-6, followed by technical visits on Nov.8 in Nanjing, Chuzhou and Shanghai.
Recording an output of almost $50 billion for tunneling and underground construction, China represents almost half of the entire global output for the tunneling industry.
Over recent years, Asia has had to cope with increasing space-scarcity issues, and the last edition of the AFTES (French Association of Tunnel and Underground Space) in Paris, highlighted "Urban strategies: comparison between Paris and Singapore" as the latter embodies a sustainable model of urban development in a limited and constrained environment.
RELATED: Blue Plains Wins Tunnel Achievement Award
After editions in Switzerland, Singapore and Paris, the fourth ITA Tunneling Awards will return to Asia for the 2018 event. The three previous editions of the ITA Tunneling Awards received more than 240 entries and 110 nominations, rewarded 30 projects and personalities and gathered more than 750 attendees.
The application process is now open and nominations will be accepted until May 31. Applications are available on the ITA Tunneling Awards website.
Entries can be submitted in nine categories. Nominations for the following categories must contain projects for which the major civil engineering work was completed between Jan. 1, 2016, and April 1, 2018. The Young Tunneler of the Year rewards an individual born after Jan. 1, 1984 and who has brought an outstanding contribution to tunneling.
• Major Project of the Year – over 500€ million
• Project of the Year – between €50 million and €500 million
• Project of the Year including renovation – (up to €50 million)
• Technical Project Innovation of the Year
• Technical Product or Equipment innovation of the Year
• Innovative Use of Underground Space
• Sustainability initiative of the Year
• Safety Initiative of the Year
• Young Tunnler of the Year
• Life Time Achievement Award (application not required)