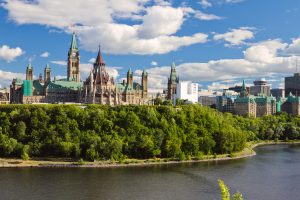 Construction is ramping up for the Ottawa CSST (Combined Sewage Storage Tunnel) project as crews from Dragados–Tomlinson JV have begun mobilization. The JV was awarded a contract to build the $232 million project in July.
The CSST is one of the most important projects of the Ottawa River Action Plan (ORAP), which is the City of Ottawa's roadmap to protect the Ottawa River for future generations.
The CSST will greatly reduce the frequency of sewage overflows during storms from entering the Ottawa River, and will help protect the river. These tunnels will hold up to 43,000 cubic meters of sewer overflow during major rainfalls. Once rainfall has subsided, this water will then be treated and returned safely to the Ottawa River.
RELATED: Light Rail for Canadian Capital
In addition to reducing overflows from entering the Ottawa River, additional benefits of the project include:
Reducing the risk of basement flooding for several low-lying lands in the Glebe/O'Connor area; and,
Increasing operational flexibility and redundancy to major collector sewers.
The CSST project will include the construction of two tunnels: an east-west tunnel (EWT) through the downtown core from LeBreton Flats to New Edinburgh Park, and a north-south tunnel (NST) along Kent Street from Chamberlain Avenue to existing infrastructure, just behind the Supreme Court. The tunnels will be a total length of 6 km, approximately 3 m in diameter, and 10-31 m below ground level. The CSST project will also include the construction of support buildings, such as odor control facilities.
Construction will take place between summer 2016 and late summer 2019 at approximately nine key sites. The CSST will be in operation in 2020.
The concept of using a storage tunnel for Combined Sewer Overflows (CSOs) is in use in several major cities across North America, such as Portland, Oregon, Boston, Massachusetts, Milwaukee, Wisconsin, Rochester, New York, Providence, Rhode Island, Washington, D.C., Cleveland, Ohio, and more. A number of Canadian municipalities also have tank-style storage facilities for CSO control.
A TBM will be used to construct the tunnel. The TBM will install precast segments in combination with a conveyor to remove muck.
RELATED: Eglinton Crosstown Tunneling Complete