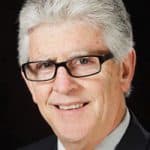 Randy Essex, executive vice president at Mott MacDonald, was elected to serve on the International Tunnelling Association's (ITA) Executive Committee (ExCo) during ITA's World Tunnel Congress June 9-15, 2017, in Bergen, Norway. Essex, representing the United States, was one of three new ExCo members elected from among eight candidates to serve a three-year term.
Essex has nearly 40 years of experience in the tunneling industry during which time he has provided investigation, design, project management, resident engineering, technical review, and expert witness services for more than 170 tunnel projects across North America and overseas.
RELATED: 2016 Golden Beaver Award Winners
Essex is the principal author of ASCE's 2007 publication "Geotechnical Baseline Reports for Construction."  He is past Chairman of ASCE's Underground Technology Research Council and was the 2016 recipient of the prestigious Golden Beaver Award for Engineering. He is a graduate of the University of Rochester with master's degrees from the University of California Berkeley.
Other newly elected ExCo members were Lars Babendererde, representing Germany, and Arnold Dix, representing Australia. Amanda Elioff, engineering manager at WSP, had previously served on the ExCo representing the United States.
RELATED: World Tunnel Congress 2017 Gathers in Norway