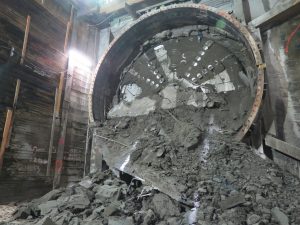 The Regional Connector project for LA Metro, which involves building twin 1.9-mile rail tunnels under downtown Los Angeles to connect the Blue, Expo and Gold Lines, reached a milestone July 18 as the TBM completed the first of its two tunnels. The TBM launched from Little Tokyo in early February.
The remaining section of the tunnel between 4th and Flower and 7th and Flower will be dug by the cut-and-cover method — from the surface down — instead of by a TBM. The reason: tunneling in this section is difficult due to the many large buildings and foundations in the area.
As for the machine, it will be disassembled, trucked back to Little Tokyo, inspected and then rebuilt and relaunched to dig the second tunnel.
RELATED: LA Metro Christens TBM for Regional Connector
When completed, the Regional Connector will create two light rail lines: one that runs between Azusa and Long Beach and the other that runs between East Los Angeles and Santa Monica. The two lines will share five stations in downtown L.A. and will make travel to and through downtown faster and more convenient with fewer transfers.
The Regional Connector is currently forecast to be completed in late 2021. It is funded by Measure R and federal and state grants.
RELATED: LA Metro Celebrates End of Tunneling on Crenshaw/LAX