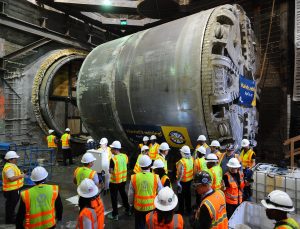 The Los Angeles County Metropolitan Transportation Authority (Metro) on April 21 celebrated the end of tunnel excavation for the Crenshaw/LAX transit project. Harriet, the tunnel boring machine (TBM), completed digging the second of the twin tunnels for the light rail line on April 6.
Harriet began excavating the first of the two rail tunnels under Crenshaw Boulevard on April 26, 2016. The TBM arrived at Leimert Park Station on Oct. 20. Excavation of the second tunnel began on Nov. 29 and was completed April 6.
The 950-ton, 400-ft long TBM advanced an average of 60 ft a day through soil and rock under Crenshaw Boulevard. Installation of rail tracks has begun in the southbound tunnel.
RELATED: LA Metro Christens TBM for Regional Connector
The one-mile tunnels connect the project's three underground stations: Expo/Crenshaw, Martin Luther King Jr. and Leimert Park. The $2.058 billion Crenshaw/LAX Line include eight new stations: Crenshaw/Expo, Martin Luther King Jr., Leimert Park, Hyde Park, Fairview Heights, Downtown Inglewood, Westchester/Veterans and Aviation/Century.
The TBM was named after Harriet Tubman, the famous African-American abolitionist and humanitarian who helped slaves escape the South using a network of safe houses known as the Underground Railroad.
A ninth station — to be built separate from this project — will be located at Aviation Boulevard and 96th Street and will be the transfer point between Metro Rail and an automated people mover that will serve the LAX terminals. Los Angeles World Airports is building the people mover and has targeted a 2023 completion date.
An album of pics from today's event is on Metro's Flickr page.
RELATED: Riyadh Metro Line 3 Completed