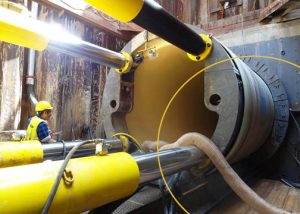 HOBAS broke the European record for the largest diameter microtunneling installation using CCFRPM pipe, the company reported. The installation was part of the Burakowski-Bis pipeline, which runs along the banks of the Vistula River in Warsaw, Poland.
The existing sewer had reached full capacity and was at the end of its useful life. The project included 10,500 ft of 126-in. pipe. It was installed in seven stages with the longest run at 2,011 ft.
RELATED: Hobas Awarded Contract in Honolulu
This new pipeline will transport sewage and rainwater from the central and northern suburbs of Warsaw to the Czajka Wastewater Treatment Plant. Microtunneling was chosen as the installation method due to the location in an urban environment and existing underground infrastructure.
HOBAS is manufactured in sizes from 18 to 126 in. in pressure and non-pressure classes.