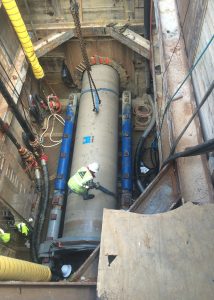 BRH-Garver Construction will soon complete the installation of 54-inch jacking pipe for the Lift Station Renewal and Replacement Program, a project that involves jacking 54-in. gravity sewer pipe. The project, which began in August 2014, is one of several for the City of Houston Department of Public Works in an effort to maintain permit compliance and support reliable operations of the lift stations. The project is on pace to be completed one year ahead of schedule.
This current included 14,700 ft of 54-in. diameter, 540 ton jacking pipe. The pipe chosen for the project was centrifugally cast, fiberglass reinforced, polymer mortar (CCFRPM) pipe manufactured by Hobas Pipe USA. The new line will operate as gravity flow sewer, abandoning the existing sanitary sewer line, which operates as a force main.
RELATED: HOBAS Breaks Microtunneling Record
Located in the Bellaire area of Houston and surrounded by businesses and residences, the existing line runs along Renwick Drive from Braeswood Boulevard to Gulfton Drive. Since the new line was installed along the same alignment as the existing line, trenchless methods were necessary within this urban environment.
"The design flow line is around 22 ft deep, so the shafts are 23 to 25 ft deep," said David Ellett, Vice President, BRH-Garver. The jacking pits are being installed from the southern part of the project, moving north along Renwick drive. The average jacking run length has been just over 700 ft and shafts are placed accordingly. The longest run has been 981 ft with loads below 300 tons.
"The original project duration was 34 months; however, we were able to significantly beat the schedule due to the use of two microtunnel boring machines and the efforts of our project management staff; David Kennedy and Vanessa Moreno have been instrumental in coordinating the thousands of details needed to perform a project of this scope successfully," Ellett said.