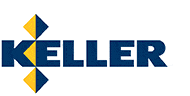 Keller North America (Keller NA), a division of Keller Group plc, has appointed James Hussin, P.E., to the position of Business Development and Marketing Director for Keller NA. Prior to his new appointment, Hussin had served as a Director for Hayward Baker Inc., one of seven Keller NA companies, since 2003. Hayward Baker promoted Jeffrey Hill, P.E., into the role of a Director for Hayward Baker.
Hussin has been progressive in leading business development and marketing efforts and providing technical risk assessment on major projects for Hayward Baker Inc. He has authored many publications and is active in several important industry organizations, particularly in leadership positions in the ASCE Geo-Institute. He earned his MSCE in soil mechanics and foundation engineering from California Institute of Technology, and his BSCE from Columbia University.
RELATED: Hayward Baker Acquires Ellington Cross
As Director for Keller NA, Hussin draws on more than 35 years of experience in geotechnical engineering and construction to spearhead business development and marketing strategies for Keller NA, along with streamlining best practices and synergies in order to build the Keller brand and that of its subsidiaries.
In May 2015, Hill succeeded Hussin in the role of a Director for Hayward Baker (HB), from his previous role as the Central Region Director of Business Development. In his new role he is developing and implementing corporate business strategies to promote market awareness and increase project opportunity efforts for Hayward Baker throughout the United States.
Hill has worked in the specialty geotechnical contracting field since graduating from the University of Illinois. He possesses a wide range of technical expertise including earth retention, micropiles, ground improvement and grouting projects. Hill is active in several geotechnical industry organizations, and is a national committee member of two AREMA technical committees.
Commenting on both appointments, John Rubright, President for Keller NA, stated, "We are pleased to welcome Jim and Jeff into these important management positions. We take pride in our strong brand reputation that is hard-earned across all companies in Keller NA. Both Jim and Jeff have taken great strides to maintain and expand the brands and reputations of Keller NA and Hayward Baker. We are confident that these appointments will lead our brands into the future."
James Hussin is located at the Hanover, Maryland, office. Jeffrey Hill is located at the St. Louis, Missouri, office.